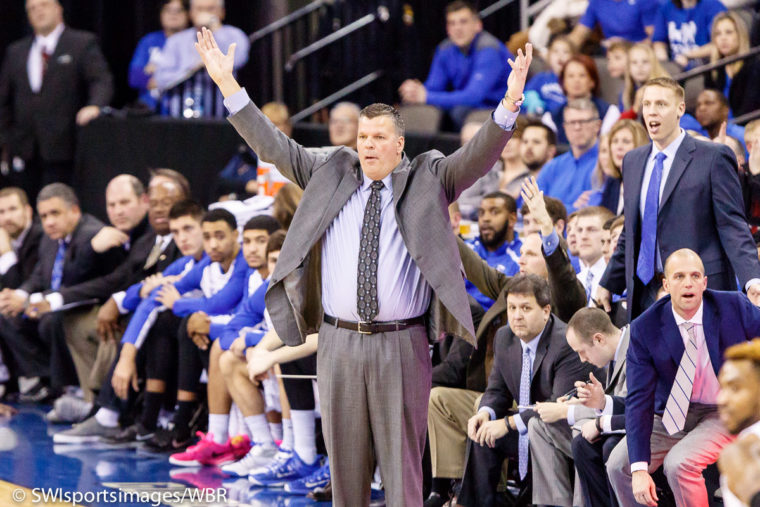 Creighton Bluejays Weekly Roundup (06/09)
News and Notes from around Creighton and the Big East this week:
Creighton's four MBB newcomers arrived on campus this week, as pictured in this tweet from the team's official account:
👀👀
Some new faces around campus today… #GoJays pic.twitter.com/BfgreszFaZ

— Creighton Basketball (@BluejayMBB) June 5, 2017
Davion Mintz wasted no time showing the three freshmen where to find Chick-fil-A in Omaha, stopping to pose for a photo with the restaurant's cow mascot:
#eatmorechikin #watchmorecreighton @BluejayMBB #gojays Thanks for coming in guys! @deemintz1 @JacobEP33 @Mitchbballin24 @5Tyshon pic.twitter.com/JzPonA5b4t

— Chick-fil-A 76Dodge (@cfa76dodge) June 6, 2017
Martin Krampelj posted this group selfie from the weight room:
First lifting group is done with lifting today #summersessions @Jordan_S09 @deemintz1 @_kalebjoseph14 @TylerClement_11 pic.twitter.com/pinwlVZEmy

— Martin Krampelj (@MartinKrampelj) June 6, 2017
WBR's Matt DeMarinis was at the team's first summer workout, and filed a feature story on the three freshman players' first experience on the practice court. But this was the money quote from assistant Darian DeVries:"That's what I love about all of the new guys; they love to play," DeVries said. "Today was their first day, they didn't have anything this morning, and they were in the gym at 8 a.m. on their own just in here shooting. That says a lot about what they hope to accomplish while they're here. When you get guys with that type of attitude in a group, then it starts to really filter into everybody else."
With Alexander taking #5, Jordan Scurry will wear #12 this coming year:
New number, who dis? #12 pic.twitter.com/QfWRSOEOQf

— J.Scurry (@Jordan_S09) June 7, 2017
The 2017-18 roster was updated on GoCreighton.com to include the new additions and their jersey numbers. Though there's no confirmation, walk-on Sam Dunkum's name is not there so it's likely he's moved on.
Omaha Metro Summer League will begin next Thursday night, June 15, though schedules and rosters are still being finalized. With that said, the pairings of Creighton players are out:

Kaleb Joseph and Manny Suarez
Khyri Thomas and Mitchell Ballock
Ronnie Harrell and Jordan Scurry
Jacob Epperson and Tyler Clement
Marcus Foster and Martin Krampelj
Ty-Shon Alexander and Davion Mintz

Jon Nyatawa and Sam McKewon discussed Creighton's pursuit of five-star recruit Brian Bowen, who ultimately picked Louisville, on the OWH's Pick Six podcast. Fast-forward to around the 53-minute mark to avoid all the Husker football talk.
Speaking of recruits, new assistant Alan Huss got 2019 forward Michael Moreno to Omaha for a visit earlier this week. Moreno hails from Kentucky and has drawn interest from Vanderbilt, Indiana, Louisville, Tennessee, and Purdue, among others.
Creighton visit went well!! @BluejayMBB pic.twitter.com/qqHOwC0aSj

— Michael Moreno (@michaelmoreno30) June 8, 2017
Greg McDermott quickly and unexpectedly became a candidate for Ohio State's opening, which led to some interesting pieces analyzing Mac and his program. Here's a couple offering different perspectives:
Nick Bahe spent the first segment of his Thursday radio show discussing whether McDermott would stay or go…and found out the news that he was staying live on the air about two-thirds of the way through, which was fun!
The second segment focused on Bahe's reaction to that news.
Finally, the Coach joined Bahe for his first interview after announcing he was staying. It's a must-listen:
We relived the wild 18-hour ride between McDermott being announced as a candidate to when he announced he was staying at CU in a piece on Thursday.
Jon Nyatawa discussed it with Mike'l Severe on TheBottomLine
Then, Coach Mac held a press conference to discuss his decision. The entire thing is full of terrific sound bites, but here were my two favorites:

"You usually leave a job because you're either chasing something or you're running from something. I have nothing to run from. And frankly, there's nothing that doesn't exist at Creighton that I need to go find somewhere else. If you're not missing anything, what are you chasing?"

"My heart wasn't in it. My heart is here. This is where I want to be. This freshman class, I'm really proud of it. They've got a chance to be special. I sat in their living rooms and told them I was going to be their coach, and sometimes you have to stick true to your word and be loyal like they've been loyal."

 And finally, two classic tweets following the announcement. First, Tyler Clement:
I'm blessed and honored to be the coach at Creighton…..and am looking forward to many more great years in Omaha! #rolljays

— Coach McDermott (@cucoachmac) June 8, 2017
THE Creighton University https://t.co/1OYNwVjgUN

— Tyler Clement (@TylerClement_11) June 8, 2017
And then KETV's Thor Tripp doing what had to be done:
Current mood for @BluejayMBB:

🔥🔥🔥

I had to, @cucoachmac. pic.twitter.com/hLiBGgckmC

— Thor Tripp (@ThorTripp) June 9, 2017
Comments
Tagged in: