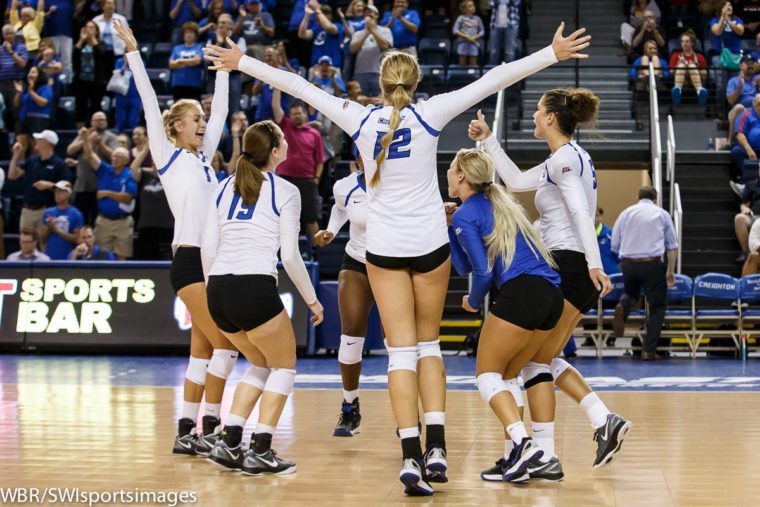 Creighton caps off a Husky Invitational sweep with statement win over 3rd-ranked Washington
For the second time in a span of six matches dating back to last season the Creighton Volleyball team made a loud statement in a true road match against a Top 5 opponent. Nearly nine months after stunning fourth-ranked Kansas in the NCAA Tournament, Creighton rolled into the Pacific Northwest and dispatched of the third-ranked Washington in front of 2,252 Huskies fans at the "Dawg Pound" in Seattle on Saturday night.
The ninth-ranked Bluejays gave the Huskies fits from the service line, with a scrappy back row, and a balanced attack across the net in the 25-22, 25-17, 14-25, 25-23 four-set victory. Junior outside hitters Jaali Winters and Taryn Kloth each finished with a match-high 16 kills, while senior Marysa Wilkinson wrapped up a Husky Invitational Most Valuable Player performance with 11 kills, four blocks, and an attack percentage of .429.
"I thought different people stepped up all the time," Creighton head coach Kirsten Bernthal Booth said. "The good thing was that we played the way we are capable of playing, but we didn't play out of our minds. We still have plenty of areas to improve upon — as does Washington. It's early in the season, but we did get better every match this weekend, so that's a positive."
The first set was tightly contested with neither team building a lead larger than three at any point in the set, but Creighton started to find a rhythm late. After taking a timeout with the game one tied 21-21, Kloth started off a 3-0 run with a cross court kill, then teamed up with senior setter Lydia Dimke and freshman middle blocker Naomi Hickman for a triple block to pulled ahead 24-21.
After a kill by the Huskies saved one set point, Hickman terminated a joust ball to give the Bluejays a 1-0 lead in the match. Kloth and Wilkinson each had four kills in the opening game to lead the way as Creighton out-hit Washington .268 to .184, and finished a 3-1 edge in total blocks.
Creighton carried the late momentum into the second set and used it to pull away after both teams traded 8-4 runs to meet up at 12-12 midway through game two. Redshirt Megan Ballenger kicked off an 8-1 Creighton run with a kill, and Wilkinson followed it up with three of her own to go along with a couple combo blocks with Winters and Kloth.
Kloth had seven kills through the set, while Winters added four, including the game-winner to send the Bluejays into the locker room with a 2-0 match lead.
The Huskies came out of intermission looking like a desperate bunch and they played with that edge for the majority of game three. Washington kicked it up a notch from the service line and kept the Creighton offense out of system, which in turn made their block setup a much easier task. They out-hit the Bluejays .333 to .053 and used 6-0 edge in total blocks to build a commanding 19-7 lead in the must-win game.
Facing an insurmountable deficit, Creighton did what it had to the rest of the way — mainly, build some momentum going into game four. Wilkinson and Kloth each had a pair of kills as the Bluejays outscored Washington, 7-6, the rest of the set to swing some of the momentum back onto their side of the net.
Set four was nip and tuck just like game one. It looked like Huskies may just pull away late and force a fifth set, but after falling behind 22-20, the Bluejays answered with a kill by Winters and a solo block by Wilkinson to spark a match-clinching 5-1 run. Winters had eight of her 16 kills in the final set to help Creighton improve to 3-0 on the season.
Joining Husky Invitational M.V.P. Marysa Wilkinson in the department of tournament accolades were Megan Ballenger and Lydia Dimke. Each were named to the All-Tournament Team for their performances throughout the two-day, three-match event. Ballenger recorded 22 kills, 10 blocks, and a .349 attack percentage in wins over Saint Mary's, Pitt, and Washington, while Dimke led the team with 115 assists and five aces to go along with 23 digs and nine blocks defensively.
It was just the fourth loss in 53 matches all-time in the month of August for Washington and the first time they've ever lost a home match in that month, but the more than 2,200 fans in attendance couldn't overcome Creighton's firepower or poise in big moments when they needed a kill or a rally.
"It was a great atmosphere against a really great team," Kirsten Bernthal Booth said. "It's exciting to walk away with a win … I want them to enjoy this tonight, but then we have to get back to the gym this week to get ready for three more incredible teams next weekend."
The 15-year Creighton coach is of course referring to her team's lone home stretch of the non-conference season with the Bluejay Invitational that kicks off on Friday. The Bluejays — who may find themselves in the top five for the first time in program history the next time they step on the court — host 14th-ranked Kentucky at 7:00 p.m. on Friday, then face 26th-ranked Southern Cal at 12:30 p.m. and former Missouri Valley Conference rival Northern Iowa at 8:00 p.m. on Saturday.
All three teams heading to Omaha for the Bluejay Invitational beat Top 25 teams this weekend, with Kentucky beating No. 23 Utah, USC beating No. 16 Michigan, and Northern Iowa taking out No. 19 Missouri. The Wildcats and Trojans are each 3-0 already, while the Panthers put their 2-0 record on the line against Austin Peay on Sunday afternoon. Regardless of how that match plays out, there will be stacked field at D.J. Sokol Arena next weekend for Creighton's 2017 home debut.
"It's going to be the best volleyball in the country," Booth said of the upcoming tournament. "Even if you're not a Creighton fan, you should make your way to Omaha and hopefully you'll morph into a Creighton fan. Every match will be awesome and our facility should be rocking. It'll be a blast."
Comments
Tagged in: