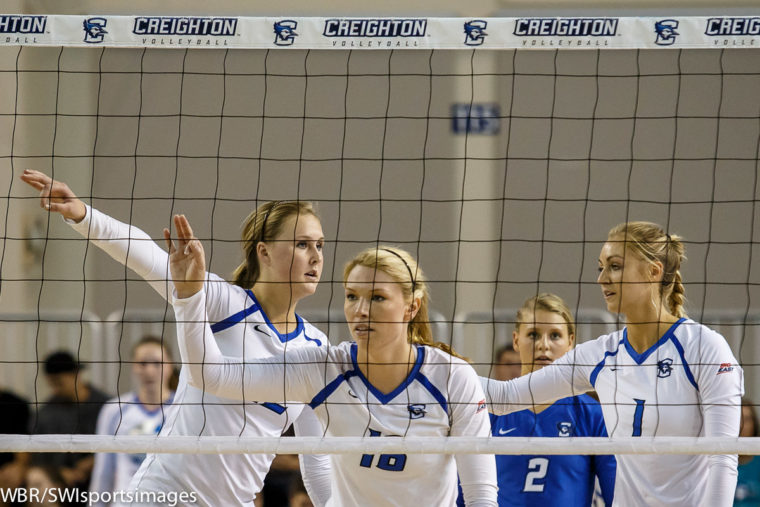 Creighton Finishes 18-0; Historic Run Ends Bluejays' Regular Season
Sunday afternoon's match will be one the Bluejays and their fans will not soon forget. Creighton battled with the Wildcats of Villanova in a five-set marathon, 25-22, 21-25, 25-20, 22-25, 15-6. The Bluejays' determination helped them win the decisive fifth set and earned them a place in the record books. With the win, Creighton finished with an 18-0 Big East record, the only team ever to do so in the conference. The 18 match winning streak is also the longest in program history and the third longest active streak in the NCAA. Villanova was playing in hopes of extending their season. Despite a ferocious effort, the Wildcats proved just another check mark as the Bluejays march on towards their lofty 2016 goals. The match also served as Creighton's senior day celebration for the 2016 class honoring Jess Bird, Amanda Foje, and Lauren Smith.
The three seniors started the match for Creighton and their side jumped out to an early 4-1 lead. Villanova fought back and twice tied the game. Back-to-back Villanova errors and a Creighton service ace by junior setter Lydia Dimke forced a Wildcat timeout with the Jays up 19-15. Following the break, Creighton found themselves clinging to a 24-22 lead. Coming off a timeout by Creighton's Coach Kirsten Bernthal Booth, sophomore Jaali Winters hammered the final the kill to take the first set 25-22. Winters led all players with six kills in the first set. Creighton was able to win the set despite being out-hit .220 to .244 and out-blocked three to zero. Villanova's leading attacker, Allie Loitz was held to only two kills and committed two attack errors and two service errors in the first set.
Sophomore Taryn Kloth and junior Marysa Wilkinson returned to the starting lineup for the Bluejays in the second set and Creighton again jumped out to an early 4-0 lead. Villanova took six of the next seven points forcing Coach Booth to take a timeout. The set remained close until Creighton pulled ahead 18-13 after a series of long and scrappy points. Villanova took a timeout in hopes of ending the Bluejays' momentum. The tactic worked and the Wildcats went on a 12-3 run to win the set 25-21. A variety of errors plagued the Creighton side and ultimately cost them the set. Oddly, just as in the first set, the team with more kills and a higher hitting percentage found themselves on the wrong side of the scoreboard. The Bluejays recorded 17 kills on .208 hitting; Villanova only had 11 on .178 hitting. Winters again led all hitters with six kills. At the end of two sets, the preseason player of the year already had a double-double on the night with 10 digs. The second set loss ended a streak of 22 straight set victories for the Bluejays dating back nearly a month.
The third set mirrored the first two. The Bluejays got off to another hot start; forcing a Villanova timeout with Creighton up 6-2. The match was tied at 13 apiece before Creighton was able to pull away. The Bluejays found new life at the net defensively with two crucial blocks late in the set. A barrage of kills from all angles of the Bluejay offense closed out the 25-20 victory. Creighton's final four points came off kills by Kloth, Bird, Wilkinson, and Winters. Winters led all players again with four kills. Creighton's setter, Lydia Dimke, proved a defensive asset as well as leader of the offense. She had 11 digs in the first three sets, good for her 15th double-double of the season.
Sunday's crowd witnessed a rare sight as the fourth set began. This was only the third time all year that a Creighton home match had required a fourth set. The Bluejays were 1-1 in home matches extending beyond three sets coming into Sunday. The fourth set saw the sides trading points to start. Creighton was able to climb to a four point lead at 19-15. Just as in the second set, Villanova came out of a timeout on fire and went on a 10-3 run to take the set 25-22; tying the match at two sets each. Emotions were running high on both sides of the court. Villanova was issued a yellow card after a particularly heated protest of a lift call by their coaching staff. In the fourth set, the Bluejay attack took a step back; they hit only .190, well behind their .278 season average.
The fifth and final set was a dominant Creighton performance. The home team was visibly eager to get the set started. The Bluejays again made an early run to jump to a 4-1 lead. This time, however, Villanova had no answer for the Creighton offense. The D.J. Sokol Arena crowd of 1,644 fans roared to life following back-to-back Creighton blocks. Villanova twice called timeout, hoping to slow the Bluejays and in doing so extend their own season. It seemed to have no effect, the Creighton team was not going to be denied. In an ending fitting of her tremendous career, Creighton's final two points came off a block and a kill by senior Lauren Smith. The Bluejays hit .500 in the 15-6 fourth set victory. Villanova's -.100 hitting percentage is further evidence of Creighton's incredible play in the winner-take-all set. Jaali Winters led all hitters with three kills, bringing her match total to 22 kills on .339 hitting.
The win moved Creighton to 24-6 on the season and allowed the Bluejays to check off another one of their goals for the 2016 campaign. With their eyes still on the future, Coach Booth wants her team to enjoy the emotional win, but also keep in mind what lies ahead.
"I don't want the players to take too long to reflect on things, but for them to go 18-0 is really incredible. I am just really proud of this group and how they have approached things all season long. We wanted the Big East championship, and then it got to a point about midway through that we wanted to go undefeated. To hit those goals, is awesome. Now we move on to new goals and we are looking forward to playing in a really tough conference tournament on Friday and hopefully Saturday."
Aside from the added excitement and drama, Booth also saw benefit in being pushed so hard by the Villanova side.
"Villanova is a great team. They handed us our lone loss last year. We knew they had players who were tough on us," said Booth. "This is good for us… We hadn't been to five since the non-conference. The coaches said, as we were entering the fifth game, this is good for us assuming we perform. That gives us lots of confidence that we can have teams that challenge us and put our backs against the wall. The team showed how they will respond."
Lauren Smith had a similar viewpoint to her coach, a testament to the maturity and never-ending drive of this Bluejay team.
"I think this match was a character match. They were playing for their lives and we were playing for each other. With all the emotions and everything else tonight, we came out and were like this is another game. To get pushed like we did really sets us up for success in the future."
Creighton's senior day celebration followed the thrilling season finale, with most of the fans staying to thank the three seniors who have been a part of  Creighton's last few historic seasons. As the seniors and their families took the court, the numerous team and individual accomplishments were revisited. Following the festivities, Coach Booth had nothing but praise for her graduating class.
"All three of them have been part of the program during its winningest time in history. All have been major contributors to that; not just what they do physically, but they are all really remarkable young women. That's what we try to attract within our program, great people and great volleyball players." Although, Booth hopes that their time together last a bit longer. "We're obviously sad to see them leave the program, hopefully not for about a month. They are all going to be great successes in life. That's college, you hope you grow as a person. I think all three of them have developed into even greater women."
When asked about the seniors' performance in Sunday's match, including the ending by Smith, Coach Booth continued to describe the effect the seniors have on the team as whole.
"It's great, especially on senior day, when a senior can be a part of a win. All three contributed a great deal tonight. That's satisfying, you want that for them. They are so loved by the team. We've never had a locker room decorated for senior day, and the locker room is totally decked out. There are pictures all over and that's really great to see."
With so much riding on the match, the desire to win was evident in all the players. However, Jaali Winters may have been the easiest to spot. It was clear she was going to do all in her power to end the season with a win. After the match, she revealed her motivation during the long match.
"The number one thing in my mind was that we have to win for our seniors. The second thing was going undefeated in conference. Those two things together were in all our hearts and minds and we just went for it."
Given a chance to explain what their time at Creighton has meant to them, the three seniors, all Nebraska natives, showed why they have become great examples of the Creighton program.
"Creighton means a lot to me," stated Amanda Foje. "It has always been my dream to come play here. It's been quite an experience to actually fulfill that dream and play my four years here contributing to the program and making history every year."
Lauren Smith, in her fifth year, was fighting back tears describing her experience.
"When looking at schools, I knew that Creighton was different. The girls and whole atmosphere and culture we have here has helped me grow. All these girls are my family. It's been awesome."
Jess Bird continued the sentiment, "It's been great being all local kids, because not only have we gotten to play here, but we have gotten to play in front of our families. They have been great supporters and all of our teammates have really gotten close over these last four years. Creighton will forever be our home."
Although they will be greatly missed on the court by the team and fans alike, this senior class still hopes to lead the Bluejay team to even greater heights before they finish. As a testament to the team's determination, coaches and players are already looking at the next challenge ahead.
"First and foremost, we have to take care of our Friday match against Seton Hall. Coach Booth continued, "The conference tournament is a different bird. Anyone can beat anybody."
With a confidence likely increased further by her team's response in this match, Coach Booth describes the driving force of her team. "They will play for each other more than anything else."
Comments
Tagged in: