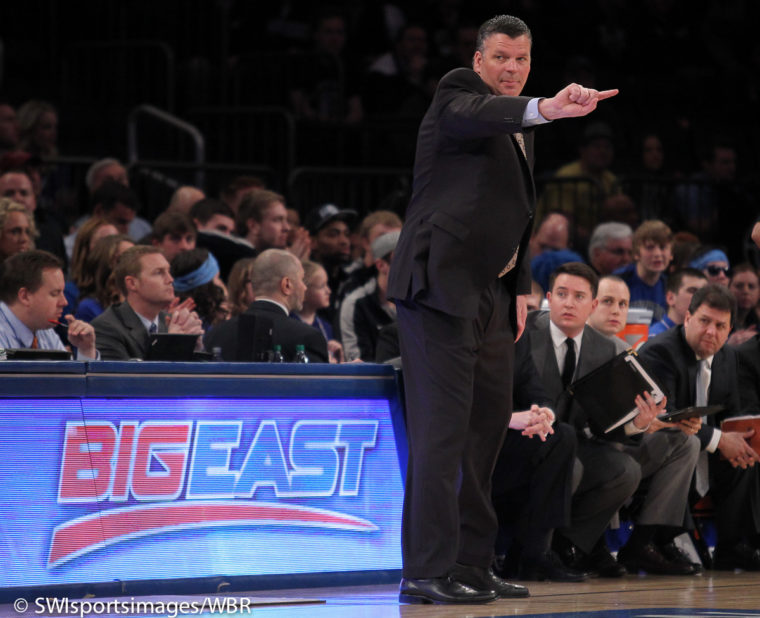 Creighton Hires Former Player Alan Huss as New Assistant Coach
Creighton announced the return of Alan Huss to the Hilltop on Thursday, joining Greg McDermott's staff to fill the opening created when Steve Lutz departed for Purdue last week. Huss played four years at Creighton from 1997-2001, and was a part of Dana Altman's first three NCAA Tournament teams at CU.
Huss was never a star with the Bluejays, totaling 297 points and 175 rebounds in 94 career games, including 39 starts, but was a fan favorite and an integral part of those early Altman Era teams. His most memorable moment in a Bluejay uniform came as a sophomore in 1998, against #17 Oklahoma State. From the WBR Bluejay Rewind:
"…Donnie Johnson left, with the starting forward suffering back spasms that forced him to miss the rest of the game. Doug Swenson struggled against the Cowboys' big front line, and was in foul trouble most of the afternoon. That created an opportunity for Alan Huss, a 6'9″ sophomore not used to playing meaningful minutes. He responded with seven points, six rebounds, and solid defense in 21 minutes, including a still-baffling-to-this-day three-pointer with 2:48 to play that drew the Jays to within one point at 58-57. How unlikely was it? That triple was one of just three that Huss attempted all season, and the only one he made. In fact, it's the only three-pointer he made in his entire four year career. You'd have never guessed it by watching this one; he pump-faked a defender into the air and out of his way, then used textbook shooting form to drain the shot, drawing nothing but nylon on its' way through the basket."
Huss' unlikely three comes at around the 5:50 mark of the video below. Not shown: his "air chainsaw" celebration as he ran down the court, as the camera didn't pan that far. For shame.
After graduating from Creighton in 2002, Huss joined the head coaching ranks with a job at Decatur Christian School in Decatur, Illinois. A newspaper article at the time of his hire featured a photo of Huss with his Creighton jersey framed prominently behind him on his office wall. From there he moved on to Culver Military Academy in Culver, Indiana and set the school record for wins in both of his final two seasons. From there he moved on to La Lumiere School in La Porte, Indiana, and amassed a 102-19 record in four seasons. He coached nearly 40 future D1 players there, as La Lumiere was regularly one of the top high school teams in the country, and never once lost a game at home — his teams were a perfect 62-0 record at Marsch Gymnasium during his four seasons as head coach.
Huss broke into college hoops by joining Craig Neal's staff at New Mexico, and spent the last three years on the Lobo bench. His connections to AAU and high school programs were on full display, as he convinced players such as Sam Logwood (a consensus Top 150 recruit from La Lumiere), Nikola Scekic (a Serbian big man by way of Orlando, who picked the Lobos over Georgetown, among others), and Damien Jefferson (a highly regarded player out of Chicago). Huss was also the lead recruiter on Omaha Central's Isaiah Poor Bear Chandler, a 6'9″ senior who averaged 14.2 points and 9.4 rebounds for Central as a senior.
"My family and I are unbelievably excited to return to home to Creighton," Huss said in a Creighton press release. "Although I have been away for the last 15 years, I have followed coach McDermott and the program closely throughout their ascension to the highest level of college basketball. I am humbled and honored to be a part of the program going forward and cannot wait to get started!"
Though he didn't directly coach or recruit any of the current La Lumiere players that Creighton is pursuing — namely Brian "Tugs" Bowen and Tyger Campbell — it can't hurt to have a former head coach of the school joining CU's recruiting pitch. Huss's connections to the Chicago area, as well as Indiana, seem to be good geographic fits for a staff recruiting to the Big East footprint.
"I'm excited to welcome Alan Huss back to Creighton," Greg McDermott commented later in the release. "I first recruited one of his players 10 years ago and have followed his career ever since. He has an outstanding track record as a recruiter and as a basketball coach. His prep school teams achieved at unprecedented levels at every stop. His passion for his alma mater was evident during the interview process and ultimately separated him from the many other quality candidates. I look forward to having him join our program."
Comments
Tagged in: