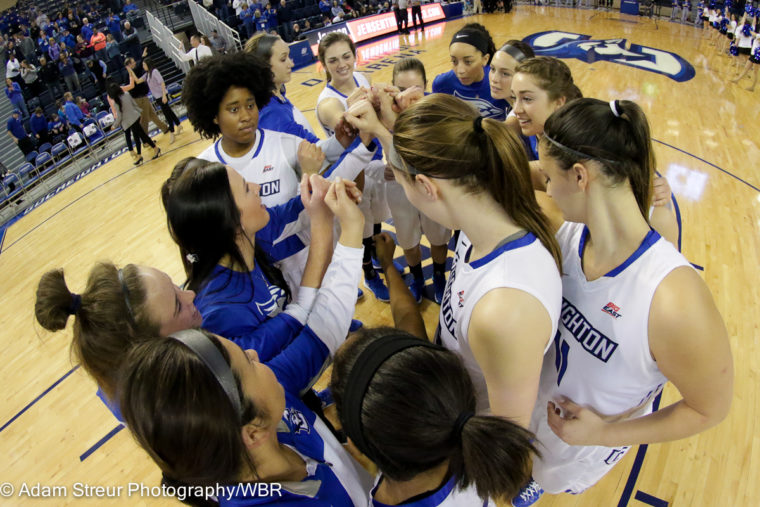 Creighton locks down Villanova in the second half to remain unbeaten at D.J. Sokol Arena
January 10, 2017, D.J. Sokol Arena – Omaha, Nebraska
Final:
Creighton Bluejays (11-5, 5-1 Big East) – 60
Villanova Wildcats (6-9, 2-3 Big East) – 46
Recap:
Creighton kept their 2016-17 home record unblemished on Tuesday night as they pulled away midway through the second half to beat Villanova in front of crowd of 707 people at D.J. Sokol Arena that included Big East commissioner Val Ackerman.
Senior guard Marissa Janning dropped a double-double for the fourth time in her career, and second time this season, as she led all players with 18 points — passing former Bluejay star Christy Neneman for fourth place on Creighton's all-time scoring chart in the process — to go along with 10 rebounds in 38 minutes of action. Junior guard Sydney Lamberty chipped in 11 points and seven rebounds. The duo from the state of Minnesota also stepped up on the defensive end of the floor, holding Villanova's top two scorers, Adrianna Hahn and Alex Louin, to seven points combined on 2-for-13 shooting.
"I thought we defended well and I thought we made some good plays at the basket, especially in the third quarter," Creighton head coach Jim Flanery said. "We're becoming third quarter team I think. Anyways, good win, good way to head back out on the road with some momentum."
From the opening tip, Janning was aggressive in looking for opportunities to score off the dribble with Villanova extending their defense to take away Creighton's looks from the 3-point line. In the first quarter, the senior guard beat her defender going right on three separate occasions resulting in two layups and a pull-up jumper along the baseline to lead all players with six points in the opening period.
"They make you make individual plays," Flanery said. "If we are used to guarding them that means they are used to guarding us, so it does come down to beating them off the dribble and making plays at the rim."
Janning also hauled in four rebounds and played all 10 minutes without turning the ball over to help Creighton take a 12-11 lead at the end of the quarter.
The Bluejays had the lead up to four points with five minutes to go before halftime, but Villanova closed the second quarter on a 10-4 run to go up 27-25 at the break. The Wildcats were led in the first half by junior center Megan Quinn, who had a team-high seven points in 13 minutes. Janning led the way with eight points and six rebounds in the opening half for Creighton.
The third quarter proved to be the determining factor in the result as Creighton hit the Wildcats with a pair of 9-0 runs both at the start and end of the period to open up a double-digit lead. Sophomore forward Audrey Faber started the first run out of the locker room with a 3-pointer to make it 28-27. Redshirt freshman forward Jaylyn Agnew capped it off with a 12-footer from the right side to push the lead to 34-27 with 6:10 to go before the end of the quarter.
After Villanova's Samantha Wilkes knocked down a pair of 3-pointers to trim Creighton's lead to 37-36 with 3:26 left in the third, Faber again ignited another 9-0 run with a three from the right wing. Three of Creighton's final four possessions of the third quarter ended in layup by Marissa Janning to give them a 46-36 lead heading to the fourth quarter.
Flanery thought the cushion heading into the final period was especially crucial given how few possessions there are when Villanova is playing at a comfortable pace.
"I don't know if a 10-point lead feels like a 20-point lead, or if a 5-point lead feels like a 10-point lead, but it's not the same as when you're playing DePaul and ten points can go away in two minutes," he said.
"I'm not telling you I was comfortable up ten, but it's different than when you're up ten against a lot of other teams because of the pace that they play. We maybe could have done a better job of making Wilkes think about some of the shots she took instead of letting her have them, but other than that I felt like we knew how to guard them."
Villanova never got closer than nine points in a fourth quarter in which they shot 3-of-14 from the field and trailed by as much as 17. The Bluejays outscored the Wildcats 35-19 in the second half and held them to 20.7% shooting after the break to turn a two-point deficit into a 14-point win.
It was Creighton's fourth consecutive win in the series after beating them twice in the regular season and again in the Big East Tournament a season ago. It also marked the third straight game between the two teams in which Villanova has failed to score at least 50 points.
Keys to the Game:
Shutting Down Hahn and Louin
Villanova entered Tuesday's game averaging an even 64.0 points per game in league play. Sophomore guard, and reigning Big East Sixth Player of the Year, Adrianna Hahn and junior guard Alex Louin were responsible for a little over half of those points through four conference games.
Against the Bluejays, the duo combined to score seven points and two assists in a total of 70 minutes on the court. Creighton didn't complicate the game plan either. They simply deployed their two best on ball defenders, Sydney Lamberty and Marissa Janning, and tasked them with checking the Wildcat duo from baseline to baseline to make things difficult.
Hahn came into the game ranked second in Big East play at 20.8 points per game on 50.8% shooting from the field, including a 45.9% clip from the 3-point line. With Janning chasing her around she end up with six points on 2-of-8 shooting in 37 minutes.
"I just tried to keep a hand up so she couldn't bring that ball up," Janning said. "I was just running around with my left arm up, I probably looked kind of funny, but as long as she didn't get that ball above her shoulder and pointed towards the basket — that just meant she had to make plays off the dribble, and when we were cheating off other kids it forced other players on their team to make plays. It ended up working out. She plays high minutes, so we wanted to take her legs away. So I got up and took her legs away."
Janning did all of that while still playing 38 minutes as well while shooting 9-of-16 from the floor. The fifth-year senior is notorious for superb conditioning, even going as far to run sprints in practice whether she was on the team that lost the drill or not, and never coming close to finishing second place in any of those drills. That creates quite a strategic advantage for the Creighton coaching staff to use defensively.
"You see so many times in film where kids let up [on Hahn] because she's got such a quick trigger and such deep range," Flanery said. "It's a matter of being disciplined. Marissa is quick enough to guard her and she's in great shape. That's one of the reasons we picked them up [full court], because I felt it was important to kind of take away her legs so she wouldn't explore her shot potential as much.
"I don't feel like anybody in the league is in better shape than Marissa. That was part of our thought process. It's a huge luxury to have someone who doesn't get tired at the guard spot."
In Alex Louin, the Bluejays were dealing with not only a player who can get a shot off quickly, but also one who leads her team in assists despite looking more of the part of a post player than a guard. That assignment was given to their best overall defender in Sydney Lamberty, and the junior from Cottage Grove, Minnesota didn't let down.
She held Villanova's junior guard to one point in 33 minutes and blanked her from the field. Louin missed each one of the five field goal attempts she was able to get off against Lamberty, including two from beyond the arc.
"We talked about having to squeeze up on her," Lamberty said. "She's really good at rocking back and shooting it. I was making sure she didn't get straight line drives to the basket. Like 'Riss' said, we were helping off of other girls, so it was easier to squeeze up on them."
Attacking off the Dribble
With Villanova extending their defense out to the three-point line and using their superior length to limit Creighton's looks from the 3-point line, the Bluejays put a premium on attacking the basket and winning one-on-one battles with the dribble. While Janning and Lamberty held Villanova's top two scorers in check, they produced 29 points of offense on their own, while combining to go 14-of-25 from the field.
"We split up guard and post in practice and worked a lot on shot fakes and going to the basket," Lamberty said. "They are a team like us, so we knew they were going to try to take away threes, so driving to the basket was the best option."
The two Bluejay guards actually outscored Villanova's entire team, 20-16, in the paint because of how many times they broke down their defender and got all the way to the basket. Janning, who is listed at 5-f0ot-8, ended up scoring 12 of her game-high 18 points in the paint, and the other six came no further than the free throw line extended.
As is becoming a routine by opposing defenses, the Wildcats practically dared the fifth-year senior to attack from the right side given that she is a left-handed shooter, but that's not something she seems to mind.
"I'm usually better at finishing with my right, but I have gotten better at going to my left," Janning said. "I'm fine either way, but if they are going to give me right side then I'm just going to go. Especially if my 3-point shot is not falling. I don't even know if I've made one in Big East play. If that's not falling then I'm just going to find other ways to score, and if they are giving me the right hand drive then I'm going to take it."
A byproduct of Creighton's primary ball-handlers attacking with conviction and the confidence of a leading scorer is that it opens up the rest of the floor for the rest of the offense.
"It makes it easier," Janning said. "Because when we start attacking more after that, then they collapse on us and it leaves people like Audrey and Lauren [Works] wide open for threes, or even Bri [Rollerson] for an easy post-up or something, because they have to come out and defend us."
Faber, Works, and Rollerson matched Janning's and Lamberty's scoring production despite Works being the only one of the three to exceed 30 minutes of playing time. The entire starting unit was responsible for 58 of the team's 60 points on the evening.
Defending Home Court
Creighton has been to the NCAA Tournament five times in program history — three times as an automatic qualifier in 1992, 2002, and 2012, and twice as an at-large in 1994 and 2013. In those five seasons, they went a combined 54-9 at home during the regular season with six of those losses coming by single digits, and the other three being at the hands of nationally-ranked opponents.
If they want an invite to the Big Dance in March their best routine needs to be perfected at home first. So far this season they have met the challenge. Tuesday's win over Villanova improved Creighton's home record to 8-0 with only two of the wins (Drake and Georgetown) coming by single digits.
"We haven't been as good of a home team the last couple years," Flanery said. "I've talked to the team a little bit about that. We are undefeated at home this year, and I've mentioned that a couple times, because I do think that we're the sort of team that should be. We're an experienced team, so we should be a good home team … home court is going to be huge."
The Bluejays are dispatching of the opposition this season at their friendly confines of D.J. Sokol Arena by an average of 14.8 points per game. They aren't just winning, they are doing so comfortably. And that has given them some confidence to build on as they hit the road for five of their next seven games after Sunday's overtime win over Georgetown to go along with the victory over the Wildcats.
"Both of these teams are really good," Lamberty said. "It's good to beat them at home and stay undefeated. It's really good momentum that we have going into these road games."
Impact Performances:
Megan Quinn, junior center, Villanova: 13 points (5-13 FG, 3-3 FT), 6 rebounds, 3 blocks, 1 steal, 29 minutes
Samantha Wilkes, senior forward, Villanova: 11 points (3-10 FG, 3-6 3FG, 2-4 FT), 2 rebounds, 4 assists, 3 steals, 28 minutes
Marissa Janning, senior guard, Creighton: 18 points (9-16 FG, 0-2 3FG), 10 rebounds, 3 assists, 38 minutes
Sydney Lamberty, junior guard, Creighton: 11 points (5-9 FG, 1-1 FT), 7 rebounds, 3 assists, 32 minutes
Brianna Rollerson, senior center, Creighton: 11 points (4-6 FG, 3-4 FT), 7 rebounds, 3 blocked shots, 25 minutes
Next Game: Saturday, January 14 at Providence, 11:00 a.m.
Comments
Tagged in: