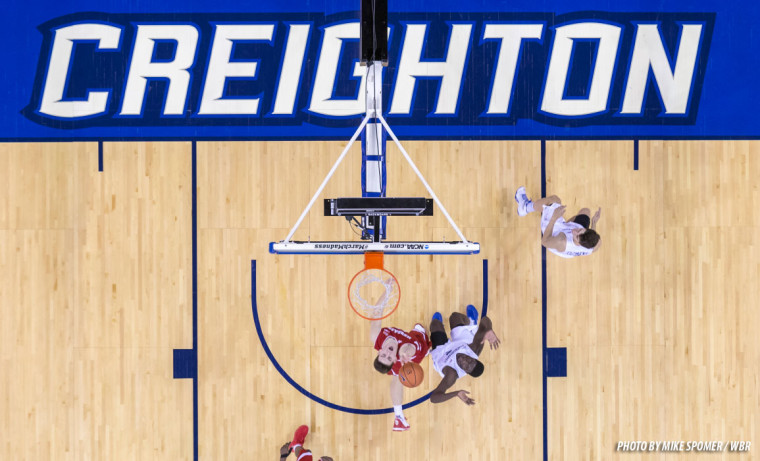 Creighton Men's Basketball 2016-17 Viewing Guide
The 2016-17 season is less than a month away, and preseason practices are in full swing for the Creighton Bluejays. There's a lot of buzz surrounding the team, as they were picked to finish in 3rd place finish in the Big East's preseason poll. After an NIT postseason run that ended at BYU last season, the Bluejays are hungry to get back to the NCAA Tournament, which would be their first since the graduation of Doug McDermott.
Keeping track of and following this team will be the easy part. Every conference game is on television through the Big East's television partners — Fox network, Fox Sports 1/2, Fox Sports Net, and CBS Sports Network. Also, all of Creighton's non-conference games are on TV as well…well, except for the opening round of the Paradise Jam, where fans will be charged to watch online and hope that the Jays advance to watch the two other games of the tournament on CBSSN instead of online.
We'll do a "Media Menu" before each game, as in years past, but as a preseason primer here's the breakdown of where you can find each game. Enjoy the season!
FS1
TV in Omaha: Cox 78 (SD), 1078 (HD); CenturyLink Prism 620 (SD), 1620 (HD); DirecTV 219; Dish Network 150
TV outside Omaha: FS1 Channel Finder
Online Streaming Info: See Fox Sports Go Section below
Creighton will have up to 12 games on FS1:
11/15 vs. Wisconsin, 7:30 PM

12/9 vs. Longwood, 6:00 PM (moved from 12/10 on FS2)
12/29 vs. Buffalo, 7:30 PM

12/31 vs. Villanova, Noon

1/4 @ St. John's, 7:30 PM

1/11 vs. Butler, 8 PM
1/16 @ Xavier, 1PM

1/28 vs. DePaul, 1:30 PM
1/31 @ Butler, 6 PM

2/11 @ DePaul, 1PM
2/19 Georgetown, 2:30 PM
*3/4 @ Marquette, 1:30PM

FS1 is the home for Big East basketball. The lion's share of games will be on this channel, as FS1 has around 100 games featuring Big East teams during both non-conference and conference season. Creighton gets featured early this season on the channel with the Gavitt Games matchup against Wisconsin. The Bluejays also get a game on the flagship during the non-conference season against the defending MAC champs, Buffalo. Eight different opponents litter the schedule during Big East conference play. Creighton could be on FS1 for over half of their conference games if they get selected for the March 4th regular season finale at Marquette.
Interestingly, there are not any Creighton games on FS1 against Big East opponent (and Bluejay nemesis) Providence; the Friars were picked to finish ninth in the preseason poll, which may have something to do with that.
FS2
TV in Omaha: Cox 216 (SD) 1216 (HD); CenturyLink Prism 621 (SD), 1621 (HD); DirecTV 618; Dish Network 397
TV outside Omaha: FS1 Channel Finder
Online Streaming Info: See Fox Sports Go Section below
Creighton will have five games on FS2:
11/26 vs. Loyola (MD), 3:30 PM
12/3 vs. Akron, 7 PM
11/28 vs. Oral Roberts, 7 PM
12/28 vs. Seton Hall, 7 PM
1/14 vs. Truman St., Noon
Creighton has twice as many games on FS2 as last year, as part of a league-wide trend; Fox continues programming more and more games on the fledgling channel, with 18 Big East games on FS2 this year, 16 of them non-conference games. Most of FS2's schedule consists of games pitting a Big East squad against a lower level Division 1 team — games that are generally blowouts (and ratings sinkholes nationally). Creighton's game against Akron is probably one of the best on FS2's entire slate. On the other end of the spectrum, the only Big East regular season game against a Division II team is also on FS2, when Creighton squares off against Truman St. CU appears 6 times, while Providence shows up 4 times on the channel.
Creighton's conference opener against Seton Hall is one of only two Big East Conference games on FS2 this season; Marquette @ St. John's is the other, on February 1st.
FOX
TV in Omaha: Cox 10 (SD) 1010 (HD); CenturyLink Prism 42 (SD) 1042 (HD); DirecTV 42 ; Dish Network 42 or 5203
TV outside Omaha: Look for your local Fox Affiliate
Online Streaming Info: See Fox Sports Go Section below
Creighton will have up to four games on FOX TV:
1/21 vs. Marquette, 1:30 p.m. (moved from 3:30 PM on FS1)

2/4 vs. Xavier, 2 PM
2/25 @ Villanova, 2 PM
*3/4 @ Marquette, 1:30 PM
Network FOX continues to showcase more and more Big East hoops, and this year Creighton will appear at least three times — once each against the other two favored teams in the Big East race, Villanova and Xavier as well as possibly the home/home series with Marquette. FOX games have generally received higher ratings than games on FS1, so featuring what should be (on paper) the best of the conference is a great strategy for all involved.
Once again Fox has reserved the final game of the year as a "wildcard," meaning they'll decide later in the season which games end up on FOX, FS1, or FSN to ensure the best matchup winds up on the network. Last season, FOX select Creighton at Xavier for the season finale, a game in which the Bluejays almost made an amazing comeback.
FSN
TV in Omaha: Cox 47 (SD) 1047 (HD); CenturyLink Prism 748 (SD), 1748 (HD); DirecTV 671; Dish Network 418
TV outside Omaha: Varies depending on region. Check the Big East TV Schedule for full details.
Online Streaming Info: See Fox Sports Go Section below
Creighton will have up to four games on regional Fox Sports Networks, including two (and possibly three) league games:
11/11 vs. UMKC, 8 PM
1/25 @ Georgetown, 6 PM
2/22 vs. Providence, 8 PM
*3/4 @ Marquette, 1:30 PM
These will be the hardest games to find on TV depending on where you live, as they're not full national broadcasts. If previous years are any guide, the UMKC game will be hardest to find if you're outside the Omaha market, as it's less likely to be picked up by FSN channels outside the viewing area. Additionally, Fox Regional Sports Networks televise a variety of NBA and NHL games in their local markets, and when those telecasts conflict with a Big East game, the NBA/NHL game takes precedence. This could be the case with all 22 Big East games on the FSN platform, including the four appearances for Creighton.
Around the country, several markets do not have FSN regional networks. For example, out east, look for Big East FSN games on networks like MSG, MSG+, YES, or other sports channels that have agreements with Fox to carry their regional sports programming.
For the best bet on where to find these games if you live outside of Omaha, check our Big East TV Schedule page for the listing of regional networks carrying the game. We will also add up-to-date info on channels carrying the game in our Media Menu posts before each Creighton game.
Fox Sports Go
All FS1, FS2, and FOX games listed above will be available through the Fox Sports Go online or through the different mobile apps.
FSN games will be available on a game-by-game (and market-by-market, and in some cases, cable or satellite provider) basis depending on whether there is an agreement for the FSN channel in your area are to appear in the FS Go application.
It's very confusing. The safest bet for FSN games is just to find your local FSN channel and watch the game that way, or head to a sports bar that can pull in out-of-market games.
CBS Sports Network
TV in Omaha: Cox 234 (SD) 1234 (HD); CenturyLink Prism 643 (SD), 1643 (HD); DirecTV 221; Dish Network 158
TV outside Omaha: CBS Sports Network Channel Finder
Online Streaming Info: How you can watch
Creighton will have up to 5 games on CBSSN:
*11/19 @ Paradise Jam, 5:30 PM

*11/21 @ Paradise Jam, TBD

1/7 @ Providence, 1 PM

2/15 @ Seton Hall, 7 PM
2/28 vs. St. John's, 7 PM
CBS Sports Network is the other major partner for Big East hoops along with FS1, carrying a total of 25 games involving Big East teams this season. If Creighton wins their Paradise Jam opening round game against Washington St. in the Paradise Jam (see streaming info below), the Jays are guaranteed to be on CBSSN for the remainder of the tournament.   Contrary to last year's CBSSN programming for Creighton, no other non-conference games will be on the channel, while the three Big East conference games are not the top-billed games that Creighton had last season.
NOTE: New this season is CBSSN is now available through streaming.  However, the bad news is that it is only carried by 3 providers — Cox, Optimum, and Frontier. It is good news for fans in Omaha for Cox customers, but then bad news if you don't have the cable tier that includes CBSSN. A lot of emotional distress in this one, but an added opportunity to watch that wasn't available last season.
ESPN Family
ESPN2
TV in Omaha: Cox 30 (SD), 1030 (HD); CenturyLink Prism 30 (SD), 606 (SD), 1606 (HD); DirecTV 209; Dish Network 144
TV outside of Omaha: Your basic cable should have it.
Online Streaming Info: WatchESPN FAQ
Creighton will play 1 game on ESPN2:
12/20 @ Arizona St., 8 PM
The only game for Creighton on the ESPN Family of networks this season is the return game of the home and home series against a rising Arizona St. team. The game will be on ESPN2 with a lot of eyes watching. This is a bonus since the game could have been relegated to the PAC-12 network, which would have been a little more difficult to watch, especially for DirecTV subscribers.
Big Ten Network
TV in Omaha: Cox 80 (SD), 1080 (HD); CenturyLink Prism 650 (SD), 1650 (HD); DirecTV 610; Dish Network 405 or 410
TV outside of Omaha: Big Ten Network Channel Finder
Online Streaming info: BTN2Go, Iphone, Ipad, Android
Creighton will have 1 game on the Big 10 Network:
The annual in-state rivalry game is in Lincoln this year, so the TV is controlled by the Big 10, which placed it on the conference's namesake network. For online streaming, the BTN apps on mobile devices are Chromcast enabled. That means you could easily cast this to your big screen and feel like you are watching it on TV.
Streaming
Creighton seems to find the tournaments that don't do traditional programming on TV platforms. Creighton's opening round game against Washington St. in the Paradise Jam will not be on TV. While 2 of the 4 opening round games will be on CBSSN, this game will only be available through the Paradise Jam's website where fans will have to pay $20 for streaming as part of a monthly subscription rate.
If Creighton wins, then the final two games will be on TV through CBSSN. However, if Creighton loses the opening round game, their final two games of the Paradise Jam will only be available through this same streaming service. Maybe a good investment of your $20 at that point, but disappointing if the Jays end up in this situation.
NOTE: If you do decide to purchase this, make sure to cancel your subscription after the games.
On the Radio
No matter where you are, the audio call of every Creighton Basketball game is also available locally on 1620AM, and worldwide either on their website (if you're on a computer) or via the 1620 The Zone app (if you're on a mobile device).
Also, all home games this season will be available locally on 101.9 FM The Keg. John Bishop once again is the play-by-play voice of the Jays, with former Bluejay Nick Bahe as the analyst when he isn't on the TV side for Fox Sports.
In Omaha: 1620AM for all games, 101.9 FM The Keg for all HOME games.
From a Computer: 1620TheZone.com, 1019thekeg.com
From a Mobile Device: iPhone App, Android App
Comments
Tagged in: