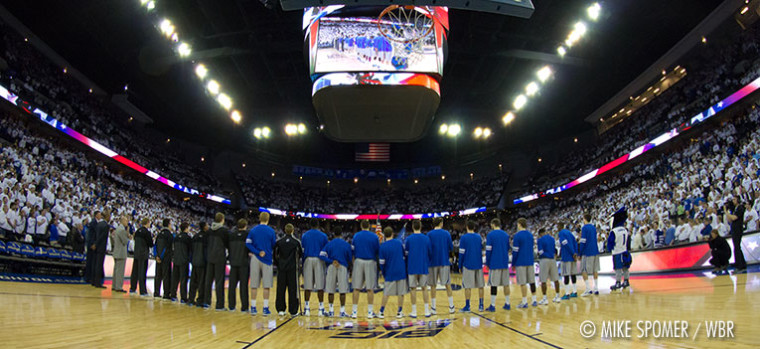 Creighton Men's Basketball Heads to Vegas Next Season
Bluejay fans may look to save their money over the next several months and head to Sin City for Thanksgiving in 2015.  The Creighton men's basketball team will return to Las Vegas next season to play in a relatively new event, the MGM Main Event.
It had been reported that Creighton was looking to play in Vegas next season, but were waiting for the field to be finalized before committing and making an announcement.  It appears they have signed on the dotted line.  According to the Daily Hampshire Gazette, the Bluejays will be playing in the MGM Main Event, which made its first appearance in the plethora of multiteam events this season during the week of Thanksgiving.  Creighton will be part of the "Heavyweight Division" which will also include Georgia, Clemson, and UMass.  The event will have traditional semifinal pairings, a championship and consolation game.
In an interesting twist to go along with this, Georgia and Clemson appear to already have a game scheduled between the two of them for the 2015-16 season with Clemson playing against Georgia on December 22nd next season in Athens, GA separate from this tournament.
Creighton will also host two home games as part of the format from the four "Middleweight Division" teams that are also participating in the multiteam event.  Those schools are still to be announced.  The games will be on ESPN networks.
The Bluejays have had some great success in Vegas.  Just two seasons ago, they won the Las Vegas Invitational against Arizona State and Wisconsin.  Creighton also won the Las Vegas Classic during the 2008-09 season over Fresno State and DePaul.
Oklahoma State won the inaugural MGM Main Event this season, defeating Tulsa in the finals.
Big East Exempt Events Set
With Creighton finalizing their MTE for next season, the Big East has all of their events scheduled for 2015-16.  Here are where the other schools are playing.
Butler–Puerto Rico Tipoff
(Utah, Minnesota, Missouri St., Mississippi St., Temple, Texas Tech, Miami )
DePaul–Paradise Jam
(Florida St., Hofstra, Indiana St., Norfolk St., Ohio, South Carolina, Tulsa)
Georgetown–2K Sports Classic
(VCU, Duke, Wisconsin hosts, Siena, Radford Bryant, +1TBA)
Marquette–Legends Classic
(Arizona St. + 6 TBA
Providence–Wooden Legacy
(Arizona, Boise St., Boston College, Evansville, Michigan St., Santa Clara, UC-Irvine)
Seton Hall–Charleston Classic
(Bradley, George Mason, Long Beach State, Oklahoma State, Ole Miss, Towson, Virginia)
St. John's–Maui Invitational
(Indiana, Kansas, St. John's, UCLA, UNLV, Vanderbilt, Wake Forest, Chaminade)
Villanova–NIT Tipoff
(Teams TBA)
Xavier–Orlando Classic
(Dayton, Notre Dame, Wichita State, Monmouth, Alabama, Iowa, USC)
Check out our Big East Future Schedule page to see other matchups setup for next season for the Bluejays and the other Big East teams.
Comments
Tagged in: