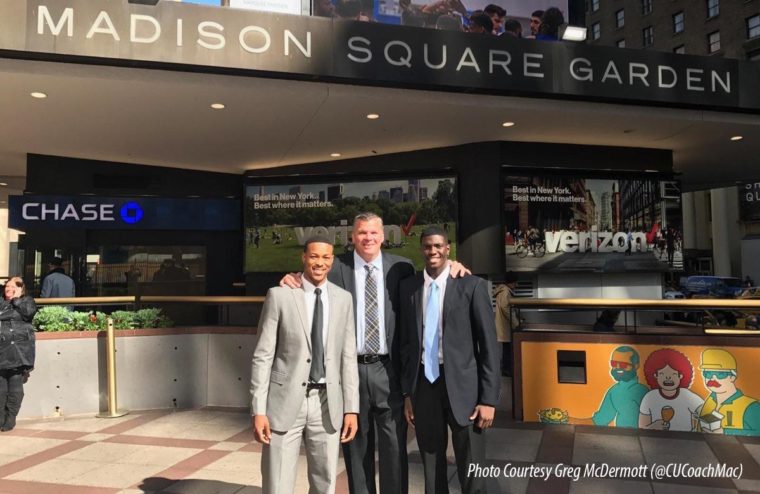 Creighton Men's Basketball Picked Fifth in Preseason Big East Poll at Media Day in NYC
Wednesday, Creighton was picked to finish fifth in the Big East's preseason poll announced at the league's media day in New York. Returning starters Marcus Foster and Khyri Thomas were also honored, with Foster named First Team Preseason All-Big East, and Thomas earning an Honorable Mention pick.
Four-time defending champ Villanova was picked to once again win the league, with eight of the ten possible first place votes going their way. Among their returnees is Preseason Player of the Year Jalen Brunson and junior Mikal Bridges, who was named Second Team Preseason All-Big East. Additionally, newcomer Omari Spellman was named Preseason Big East Freshman of the Year.
Coming in second in the poll is Seton Hall, and the Pirates had two players on the All-Big East First Team with seniors Khadeen Carrington and Angel Delgado both present on the list. Xavier is pegged for third, as a Musketeer team that finished seventh a year ago but ended the season on a high note by advancing to the Elite Eight returns Trevon Bluiett (Preseason First Team) and J.P. Macura (Preseason Honorable Mention). In fourth place is Providence, as Rodney Bullock and Kyron Cartwright (both Second Team All-Big East selections) are expected to lead the Friars to the top half of the league.
Following the Jays in fifth, the preseason poll has St. John's in sixth, and Marquette, Butler, Georgetown, and DePaul in the bottom four slots. Two Red Storm players were named Second Team All-Big East — Shamorie Ponds and Marcus LoVett — and behind that stellar duo the Johnnies are expected to make a huge leap in the standings.
In case you missed any of the league's coverage on "Big East Shootaround" via the Big East Digital Network on FOX Sports GO, here's some highlights. Foster and Thomas joined host John Fanta for a six-minute segment that featured a lot of entertaining quotes:
Foster: "I think the main reason Tazz was Defensive Player of the Year last year is because the year before he had to guard me every day in practice (laughs)."

Foster: "I'm the best NBA2K (video game) player on the team. I might be the best 2K player in the Big East. We need to get that set up to find out for sure. I play with the Rockets or the Bucks usually. Giannis (Antetokounmpo) averages like 25 points a game when I play for him."

Thomas: "Justin's AAU coach made his team go work the concession stands at the College World Series. He was seven-foot, so he was kind of hard to miss when he was working behind that counter. That's how Coach found him and started recruiting him (laughs)."
Here's the full segment:
Marcus Foster (@Swaggy2_) & Khyri Thomas (@Khyri_2) sit down with John Fanta (@John_Fanta) on #BEshootaround at #BEMediaDay! #GoJays pic.twitter.com/w7Cz2NJKJF

— Creighton Basketball (@BluejayMBB) October 18, 2017
Coach Greg McDermott sat down with co-host Tarik Turner for an interview. Here's some highlights:
"Though we lost Justin (Patton), we can play a couple of different ways in the post. We have Toby Hegner back, we have Ronnie Harrell who played wing for us in the past but could slide into that power forward spot, and then we added a fifth-year senior transfer in Manny Suarez and a true freshman in Jacob Epperson. And Martin Krampelj, who played some for us last year, has made the most progress of anyone in our program this offseason. The combination by committee of those guys will spend most of the time on our frontline. But we've also tinkered in practice with sliding one of our freshmen, Mitch Ballock, or Khyri Thomas into that power forward spot. We may play small, although it pains me to say it, because it seems like that's the way this game is going. Big guys aren't as important as we used to be."

"Marcus (Foster)'s leadership is really going to be important this year. The same thing from Khyri Thomas. They're our two best players, and with that comes having to shoulder that leadership responsibility. Marcus came back in as good a shape as he's ever been in. His ball handling has really improved, he's shooting it at a higher level, his defense is more important to him though it's still not as important to him as I'd like it to become (laughs). He had a terrific year last year, and grew a lot during the course of the season. We'll go as far as he takes us this year, because he's a really talented two-way player."

"Khyri is one of the most unselfish players I've ever coached. His first year, he lacked confidence so much to the point where he didn't feel like he was worthy of playing at Creighton. He's worked so hard and developed his game so much since then. Obviously he was terrific defensively last year and guarded several positions. But offensively he was 50% from the field and almost 40% from three-point range and 80% from the line, and he was third in the league in assists. The guy does a lot that maybe goes unnoticed. But he and Marcus give us two guys on the wings that can attack the rim or hit a three, and they're both unselfish enough to make their teammates better."

"Unfortunately, the point guard spot is not locked up yet. Kaleb Joseph has been battling hamstring problems really since the start of practice, so he hasn't practiced much. That makes it really difficult for us to get a feel for him, and for him to get a feel for how to run our offense. He's certainly going to be in the mix. Davion Mintz played some last year and did a good job late in the season, and he's continued to develop. And Ty-Shon Alexander, our freshman from North Carolina, has been a pleasant surprise in his ability to run that position. Our fifth-year walk-on Tyler Clement played some important minutes on this floor in the Big East Tournament last year in helping get us to the championship game. He knows where he's supposed to be, knows what he's supposed to do, and has the confidence of his teammates because of his basketball IQ. We have more options this year. While none of them are as talented as Maurice was, we have a good group of guys that can give us solid minutes at that position."
Here's the full interview:
Coach McDermott (@cucoachmac) speaks with Tarik Turner (@tarik4turner) at @BIGEAST Media Day #GoJays #BIGEASThoops #BEMediaDay pic.twitter.com/DoahWZougn

— Creighton Basketball (@BluejayMBB) October 18, 2017
Andy Katz, formerly of ESPN, answered how the Big East sustains its excellence:
.@TheAndyKatz on how the BIG EAST sustains its excellence #BEmediaday pic.twitter.com/0BSP39x55H

— #BIGEASThoops (@BIGEASTMBB) October 18, 2017
Seton Hall seniors Khadeen Carrington and Angel Delgado answer some tough questions:
Who dunked on who? Who's the best singer? The Seton Hall seniors break it down here on #BEshootaround #BEmediaday #shmbb pic.twitter.com/2EJvHrSD6z

— #BIGEASThoops (@BIGEASTMBB) October 18, 2017
And their coach, Kevin Willard, talks about what they've meant to his program:
"They stayed true to who they are…" – Seton Hall Coach Kevin Willard on his four seniors #BEmediaday #shbb pic.twitter.com/Y77w88xkbb

— #BIGEASThoops (@BIGEASTMBB) October 18, 2017
Georgetown coach Patrick Ewing said in his interview segment that returning to MSG as coach of the Hoyas gave him goosebumps:
"It gives me goosebumps…" – Georgetown Coach Pat Ewing on returning to his old home #BEmediaday pic.twitter.com/rfO5oERl3o

— #BIGEASThoops (@BIGEASTMBB) October 18, 2017
Villanova's Jalen Brunson and Phil Booth sat down for a Q&A:
We asked Villanova's Jalen Brunson and Phil Booth, "you're an NBA GM, which 3 players would you take to start your franchise?" #BEmediaday pic.twitter.com/wotVABBpUJ

— #BIGEASThoops (@BIGEASTMBB) October 18, 2017
And their coach Jay Wright gave this thoughts on the league entering 2017-18:
"Every game was a battle…" – Coach Jay Wright on staying hungry and keeping focused #BEMediaDay #NovaMBB pic.twitter.com/7h4LGzPv5Q

— #BIGEASThoops (@BIGEASTMBB) October 18, 2017
Steve Lavin had praise for the midwest additions to the league for bolstering the quality of the Big East:
.@SteveLavin64: Those Midwest schools that joined our conference have really helped bolster the credibility of the BIG EAST #BEmediaday pic.twitter.com/Opo3Y7RLzW

— #BIGEASThoops (@BIGEASTMBB) October 18, 2017
And in her remarks to the media, Commissioner Val Ackerman had this to say:
Commissioner Val Ackerman is excited to be back at @TheGarden #BEmediaday pic.twitter.com/HNMGLc5ia7

— #BIGEASThoops (@BIGEASTMBB) October 18, 2017
"We're very comfortable with who we are. We are basketball schools." #BEmediaday pic.twitter.com/B1mxv5t0pd

— #BIGEASThoops (@BIGEASTMBB) October 18, 2017
And finally, here's some of the other action from Media Day courtesy of Twitter:
Turned the corner at @TheGarden and ran into all the @BIGEAST mascots. #BEMediaDay pic.twitter.com/IK3FX75Wik

— Rob Anderson (@_robanderson) October 18, 2017
Marcus & Khyri headed to the #BEShootaround set. Watch on Fox Sports Go! pic.twitter.com/868RjyTYEM

— Rob Anderson (@_robanderson) October 18, 2017
Marcus Foster and Khyri Thomas looking sharp at @TheGarden on #BEMediaDay. pic.twitter.com/Sozdsv2CFp

— Creighton Basketball (@BluejayMBB) October 18, 2017
Creighton coach Greg McDermott with @FOXSports' Cooper Manning at #BEMediaDay.

Much of their talk was about #Omaha #Omaha. pic.twitter.com/yHaIrgI8lN

— Rob Anderson (@_robanderson) October 18, 2017
New York City with my guys. Proud to represent @Creighton at Big East Media Day! @Khyri_2 @Swaggy2_ pic.twitter.com/jftZdjeTKF

— Coach McDermott (@cucoachmac) October 18, 2017
Funny exchange with Marcus Foster & Khyri Thomas. They were sitting next to each other when a question was asked: Who's CU's best shooter? pic.twitter.com/FH2hQRpE66

— Jon Nyatawa (@JonNyatawa) October 18, 2017
Khyri Thomas not on the preseason All-Big East 1st or 2nd teams??? (named an honorable mention)

Said Khyri: "It's time to go prove myself"

— Jon Nyatawa (@JonNyatawa) October 18, 2017
McDermott said he was surprised to see Thomas left off the 1st/2nd teams. Foster, too. They think Khryi's gonna take another jump

— Jon Nyatawa (@JonNyatawa) October 18, 2017
Comments
Tagged in: