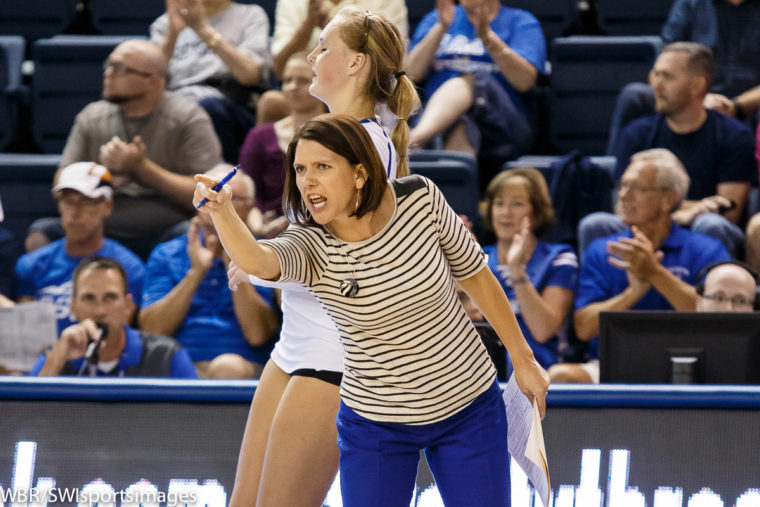 Creighton, Northern Iowa Head Coaches Built a Lasting Friendship Through Volleyball and motherhood
If you've taken care of business in league play and in the conference tournament like the Creighton Volleyball team has over the last few years, then Selection Sunday usually turns into a night of relaxation with teammates and a brief outburst of excitement after seeing your name on the television screen with your NCAA Tournament opponent and destination.
Kirsten Bernthal Booth forgot her outburst of excitement last winter. Not only was the Bluejays' head coach, now in her 15th season leading the program after inheriting a 3-23 squad in 2003, puzzled by her top-20 team getting sent to Lawrence with a fourth-ranked Kansas team potentially standing in their way of a second straight Sweet Sixteen appearance, but Creighton's first round opponent was no walk in the park either.
The Bluejays were matched up with a Northern Iowa club that they had already swept back on September 2nd, but it meant that Bernthal Booth would essentially be rooting against her best friend, Panthers' head coach Bobbi Petersen. When the pairing was announced, the two coaches immediately exchanged half-hearted congratulatory text messages.
"I was surprised because we had already played Northern Iowa and the selection committee usually tries to put you with someone that you haven't played," Booth said. "But we also knew that to get where we wanted to go that we were going to have to win matches and it is what it is."

"Our conversation at the time was that it was awesome that one of our teams was at least going to advance to the second round, so one of us was going to be happy. The bummer was that meant both of us couldn't do it."
The match went five sets with the Bluejays prevailing for their fifth win in the last six meetings after Northern Iowa won 40 of the first 43 matches between the two programs all-time.
"The hardest part about that is they are the team we're cheering for," Petersen said in the hallway of historic Allen Fieldhouse after the match. "Obviously [we cheer for] our conference schools, but Creighton is the team we cheer for all of the time. Partly because of that relationship [between Kirsten and I] and partly because we've played each other all those years. We talked before that we would cheer on whoever moved on.

"I'm so proud of Kirsten and what she has done with that program. It's amazing what she has done there. It's good in the coaching world to have those people that you trust. I have a lot of friends in coaching, but I consider Kirsten a friend that I can trust in the coaching world."
The Coaching Connection
Neither Booth nor Petersen can remember when they first met, but separately they both recalled that it probably had something to do with a soon-to-be Iowa Hawkeye Hall-of-Famer. As a player in the late-80's, Barb (Willis) Randall became Iowa Volleyball's all-time leader in career blocks on her way to being named the program's Player of the Decade. After a two and a half year stint with the USA National Team, Randall got into coaching where she was an assistant under Bernthal Booth at Kirkwood Community College before moving on to join Petersen's staff at Northern Iowa.
When Booth accepted the head coaching position at Creighton on February 3, 2003, Randall became a link between the new Missouri Valley Conference counterparts.
"Barb obviously connected us and I think helped with the immediate affection for each other, because I think she had spoken nicely about each of us to each other," Booth said. "I immediately got to know Bobbi quicker than others in the league because of that connection."
Every Milestone, A Measuring Stick
Hearing the name Northern Iowa probably doesn't elicit the same reaction one might have to perennial Midwest powers such as Nebraska or Texas, but in Petersen's 18 seasons as head coach they have kicked down that door to elite status on several occasions. Since 2000, the Panthers have made 12 NCAA Tournament appearances, won eight Missouri Valley Conference tournament titles, won seven Missouri Valley Conference regular season titles, have reached the Sweet Sixteen twice, been nationally ranked as high as sixth — not including the No. 6 overall seed they earned in the 2011 NCAA Tournament.
Petersen, who owns a 437-132 career record as Northern Iowa's head coach, has won Missouri Valley Conference Coach of the Year five times and was named the National Coach of the Year by the American Volleyball Coaches Association in 2002. She entered the 2017 season ranked 12th among all active head coaches with a .767 career winning percentage.
That run of success set the bar for Booth to shoot for with her program, but what impressed the long-time Creighton coach even more about her coaching peer was not what Petersen was able to do, but rather how.
"They've had different years of being great at different things, but they always have good culture," Booth said. "They always work their tail off, and they are always disciplined. They are one of the best defensive teams year in and year out."

"Bobbi's teams never give up. They work their tail off. They are always highly-disciplined. You're not going to catch them missing a blocking cue or missing a defensive cue. You're just not going to get stupid points from them, and I've always really admired that. Her players have always handled wins and losses with class, and I think that is trickled down from the character that she and her staff have. She's had her same staff forever. I think that tells you something."
Booth, of course, has her program, with an invitation in hand, on their way to the dinner tables of the game's elite programs. The Bluejays are ranked an all-time program-best seventh nationally and return 11 players, including five starters and their libero from an Elite Eight appearance last December. That comes on the heels of the first Sweet Sixteen appearance in school history in 2015. Booth, already the all-time wins leader at Creighton, is six victories away from the 300 in her Bluejay career. She has won 20+ matches and reached the NCAA Tournament in each of the past five seasons, winning four regular season and conference tournament titles, and three conference coach of the year awards.
Even from 260 miles away in Cedar Falls, Petersen can still see the similarities between her program's ascension and Creighton's.
"We don't hide what our culture is about," she said. "We don't hide that we work hard, and I think that is passed on from the people that are here and the people that have been here. You get a lot of people that talk about family — every program talks about that — but I really feel like we live that."

"[Kirsten's program] is the same. They are just gritty fighters that get it. They work really hard, I feel, for her and for their team, and that's something that we try to promote all the time. Everything that you are doing out there is about so much more than what you are doing. It's for the team. You compete together and you win or lose together. I think she does a great job of building that culture within her program. Obviously she's gotten her teams to a very high level, but the ability to do that over the years she's had to teach that mental toughness, that team attitude, and I think she's done a really good job with building a very special culture there. It's not only done well for her teams, but I think it's something that entices people to want to be apart of her program. She's been able to get some really high level kids to go there to be apart of that."
Balancing Volleyball & Family
Father time may have a track record of being undefeated, but for Bobbi Petersen and Kirsten Bernthal Booth, "mother time" is the most challenging part of their respective lives. With all that comes with being responsible for a nationally-relevant program, finding enough time to spend watching their daughters grow up can be difficult, but in a funny way, it's probably the main reason that their friendship is a strong as it is today.
"We commiserate more on trying to manage life," Booth said. "A lot of what we talk about is how we are managing with the kids. Her daughters are stud volleyball players, so I ask her about that. … How we are you managing coaching and balancing family is a lot times what our conversations are about."
Booth has three girls — Reese, age 12; Hayden, age 10; and Berkley, age 6. While Petersen has two sets of twin daughters. The oldest ones are Baylee and Sydney, age 17; followed by Payton and Jadyn, age 11.
An extensive recruiting calendar with matches, practices, and workouts in the fall, winter, and spring makes it easy to miss the little moments in their young children's lives. A struggle that Petersen was shy to share when asked about the balancing act that she and Booth are faced with as head coaches and parents.
"One of the most important things is having a support system and feeling very comfortable with the people that are around your children. Kirsten and I have talked about that comfortability a lot. We both have amazing husbands that make it a lot better, let's put it that way. They get it, they get what we do, and they are willing to do a lot of things that I don't know if a lot of husbands would. That's a big important part of it."

"I think over the years the biggest challenge for me is just fighting the guilt, on both sides, because you do miss a lot, especially as your children get older and are involved in activities at school. It's really really hard not to be there, but you know you're not going to be able to be at everything. You just have to make sure in the moments when you can be there that you're really engaged in what's going on, and you're apart of it, and you're not worried about the other side of the work."

"I think the hardest thing about coaching is that it's very hard to turn it off, and if you want to be successful at balancing you have to find ways to be able to turn it off when you're with your family or when you're with your friends. And it's hard. That was my biggest thing that I had to really change about myself. I had to be with my children when I was with them and not thinking about that problem I had or this play that I need to fix. It was difficult, but I think I have learned how to do it."

"As my kids have gotten older I do think it's a lot harder, because the things you miss are more real. I remember missing the first soccer game when my kids were five. It was like, yeah, that was tough, but now you're missing their senior year and their last high school matches of their life. You're missing some of those things and it's just a different level. That's been challenging, but there are so many things that my kids have gotten from being apart of it all, too."

"They've had a lot of amazing role models over the years. We've taken them on some volleyball trips, so they've been apart of some of that. I think they are very independent young women, and I think they are going to go out and be very successful, because they've seen and been around a lot of that. They've been forced into being a little bit more independent than I think a lot of kids are now-a-days just because I'm not around all the time. They have to do some things for themselves that you worry about, but then you think it's good that they had to experience that."

"I have lot of conversations with them. One day I asked my oldest two, 'Do you regret that I have been gone all the time? Would it have been better if I had a different job where I could have been at everything?'"

"They claim that they would have not changed it for anything, so I'm hoping that that's real and they're not just trying to make me feel better. I think it's more my own personal feelings. Kids are strong and they get it more than you think, but I kind of have to overcome it myself because I don't like not being there. I have a lot of family around, so they do have a lot of support, but it's not me, you know? I want to be there."

"One of my daughters is on the Homecoming Court and I won't see any of it — I'm going to be gone at a tournament. I'll never get that back, but I know she's going to have a lot of people there supporting her. I feel like this is my calling. To be a coach, and to be able to impact other people besides just my children too. That's kind of the balance you have to find. When you feel like you're not doing that anymore then you have to consider that and weigh that."
Through the ups and the downs of coaching Division 1 volleyball, developing other's children from teenagers into adults, and through the time spent and time missed with their own families, the two coaches know where to turn in times of need or even for just a quick 'hey, how are you?'
Kirsten Bernthal Booth: "I think women do this a lot in that we don't connect as much as we'd like, but I know that if I needed something whether it be about volleyball or life, Bobbi would be there in a second to support, and she would put our friendship in front of volleyball. That's not always the case [with other coaches]. I really appreciate who she is as a human being."

Bobbi Petersen: "I think there is a lot of closeness in the volleyball world, but I also think there is a different level with some people and I feel like I have that different level with Kirsten. I run a lot of things by her for a lot of different reasons that I wouldn't with some of my other friends that are in coaching."
Both teams face off in the final game of the Bluejay Invitational at 8PM on Saturday night at DJ Sokol Arena.  Both will be sure to be cheering on each other as their teams also face off with Kentucky and USC this weekend.
Comments
Tagged in: