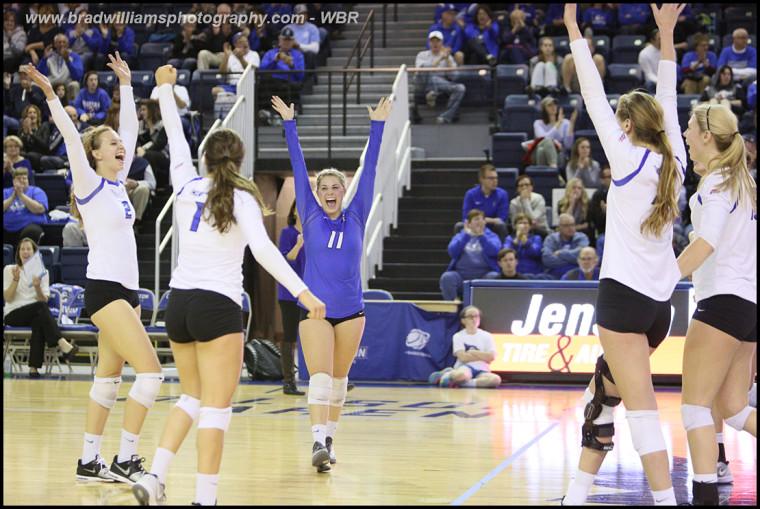 Creighton Punches Ticket to NCAA Tournament by Sweeping Villanova
When they clinched the Big East regular season title on November 13, the Creighton volleyball team had just a couple hours to celebrate before turning their attention to the next match. After sweeping Villanova on Saturday afternoon to win the Big East Tournament title, the celebration will last a little bit longer than that as they wait and see where the selection committee places the Bluejays and who they will face either next Thursday or Friday in the first round of the NCAA Tournament.
"I think there are some really high quality schools that are going to be hosting in the midwest," Creighton head coach Kirsten Bernthal Booth said. "If we go to Kansas, Nebraska, Minnesota, or Missouri we won't play them in the first round, but whoever we play we know we're playing a great team. We're going to have to bring our "A" game on Thursday or Friday whenever we play, and we're excited for whoever that will be."
Creighton (25-8) earned the chance to rest easy during Sunday night's selection show by dismantling the Wildcats (25-8) in straight sets in front of a rowdy home crowd of 1,583 at D.J. Sokol Arena. The Bluejays' defense set the tone from the opening serve. Their back row had all areas of the floor covered and their block set up was sharp from the outset, often putting four hands in front of Villanova hitters. Sophomore middle blocker Marysa Wilkinson had blocks on five of six points midway through the first set to help Creighton build a 14-7 lead.
Villanova didn't get any closer than four points the rest of the set as Creighton finished it off with a setter dump by senior setter Maggie Baumert to win it 25-18. Along with Wilkinson's five blocks, Baumert helped set the tone for her team with three kills, eight assists, and three digs in the opening game.
The defense kept up the effort in the second set while outside hitters Jaali Winters and Jess Bird picked things up for the offense. While the Creighton defense limited the Wildcats to just nine kills in the second game, Winters matched that with nine of her own, and Bird added eight on 15 swings without committing a single attack error.  The Bluejays led wire to wire in the second set, opening up with a 14-6 run on their way to another 25-18 victory before intermission.
Winters added eight more kills in third set to finish with 18 for the match to lead all players. Villanova hung around early after the two teams emerged from the locker room, but they never found a rhythm or put together a significant run against the Bluejays. While the final set was the most competitive of the match in the early going it ended up more lopsided than the others as Creighton finished the match on a 10-3 run to win the set 25-17 and wrap up the sweep that gave them their second consecutive Big East Tournament title, and third conference tournament title in the last four seasons.
"I thought we played a very good match against a very good Villanova team," Booth said. "I felt like whoever won the serve and pass game was going to have success. Villanova served rockets yesterday so we were ready for them to come out and do that to us, and I thought we passed well and got ourselves in system. Then I thought we disrupted them some with our serving. I thought we followed game plan some of the best we've done all season, and really attacked the areas of the court that we wanted to attack, and blocking we did a phenomenal job setting up our block and kind of distributing things."
The Bluejays finished with 11 blocks as a team. Wilkinson led the way with five, while Bird, junior middle blocker Lauren Smith, and freshman outside hitter Taryn Kloth each had four. They were backed up by an active back row that produced 49 digs and held Villanova to a .147 attack percentage for the entire match.
"I thought our defense was outstanding. In fact, we talked after game two of how strong that was and we needed to continue to sustain that," Booth said. "Blocking is where a lot of the game plan stuff came in, because what makes Villanova very difficult to defend is that you don't know where they're going to set. We really leaned on Marysa and Lauren to make some decisions based on where the pass was, and instincts a lot of times were telling them where to go. Today it was really on them, so clearly they know far more than me, because they made great decisions over and over again."
"Then I thought both Jess and Jaali did a nice job containing their slide, because their slide is lethal. I didn't think their middles were able to go off the way that they do in a lot of matches."
Maggie Baumert, Jess Bird, and senior libero Kate Elman were named to the 2015 All-Tournament team for the Big East Tournament. Bird also took home the Most Valuable Player award for the tournament after she finished with 14 kills, 8 digs, 4 blocks, and a .375 attack percentage in the title match against Villanova.
The win gives Creighton a 19-1 record against Big East competition this season. They won the regular season title with a 17-1 record before beating Marquette in five sets and sweeping Villanova in the Big East Tournament. Not an easy feat to pull off, but with a veteran group setting the example the Bluejays were always thinking one match at a time despite their big picture goals.
"We took it one game at a time," Baumert said. "Whoever was our next opponent, we prepared for them and moved forward from there, and I really think that we did a good job of following game plan game by game, and we made our goal."
Booth, in her 13th year as Creighton's head coach, credited something a little different for Creighton's run through the Big East than just a one match at a time mentality.
"This is a special group. I've said this several times; we've got incredible leadership, but we've got players from freshmen to seniors that are willing to do what's asked of them," she said. "Sometimes people play, sometimes they don't play, sometimes they play a little bit, and I have yet to see a kid mope about that. People that coach know how big that is.
"This team was easy to take down the path, because people weren't selfish. If you don't have selfishness on the team it's a game-changer, because now you can focus on the play as compared to managing people's attitudes and things along those lines. The culture of this team is really special, and that leads to the trust that they have when we're down 0-2 at Georgetown or when Marquette comes back and pushes us to five, they trust each other. We may not win every game, but I tell you what, they come together, they're not going to give up, and they trust each other, and I think that's huge."
Now that the Bluejays have marked the regular season and conference tournament titles off their list, they can relax for a bit and wait to see when and where the NCAA selection committee will send them for a program-record fourth year in a row. This time around the Bluejays aren't just happy to be included in the field.
"We have a lot still on the to-do list. It starts over," Booth said. "We're excited for tomorrow night, and I want the players to really enjoy this, but we'll refocus. We're not just going to the NCAA Tournament just to be there, we want to go there and win some matches and do some things that Creighton Volleyball has never done."
Any preference or concern about any potential opponent or a location?
"Wherever," Baumert said.
"Bring it on," Jess Bird added. "In the non-conference we played a lot of the top teams, so when we do draw those top teams we're ready for this, and we're even ready for some revenge."
The team will hold a viewing party at the Old Mattress Factory on Sunday night at 8:00 p.m. to see where the team will be sent and who they will be matched up against. The party is open to the public.
Listen to postgame interviews with head coach Kirsten Bernthal Booth and players Maggie Baumert and Marysa Wilkinson

Comments
Tagged in: