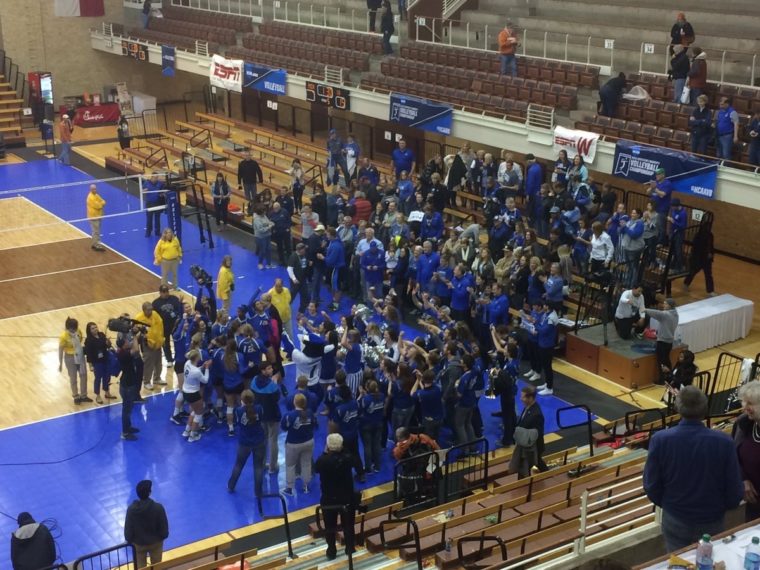 Creighton rolls into the Elite Eight with a come-from-behind win over 12th-seeded Michigan
There is an old saying that death and taxes are the only two certainties in life. Over the last three months, Kirsten Bernthal Booth's 21st-ranked Creighton Volleyball team has made a case to add winning matches to that list. The Bluejays have not lost a match since September 17th, amassing a winning streak that they extended to 23 consecutive matches on Friday evening when they rallied from a 2-1 hole to beat the 12th-seeded Michigan Wolverines 24-26, 25-21, 17-25, 25-20, 15-7 in five sets down in Austin, Texas.
"It was an incredible match. We like the five-setters clearly," Booth said. "I can't say enough about these young women, and the thing is I really like them off the court too, which is a nice thing as a coach. They are outstanding student-athletes, and they exemplify what we want in college sports of high character young women who take care of things in the classroom — and they are winners. It's pretty exciting to be making history for our program, and we are excited for another opportunity [against Texas]."
As was the case in their first and second round wins over Northern Iowa and Kansas, the Bluejays found themselves in a dogfight with a berth in the Elite Eight on the line against their Big Ten foe. The Wolverines put together the first run of the match to create some early separation as a kill by redshirt freshman middle blocker Cori Crocker and an ace by freshman setter MacKenzie Welsh helped flip a 4-4 tie into an 8-4 lead, forcing an early timeout by Creighton.
The Bluejays responded well after a chat on the bench, scoring four in a row of their own — on a trio of kills by sophomore outside hitters Taryn Kloth and Jaali Winters, and an ace by senior middle blocker Lauren Smith — to make Michigan burn an early timeout as well.
After her team fell behind once more, Smith again came through, this time with a kill on a quick set in the middle and a block on the right side of the net to help Creighton pull even midway through set one. Another kill by Kloth followed to put the Bluejays back in front, 18-16, as the Wolverines burned their final timeout.
With the Bluejays leading now extended to 21-18 late in the set, Michigan rallied to even things up at 22-all behind some strong serving that kept Creighton from getting their offense in system. The Wolverines kept the momentum on their side of net and got kills by Welsh and sophomore Carly Skjodt to win game one, 26-24, and take a 1-0 lead in the match.
In need of a bounce back performance in game two, Smith pounded home three kills to help Creighton open up a 7-3 lead, but Michigan responded with four straight points to tie things up. Creighton was successful in hitting over the block during the run, but going after high hands made a couple of their attacks go long, ending in points for the Wolverines.
Kills by Kloth and junior right side hitter Marysa Wilkinson helped the Bluejays retake the lead, and a block by Megan Ballenger in the middle of the net extended it to 12-8 midway through the set. Creighton kept Michigan at arm's length, leading by as many as five points the rest of the way before a cross-court kill by Winters finished a 25-21 win to tie the match at 1-1 heading to intermission.
Set three featured another strong start for Creighton as they took a 6-3 lead behind three more kills from Winters. But Michigan again rallied to tie it up and eventually moved in front by a point on a kill by junior middle blocker Claire Kieffer-Wright. Now trailing 12-11, the Bluejays went back to the 6-foot, 4-inch, hard-swinging Kloth, who continued to find seams to hit through the opposing block to give her team a 15-13 lead midway through game four.
After a media timeout, Michigan came out fresh and rattled off a 5-1 run to move in front, 18-16, capitalizing on a pair of service errors by Creighton. A timeout by the Bluejays couldn't slow the momentum as the Wolverines finished the set on a 12-2 run, led by four kills from senior right side hitter Abby Cole to win set three 25-17 and take a one-set lead in the match.
The three-time reigning Big East champions had faced a 2-1 hole on three other occasions this season prior to Friday night, but had failed to complete the comeback in all three instances, losing in four sets to Kansas State and Nebraska, and dropping a five-setter to Southern Cal. This time, however, the Bluejays were able to flip that script. Kills by Brittany Lawrence, Lauren Smith, and Jaali Winters opened up a 3-0 lead in set four that they would not relinquish. The Wolverines tried to erase the early deficit as they did in games two and three, but an 8-3 run midway through game four turned a 9-8 lead for Creighton into a 17-11 lead. They held off a late rally to win the set 25-20 and move to a fifth set for the third time in as many matches during their NCAA Tournament run.
"Every game we come out for we reset, 0-0," Smith said of the team's mindset entering game four with their season on the line. "What we do and how we start off is really what counts. We have a lot of trust on this team, and the girls were amazing and aggressive. The synergy overall is what we really count on."
Based on the first four points of set five it looked like Creighton was in store for another hard-fought, drama-filled decisive game like the ones they went through a week ago in Lawrence against Northern Iowa and fifth-seeded Kansas. First they jumped out to a 2-0 lead, but the Wolverines rallied to tie it right up on a service error and a kill by senior outside hitter Kelly Murphy. Just when it seemed like it was time to buckle up, Smith and Winters led the unseeded Bluejays on a 7-1 run to build a commanding 9-3 lead. Smith had three kills while Winters added a pair of her own during the back-breaking stretch. No matter how much fight the Wolverines had left in them they couldn't get any closer than five points the rest of the way before Winters finished off the match with a roll shot just inside the right sideline to win it 15-7 and send the Bluejays to the Elite Eight for the first time in program history.
"We're just having a good time," Winters said of the program's historic achievement. "We like winning and we want to keep doing it. That's all."
The sophomore All-American from Ankeny, Iowa led all players with 21 kills to go along with a career-high 25 digs. It was just the second 20-20 match of her career — the first came on December 5, 2015 when she led the Bluejays to a four-set road win over North Carolina to send them to the Sweet 16 for the first time ever. Halfway through her collegiate career she already has five matches of 20 or more kills in the NCAA Tournament alone.
"She's just a dang good volleyball player," Creighton's head coach said of her second-year superstar. "She sets a great tone for the team of 'we're going to go for it', and then she steps up and does it. If we lose a game with Jaali you know she's going for it, and that's what I love about her. She just has a confidence about her."
Kenzie Crawford Makes Most of Modified Role, Chance to Stick it to Michigan
If the Michigan coaching staff checks the Creighton roster to learn about the 5-foot-10 defensive specialist that flew all over the court late in Friday night's match they probably won't like what they discover. Hailing from Grand Rapids, Michigan, Kenzie Crawford went from being not needed at all by the Wolverines to doing a little bit of everything for the Bluejays.
In the five-set win, Crawford had 13 digs and was a big factor in holding Michigan's best offensive player, 6-foot-5 senior right side/middle blocker Abby Cole, to a .209 attack percentage on 43 total swings. According to Crawford, Cole is one of her best friends and played together for the same club team growing up. That didn't make the fourth-year junior any less anxious to end the season of the school that didn't recruit her out of high school.
"It was really awesome to play her," Crawford said. "I had been waiting four years to play someone from Michigan, and it was exciting. I just wanted to beat them so bad."
Crawford, who backed up Maggie Baumert at setter a year ago, has found herself in a new role for the Bluejays this season, and her transformation to defensive specialist is paying off at the most important time of the season. Against her home state Wolverines, Crawford reached double figures in digs for just the sixth time all season, but half of those double-digit dig performances have come in the NCAA Tournament.
"She's a team player. That's the key," Kirsten Bernthal Booth said of Crawford's willingness to accept a position change in the offseason. "Every once in a while you run into kids that are like, 'no, this is the position I play.' Kenzie wants to do whatever she can for the team. If Kenzie was the starting middle she would embrace it, if she was on the bench she would embrace it. She's just a team-before-self type of kid.
"It's great to see a kid that changes position, works her tail off in the spring, and earns a spot. And she brings so much to the team emotionally. She's just a spitfire of a personality."
Marysa Wilkinson's Breakout Postseason Continues
Prior to the start of the 2016 NCAA Tournament, Creighton's junior right side hitter/middle blocker had only finished one match in her entire career with 15 or more kills. She has now done it in all three matches during her team's run to the Elite Eight. It started with a career-high 18 kills against Northern Iowa, followed up by 15 kills against Kansas, then 16 more terminations against the Wolverines on Friday.
While the Second-Team All-Big East performer may be catching opposing teams off guard of late, the performances don't appear to be the least bit surprising to anyone in the Creighton locker room.
"She's killin' it, no pun intended," fellow middle blocker Lauren Smith said. "She comes out ready to work hard every day. She is always hitting at a high clip, always supporting her teammates, and just wonderful to play next to."
While preparing for hitters like Jaali Winters, Taryn Kloth, and Lauren Smith may cause the opposition to overlook the Lincoln native, her first-year setter feels confident that in her teammate's ability just as much on the first point, the final point, and every one in between.
"Marysa is such a gamer," Lydia Dimke said. "She's probably one of the most underrated middles. Anytime, if it's the first point or the last point, or if it's 18-18 against Kansas, I know that I can always look to her to put the ball down. She brings it every time."
Jays One Texas-sized Hurdle Away From a Trip to the Final Four
Already one step further than they've ever been before, all that now stands between Creighton and a berth in the 2016 Final Four in Columbus, Ohio is a match against the Austin Regional host — No. 4 overall seed Texas. The Longhorns came back from the dead in the fifth set on Friday after blowing a 2-0 lead to beat 13-seed BYU and advance to the Elite Eight.
What Kirsten Bernthal Booth expects to face in Texas is a team that runs an offense at a slower pace, but overwhelms you with their athleticism.
"They are dang good," the Creighton coach said. "They run a different offense — it's a slower tempo of an offense, but they've got incredible athletes. They will be arguably the most athletic team that we've played all season as far as jump touch. We are going to have to play great, but every match you're going to have to play great [at this point]. We're excited for the opportunity."
One player in a Bluejay uniform who definitely won't need a pep talk for match up against the Longhorns is junior setter Lydia Dimke. Before transferring to Creighton after last season, Dimke and her Purdue team were eliminated from the NCAA Tournament by Texas in a second round match that took place on the very same court where the Bluejays and Longhorns will meet on Saturday night.
First serve is set for 7:00 p.m. and will be televised by ESPNU.
Comments
Tagged in: