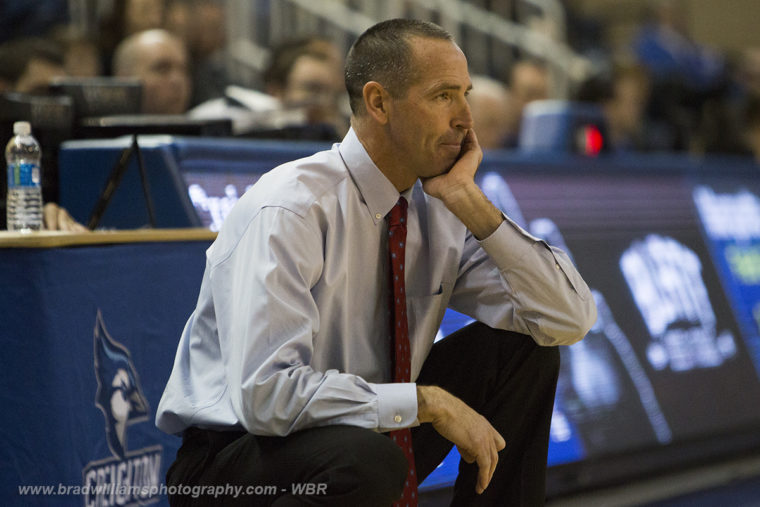 Creighton rolls over 18th-ranked Villanova in second half to give Jim Flanery career win No. 300
Possessions are always at a premium against Harry Perretta's patient and calculated Villanova teams so when they give you some extra ones you better take advantage, and that's exactly what Creighton did after halftime of Thursday night's 69-54 win over the nationally-ranked and undefeated Wildcats.
The Bluejays improved to 7-4 on the season by outscoring Villanova, 37-21, in the second half thanks to a 16-0 edge in points off turnovers over the final 20 minutes. Creighton ended up with just one fewer giveaway than the Wildcats for the entire game, but only one of those miscues came in the second half.
"You hardly ever win the turnover battle against those guys and early on it appeared we weren't going to tonight," Creighton head coach Jim Flanery said. "I didn't realize until after the game that we were still only at nine turnovers, so we did a good job with that in the second half for sure."
With the way the game was trending late in the first half it appeared as if the Wildcats, who entered the game sporting a perfect 10-0 record, were on the verge of cruising to win No. 11. Villanova turned a two-point game into a 29-20 lead on back-to-back 3-pointers from junior point guard Adrianna Hahn with 3:51 to go in the first half. But just when it looked as if Villanova's leading scorer was settling into a groove, she committed her second and third fouls of the opening half in a span of 15 seconds to compromise her hot stretch and her team's growing momentum.
Instead of facing a possible double-digit deficit at the break, the Bluejays rattled off a 12-4 run to end the half that start with a personal 4-0 run by senior guard Myah Mellman and ended with a driving layup by freshman guard Temi Carda to head into the locker room trailing 33-32 thanks to Hahn's ill-timed mistakes. Mistakes that Harry Perretta, now in his 40th season as Villanova's head coach, did not pull any punches when critiquing.
"That's a sign of a non-intelligent player," Perretta said. "She had just hit two deep threes to put us up nine and she commits two incredibly stupid fouls. That's the only way I can put it. And she committed them. The bottom line is she takes herself off the court, and now it's a one-point game at halftime. That shows you how important it is to play intelligently.

"'Intelligently' doesn't just mean run your offense or play smart on defense, it also means don't commit dumb fouls. She went up and bodied the kid for no reason whatsoever, then the next thing you know she gets another one and it's a one-point game. Now, it could have been a one-point game anyhow, but the difference is you're taking our best offensive player off the floor, who was getting it going at that time."
Neither team seemed very eager to seize control of the game coming out of the locker room. It took nearly three minutes for Creighton senior guard Sydney Lamberty to break a combined 0-for-8 shooting stretch by both teams with a jumper to give the Bluejays a 34-33 lead. Villanova got it right back on a 3-pointer by senior center Megan Quinn, but Jays junior forward Audrey Faber answered with a baseline jumper to tie the game with 6:42 to go in the 3rd quarter.
Then, just as it did in the first half, the game turned on a dime. With the shot clock winding down and the game still knotted up, Lamberty lobbed a pass into senior center Bailey Norby on a well-executed pick and roll. Quinn recovered in time to block Norby's shot, but Lamberty got inside of Hahn on the box out and grabbed the offensive rebound. She immediately put it back on the glass and the ball just crept over the rim for the go-ahead basket that resulted in Hahn's fourth foul and a three-point play that gave the Bluejays the lead for good with 5:51 left in the third.
If Lamberty's three-point play that took Hahn out of the game was only back-cracking, then next and-one by the Bluejays was the breaker. After five unanswered points by Faber, redshirt sophomore point guard Olivia Elger wreaked havoc at half-court with Villanova's point guard watching helplessly from the bench. Elger's dialed up full court pressure, resulted in a steal and a transition break down court to freshman guard Tatum Rembao.
Rembao dished it off to Faber cutting to the hoop, whose shot was blocked by Quinn. Luckily for Creighton, Bailey Norby was there to clean it up for the hoop and the harm to make it 48-40, Bluejays, with 3:48 left before the 4th quarter.
"It was back-breaking, I'll tell you like it is," Perretta said. "I know the reality of what's going on, I've been coaching a long time. I also know the reality of what we are capable of doing.

"I thought their press was effective, but it was a effective for just those couple of minutes — actually it was only for like 30 seconds when they stole it, then boom, two three-point plays and the game was over."
Villanova's made a final charge to preserve their unblemished record, cutting that deficit down to two possessions, but reigning Big East freshman of the year Jaylyn Agnew splashed in a three from the right corner to push the lead back to 52-43 at the start of the final period, and Elger followed up with three big baskets over a five-minute stretch to seal the deal.
Elger finished with eight points in her fourth game back after she missed six games following knee surgery. Sydney Lamberty finished with a typical all around effort, turning in seven points, six rebounds, and seven assists with only two turnovers. Faber and Agnew each finished with 19 points to lead all players.
The win improved the Bluejays to 7-4 on the season and 1-0 in Big East play. It was also the 300th career win as head coach at Creighton for 16-year head man Jim Flanery, but only his first against a team ranked in the Top 20 nationally. Most importantly, it completed a 2-1 stretch for the Jays that saw them notch NCAA Tournament resume-boosting wins over South Dakota State and Villanova sandwiched around spirited effort in defeat against 13th-ranked Florida State.
"I would have taken [a 2-1 record in this stretch]," Flanery said. "We played well against Florida State. We didn't play perfect, but this was a key stretch for us to be able to come through against three teams that are potentially all NCAA Tournament teams and to win two of them is big. It's big for our confidence, but you also have to protect home court. Our schedule has prepared us to be able to play these teams. We had six games without 'Liv' and you see what a factor she is tonight again.

"I saw this coming from the standpoint that I thought up to South Dakota State that was probably the best we had played in that game, and I thought we played well for the most part against a really good Florida State team, so I like the direction that we're headed. But we also have to understand that the conference season is long and there are a lot of good teams. Tonight was just one game, so we'll celebrate tonight and get ready for Georgetown tomorrow."
The Hoyas will bring a 6-5 overall record into their battle with the Bluejays on Saturday afternoon at D.J. Sokol Arena. They don't yet have any quality wins on their resume, but they've played Minnesota and NC State tough and will be coming into Omaha fresh off of a 75-43 shellacking of Providence on the road.
Tip-off between Creighton and Georgetown is set for 1:00 p.m. and will be broadcast live on Big East Digital Network.
Comments
Tagged in: