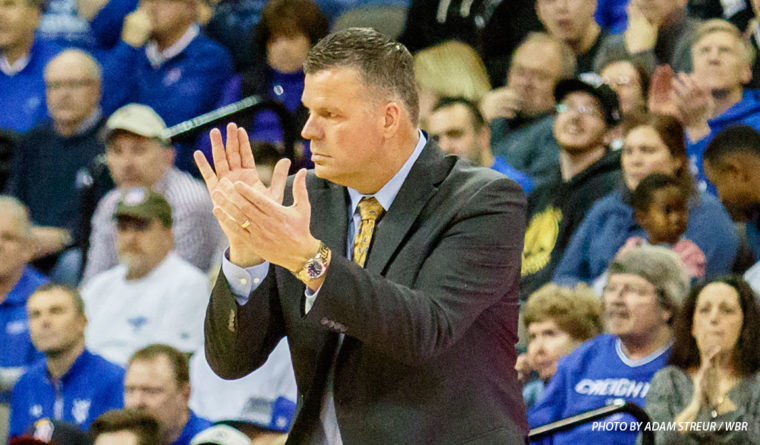 Creighton Secures Commitment from Rivals150 Forward Christian Bishop
Wednesday evening, the first piece of Creighton's 2018 recruiting puzzle fell into place when Christian Bishop committed to the Bluejays. A 6'8″ left-handed forward from Lee's Summit, Missouri, Bishop is a three-star (for the moment) forward ranked #140 in the Rivals150. He chose CU over offers from three schools from his backyard — Mizzou, Kansas State, and Wichita State — along with Oklahoma State and Tulsa. He'd also received interest from Kansas, taking an unofficial visit to the Jayhawks in February.
He made an unofficial visit to Creighton over the weekend, and must have liked Greg McDermott's sales pitch because just three days later he announced his commitment on Twitter:
Committed 🔵⚪️‼️ pic.twitter.com/7gtPwQJ3ko

— Christian Bishop (@30_bishop) June 22, 2017
His emergence as a high-level prospect over the last 12 months has been a whirlwind; he was 5'8″ entering high school and saw little action on the varsity squad his first two years at Lee's Summit West. Then he had a 12-inch growth spurt (!), and entered his junior year at 6'6″. In a September, 2016 interview with Rivals' Eric Bossi, Bishop said "It feels great that I'm being recognized for my game, I've just kept on working and getting better every day. I think being in the gym working on my game has done more (for attention) than my height, but my height has helped too."
Bossi talked to him again Wednesday night following his commitment, and Bishop said after visiting he knew Creighton was the perfect fit for him, and that he didn't need to look anywhere else. The Jays' staff, led by assistant Darian DeVries, had put the full court press on him since last fall when they first saw him in person, and Bishop noticed how they prioritized him.
A huge junior season took him from under-the-radar to one of the top 150 players in the 2018 class, and interest from nearly every high-major school in his area followed. But by picking Creighton, he gives the Jays a Top 150 player out of the Kansas City area for the second straight year following Mitchell Ballock.
After his commitment, a video from his family showed up on YouTube with footage of Bishop scrimmaging with the Bluejays during his visit.
A second video shows a young Bishop playing for the "Bluejays" — in this case the Bill Waris Blue Jays basketball camp in his hometown of Lee's Summit — which is either an amazing coincidence, a fun happenstance, or a bit of foreshadowing depending on your point of view.
The growth spurt for Bishop has continued, as he currently stands 6'8″ — a full foot taller than he was entering high school three years ago. Highlights of Bishop in action show a player with good range on his jumper, solid ball-handling and dribbling ability (especially for a big man), and high-major athleticism.
With a whopping five open scholarships to fill in the class of 2018, adding a player of Bishop's caliber is an absolutely massive shot of adrenaline to get the class started. Other targets include the UMass duo of Dejon Jarreau and Brison Gresham, who are transferring as a package deal; forward Ian Steere who visited CU on June 15; five-star point guard Ayo Dosunmu who visited CU unofficially for the Villanova game on New Years Eve; and center Dimon Carrigan, who's set to make an official visit to CU soon.
Comments
Tagged in: