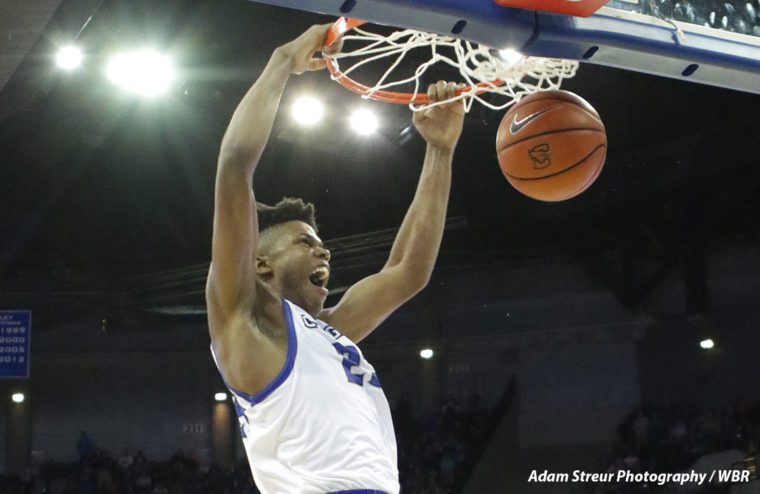 Creighton Seeded Sixth in Midwest, Plays Rhode Island on Friday
Creighton officially returned to the NCAA Tournament on Sunday, earning a six seed in the Midwest Region matched up against Rhode Island, with the game played in Sacramento on Friday. And if they win? Their Sunday opponent in the Round of 32 could potentially be Dana Altman and the Oregon Ducks, who are seeded third.
But for that to happen, they'll need to get past the Rams, and that's no easy task. Coached by Dan Hurley (brother of Arizona State's Bobby Hurley, who the Jays beat earlier this year), they were 24-9 and 13-5 in the A-10, won their last five regular season games and rolled through the A-10 tourney.
They're not a team that takes a ton of threes, with just 32% of their shot attempts coming from behind the arc (ranking 218th in D1). Just 25% of their points come from behind the arc, and of their main rotation players, none shoot better than 35% from outside or make more than 1.8 per game. Instead, they score primarily off the dribble and in the post, with 54% of their points coming on two-point shots, and most of those coming at or near the rim. They're not a team that will beat you with jump shots, either — they break you down off the dribble and drive. Of their top five scorers, all have attempted at least 30% of their shots at the rim according to Hoop-Math.com, with three over 40%.
Leading scorer E.C. Matthews, a 6'5″, 200-pound junior, averages 14.8 points and 4.0 rebounds a game. He's their best outside shooter, such as it is, at 33.7% (59-175), and he's 100-194 from inside (52.4%). Their second leading scorer is Hassan Martin, a 6'7″, 235-pound senior who averages 14.3 points. He does almost all of his work inside, with 67.8% of his shot attempts coming at or near the rim. Third-leading scorer Jared Terrell, a 6'3″ junior, averages 12.3 points and takes 51% of his shot attempts at the rim. The Jays should match up fairly well defensively, as this is not a team who will spread them out and bury threes and jumpers all afternoon, like Marquette and Villanova have done to them.
Where they will pose problems for Creighton is on the offensive glass, as Rhode Island grabs an offensive board on 33.1% of their misses (that's Seton Hall-esque, who's at 35.4%). Defensively, they're obscenely good, holding opponents to 29% shooting from outside (ranking second in D1), 45% from inside (ranking 37th in D1), blocking 16% of their shots (ranking second in D1), and coming up with a steal on 10% of their possessions.
The Rams are a tough, solid team, but so is everyone in the NCAA Tournament. The other 11 seeds are Providence/USC, Kansas State/Wake Forest, and Xavier, and none of those teams are cakewalks to scheme for or play against either. The bottom line is the Jays are back in the Dance, and that's all you can ask for this time of year.
Here's some tweets from the Selection Show Party, and reaction from social media following the announcement:
Kale is in the house!!!! #Creighton #GoJays pic.twitter.com/pGNDtWDe3v

— Jays Facilities (@JaysFacilities) March 12, 2017
@BluejayMBB @JaysDancers Selection Sunday! #shinyhardware #NCAA pic.twitter.com/VUoNunKMs6

— Alynne Wize (@Awize1) March 12, 2017
Annnndddddd…. waiting…… pic.twitter.com/aqESCaM78G

— Jon Nyatawa (@JonNyatawa) March 12, 2017
Jays awaiting their fate in the big dance @KETV pic.twitter.com/InJr1KJlxL

— Andy Kendeigh (@AKendeighKETV) March 12, 2017
#RDJ pic.twitter.com/1809WpXOWf

— Barstool Jays (@BarstoolJays) March 12, 2017
Creighton 6-seed to face 24-9 Rhode Island Friday in Sacramento in NCAA Tournament – reaction at CU watch party pic.twitter.com/RdF78wW4NF

— Andy Kendeigh (@AKendeighKETV) March 12, 2017
Creighton's reaction pic.twitter.com/2oeivnNXi3

— Jon Nyatawa (@JonNyatawa) March 12, 2017
Creighton is officially back in the NCAA tournament! First time since 2014. The #Jays are a No. 6 seed in the Midwest region

— Jon Nyatawa (@JonNyatawa) March 12, 2017
Have we opened up a tourney against a team from Rhode Island on a long winning streak lately? https://t.co/PA3n6SBvW8

— FakeBlueCrew (@FakeBlueCrew) March 12, 2017
Fourth @BIGEAST team called: 6/Creighton v. 11/Rhode Island in Sacramento. That's going to be a heck of a game.

— Shannon Russell (@slrussell) March 12, 2017
Wow. Jays get a 6 seed with Altman looming in the second round!!!

— Brian Norton (@nortonbrian) March 12, 2017
OOOOHHHHHHH SSHHHIIIIIIITTTT WATCH YOUR ASS DANA!

— Garret Mueller (@mue11er) March 12, 2017
Oh snap, Oregon/Creighton potential in round 2.

— Josh Peterson (@joshtweeterson) March 12, 2017
CREIGHTON VS. DANA ALTMAN

— Corey Lathrop (@cjlathrop) March 12, 2017
BRING IT DANA #ROLLJAYS

— Austin (@letitflycu) March 12, 2017
Jays maybe play Oregon. 😂😂😂😂😂😂 The committee does it again Hahahaha

— Tony Roth ™ (@toneroth) March 12, 2017
Right they never seed for storyline.

— Mike'l Severe (@MikelSevere) March 12, 2017
— Nick Bahe (@NickBahe) March 12, 2017
The committee says they don't go for storylines. Coulda fooled me!! #GoJays

— Tony Roth ™ (@toneroth) March 12, 2017
Welcome to the Terrordome @BarstoolRhody pic.twitter.com/do0hAaax7O

— Barstool Jays (@BarstoolJays) March 12, 2017
Creighton-Oregon in Round 2?!? Yes, please!!!!!!!! (Gotta beat Rhode Island first)

— Dirk Chatelain (@dirkchatelain) March 12, 2017
Oregon-Creighton in second round? Juicy.

— Todd Aaron Golden (@TribStarTodd) March 12, 2017
Cute. Dana Altman vs Creighton in 2nd round.

— Lyndal Scranton (@LyndalScranton) March 12, 2017
Oregon/Creighton 2nd round anyone?

— Kevin Kugler (@kevinkugler) March 12, 2017
Hello Preston Murphy, nice to see you again. Rhode Island and Creighton in California in the 6/11 game.

— Chris DiSano (@CDiSano44) March 12, 2017
Creighton vs. Rhode Island out in Sacramento. I will take it. Trying to setup Creighton / Oregon 2nd round. Wow.

— Patrick Marshall (@wildjays) March 12, 2017
2008 NIT REMATCH. LETS GOOOOOO

— FakeBlueCrew (@FakeBlueCrew) March 12, 2017
You could see it coming…..Creighton vs Oregon. This time the court will be painted correctly.

— John Bishop (@JohnBishop71) March 12, 2017
So…It's possible for a rematch against Oregon. If it happens I hope the court has a visible mid court stripe. Just saying.

— Martin Swanson (@bigredtank72) March 12, 2017
Creighton-URI in Sacramento. Big East-A10 matchup. Yes, the committee has a sense of humor.

— Ken Fang (@fangsbites) March 12, 2017
Justin Patton vs Hassan Martin a nice big man matchup in the first round.

— Joshua Riddell (@Joshua_Riddell) March 12, 2017
That is a damn good point. Super intrigued by that game. Halfway through, loving this bracket. https://t.co/ApwAWyJgf9

— Matt Norlander (@MattNorlander) March 12, 2017
Patton vs. Martin in the first round will have NBA scouts excited. Two first round talent bigs going at it.

— Garrett Gordon (@GarrettGordon) March 12, 2017
Creighton 1-0 versus Hurleys this year. Beat Bobby at Arizona St… now get Danny in NCAA.

— HolyLandofHoops (@HolyLandofHoops) March 12, 2017
Critics don't have a lot of faith in Creighton advancing. I guess they will just have to prove them wrong.

— Patrick Marshall (@wildjays) March 12, 2017
Judging by twitter, Creighton is going to get destroyed by Rhode Island. Coolcool.

— Bluejay Buff (@BluejayBuff) March 12, 2017
Seth Davis with Rhode Island to the Sweet 16. Apparently if you have injuries, you can't win in the #NCAATournament. #selectionsunday #ncaa

— Rob Simms (@IamRobSimms) March 12, 2017
Happy the #Jays got a 6 seed but I think Rhode Island is really good 11 seed. Not an easy game.

— Heath Gunderson (@Heath_Gunderson) March 12, 2017
Creighton will have their hands full with Rhode Island. Tough draw.

— Nick Bahe (@NickBahe) March 12, 2017
Rhode Island is good. The hardest game to win is the first one. Let's not look ahead to Sunday yet…. #GoJays #RollJays #selectionsunday

— Jimmy Motz (@JimmyMotz) March 12, 2017
Gary Parrish says that #Creighton is playing without Edmund Sumner. How do we take these guys seriously?? Come on. #GoJays pic.twitter.com/oHqdXX2Gsy

— Tony Roth ™ (@toneroth) March 12, 2017
@GaryParrishCBS @CBSSports @TurnerSportsEJ Creighton isn't without Edmond Sumner. #Xavier

— White & Blue Review (@whitebluereview) March 12, 2017
@whitebluereview @GaryParrishCBS @CBSSports yeah we are without Sumner (because the Jays haven't had Sumner on our team all year)!! Hahaha

— Tony Roth ™ (@toneroth) March 12, 2017
Watching a documentary about the death of the BIG EAST on the night we get 7 teams in the tournament. ☕️ 🐸 pic.twitter.com/gj8IgSrvzt

— Brad Zak (@ReturnOfTheZak) March 13, 2017
We are ready!! #NCAATournament #selectionsunday https://t.co/4YaNKqTm99

— Martin Krampelj (@MartinKrampelj) March 12, 2017
See you in Sacramento 😎 !!!!! #SelectionSunday #GoingDancing

— J.Scurry (@Jordan_S09) March 12, 2017
Comments
Tagged in: