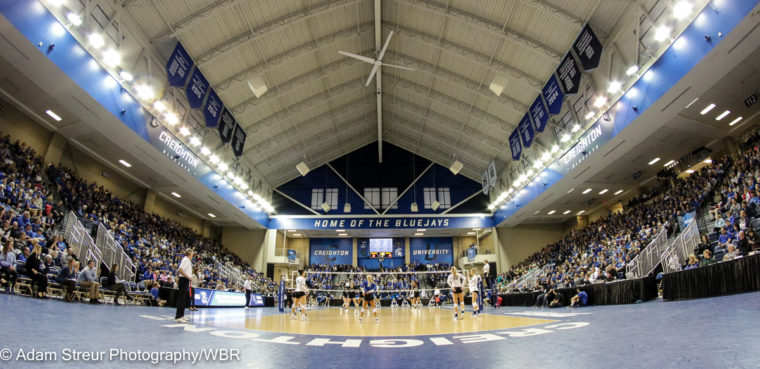 Creighton survived on Friday night, but they know they'll have to be better against Michigan State
On Friday night the Bluejays got an up-close look at the best player from the first day of NCAA Tournament matches in Omaha in Coastal Carolina senior outside hitter Leah Hardeman. On Saturday night, they'll go up against the best team from that day in 12th-ranked Michigan State.
Sparty needed only about 90 minutes to bring Missouri State's 21-match winning streak to a sudden and deflating hault as they eliminated the Bears in straight sets by scores of 25-19, 25-11, and 25-15. They hit .340 as a team for the entire match and finished with nine aces — including six from 6-foot, 6-inch senior outside hitter Brooke Kranda.
The incredibly potent attack from the service line made Missouri State's offense far too predictable, which in turn resulted in a 14-3 advantage in team blocks for the Big Ten representatives. It was a mismatch that became more apparent with each passing point.
"I didn't tell our players this when we drew them, but Michigan State was a team that I had earmarked in my mind — being on the regional committee — as being a potential Final Four team."
Creighton head coach Kirsten Bernthal Booth has heard all about how good Michigan State is capable of being after the Spartans pulled off a weekend road sweep of Wisconsin and Minnesota earlier this season, but she feels like her team will feel alleviated from the outside distractions of ticket sales for friends, family, and fellow students tomorrow night after dealing with the pregame buzz in the days leading up to the Coastal Carolina match.
"We're excited. It's go time," she said. "There was a lot of pressure on these women today, but now we're like, 'heck, we're playing a phenomenal team.' This is where I think they thrive. We're excited for the opportunity to play and we definitely respect Michigan State. I definitely thought they played a phenomenal match tonight. They were really clean and efficient, served well, passed well, so we're going to need to be ready to go.

"We've played a lot of those teams in non-con and postseason. I think we're battle-tested. I think this team has been in a lot of scenarios. They've been down 0-2 and came back, been down 7-2 in game five and come back, been down one game, so I think those are good. At the time I'm not happy going five, but I think the experience tells them that they can be 20-20 in the fourth game and come up with key blocks. For sure Michigan State is battle-tested, but we are too."
Creighton's Unsung Hero In Set Two
Freshman setter Jaclyn Taylor had played all of 31 sets this season entering Friday night's NCAA Tournament match against Coastal Carolina, but when her number was called all it took was a big deep breath to execute something she worked all offseason to do.
With the Bluejays trailing 24-22 late in set two, in danger of allowing the Chanticleers to tie the match and steal some momentum before intermission, Creighton head coach Kirsten Bernthal Booth inserted Taylor into the match as a serving specialist and the St. Charles, Illinois native rose to the occasion.
Taylor's serves got the Chanticleers out of system, leading to a kill by her own teammate Jaali Winters and set-tying attack error by Coastal Carolina star pin hitter Leah Hardeman.
"Kudos to Jaclyn Taylor," Bernthal Booth said. "She came into the game and hit a couple of big serves. I know she missed one, but it took them out of system for two points and allowed us to come back and tie that game up."
The Bluejays would eventually win the set 27-25 to take a 2-0 lead in the match, and considering they would eventually drop the third set in fairly decisive fashion, the late rally sparked by Taylor's serving turned out to be a huge factor in the win.
"I think us winning that second set really changed the match, because we came out a little flat in game three," Taylor said. "We were able to recover in game four, but had we been down two sets to one game four might have been different."
Taylor admits she was a little nervous racing straight off the bench into a 24-22 set in front of more than 2,500 people, but a little bit of advice from fellow freshman Alexa Roumeliotis was all she needed to settle in.
"As soon as I got on the court Alexa told me to take a deep breath," Taylor recalled. "That helped me out a lot. The crowd was into it, but I told myself, 'I can do this. I've done it a million times.' I trained all spring for the time to do it on the court.

"On the bench you always have to be ready to go in at all times. Coach told me the rotation before that I was going to go in and serve … I trained all spring for this. I've served a million times, so I just had to do my job. Our team is good, so if I do my job the team will finish it off."
Notes:
Kirsten Bernthal Booth improved to 9-6 in the NCAA Tournament as the head coach at Creighton. The Jays have won at least one NCAA Tournament match in six of their seven all-time appearances.
The 2,517 fans on hand for Creighton-Coastal Carolina was the second-largest crowd ever to watch a volleyball match at D.J. Sokol Arena, falling 61 shy of the all-time record set a few months prior in their home debut against then 13th-ranked Kentucky.
Sophomore libero Brittany Witt recorded her 1,000th career dig as a Bluejay during an early run in game two on Friday night. She is the 15th player in program history to surpass 1,000 career digs after Jaali Winters became the 14th player to accomplish the feat one match prior in the Big East Tournament championship against Marquette.
With her 12 kills and 14 digs against the Chanticleers, junior outside hitter Jaali Winters is now averaging 4.24 kills and 3.29 digs per set to go along with 6 double-doubles in eight career NCAA Tournament matches. They Bluejays are 6-0 when she records a double-double in the NCAA Tournament.
Tomorrow night's 6:00 p.m. match between No. 9 overall seed Creighton and 12th-ranked Michigan State will be the first meeting all-time between the two programs.
Comments
Tagged in: