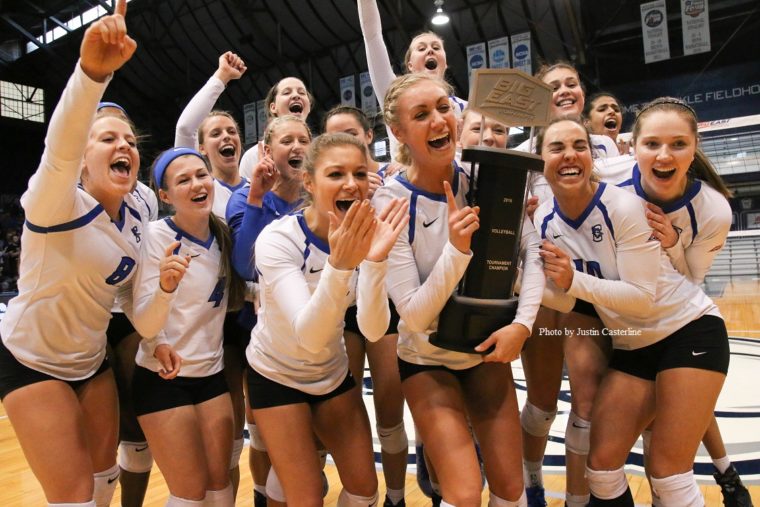 Creighton Sweeps Scrappy Xavier Side to 'Three-Peat' as Big East Tournament Champions
No. 21 Creighton put the stamp on an unblemished run through the Big East Conference with a 25-19, 25-15, 27-25 straight set sweep of a desperate and determined Xavier Musketeer squad on Saturday afternoon.
One day after sweeping Seton Hall for the third time this season, the Bluejays also did the same to Xavier to bring the Big East Tournament trophy back to Omaha for the third consecutive year.
Creighton's offense hit .452 in the first set, .483 in the second, and .333 in the third on their way to a season-high .410 attack percentage — two points higher than the .408 they hit in a sweep of Seton Hall back on October 16. The Bluejays also finished with 54 kills, a new season-high for a three-set match. Sophomore outside hitter Jaali Winters led all players with 16 kills and 11 digs in the championship match. Senior middle blocker Lauren Smith finished with 12 kills on 17 swings, while junior setter and newly-named Big East Player of the Year, Lydia Dimke, had a match-high 43 assists to go along with nine digs and four kills.
All three players were represented on the All-Tournament Team with Winters taking home the honors for Most Valuable Player.
"I thought our offense was good today," Creighton head coach Kirsten Bernthal Booth said. "I thought we were more consistent with what we were doing."
Winters, the unflappable sophomore from Ankeny, Iowa, had six kills in the first set, including big ones at 14-14 and 15-15 as part of a 10-4 run the Bluejays ripped off to end the opening set and take a 1-0 lead in the match. The second set looked a little less stressful than the first for Creighton after Dimke rattled off a 4-0 serving run to help erase an early 4-1 deficit. They used a few of those types of mini-runs to break the Musketeers before scoring 12 of the final 16 points to finish the second game with a double-digit edge.
Set three was the one that tested the Bluejays the most in front of the Hinkle Fieldhouse crowd. After falling behind 7-2, Xavier scored 11 of the next 14 points thanks in large part to 7-0 run that helped them take a 13-10 lead midway through a must-win game. Creighton didn't let the Musketeers get much breathing room after that, but still found themselves trailing 22-19 when Winters terminated three of the next four points to bring her Bluejays to within a point at 24-23.
A solo stuff by Lydia Dimke saved another set point to tie things up before Lauren Smith sandwiched two more kills around another Xavier score to give Creighton match point. A errant attack by the Musketeers on the next play finished it off as the Jays rushed the floor to celebrate yet another conference tournament title.
"I really liked how aggressive we were in everything that we were doing at the end," Booth said. "Fortunately, it worked out for us, but even if we had lost the game I would have been pleased with how we played it."
"We could have lost that game, but I liked our demeanor through it all. I would have felt very confident going into the fourth game had we lost that one. We stayed together; there was never any panic on the court. I thought they really trusted each other through the whole thing. Those are good things to see, because no doubt we are going to face those situations, and even tougher situations, in the next couple weeks."
Each time where it seemed Creighton needed a kill the most, they went to their All-American outside hitter. Winters terminated at 14-14, 15-15, and 18-17 in set one, and stopped Xavier's momentum at 13-10 in set three before getting Creighton within a point on two separate occasions late in the game, including on set point. Not to the surprise of any of her coaches or teammates, but still further evidence to everyone else that she rises in situations that sometimes cause others to fold.
"Jaali is a gamer," her head coach said. "She's up for every match — it's not like she is one of those players that only gets up for big matches, she gets up for all of them — but she thrives in those situations. She made some comment yesterday about being a little nervous and Lydia responded, 'I don't know if Jaali Winters is ever nervous', but Jaali said it was a good nervous, an excited nervous. Those are the situations she really looks forward to."
Speaking of looking forward. With 20 consecutive wins — their last loss coming back on September 17 at No. 1 Nebraska — the Bluejays now turn their attention the NCAA Tournament Selection Show on Sunday night where they will find out if their dominance over the last two months will be enough to earn them the opportunity to host the opening round of the NCAA Tournament for the first time in program history.
The Jays were one of the top 16 seeds last season, but they did not submit a bid to host and had to travel to Chapel Hill, North Carolina on the way to their first Sweet 16 appearance. This year the bid was submitted, the resume is nice and shiny — 20-match win streak, Big East regular season and conference tournament titles, and an unofficial RPI of 13 — now it's in someone else's hands.
"I think we've got a good case for why we should get to host, but that's going to be up to the committee," Booth said. "I told the team it would be thrilling and great to be on our home court, but I also think we are a good road team, so if we end up getting put on the road we will be ready to go."
The title match against Xavier on Saturday was played on the south end zone video board at the CenturyLink Center as fans filed in for the men's basketball game. Booth hopes those same fans that celebrated at the C'Link as match point fell to the floor will have a chance to make their way over to D.J. Sokol Arena this upcoming week.
"I really appreciate our marketing staff for having the forethought to do that — that's really incredible," she said. "We want to build our fan base, so we hope those Jays basketball fans will come over next season for us. We hope that we'll be playing [at D.J. Sokol Arena] on Friday, and we hope that they will come out and support the team if we we are fortunate enough to host."
Comments
Tagged in: