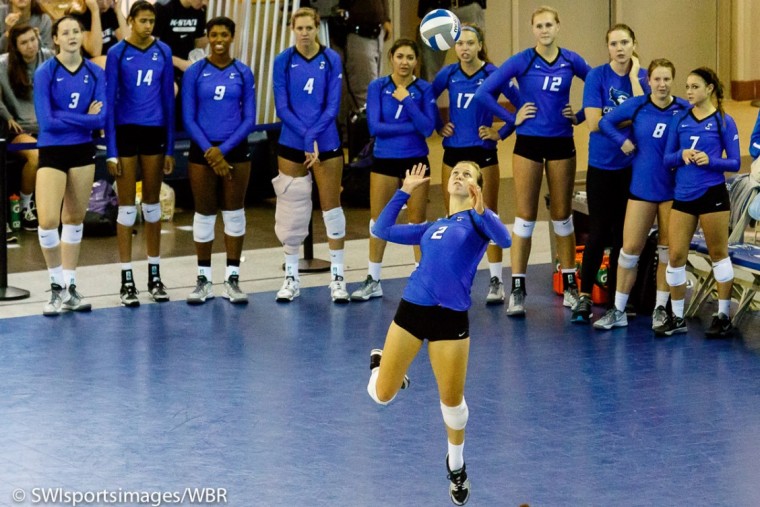 Creighton Volleyball Defends Home Court in Big East Opener
It certainly wasn't the sharpest four sets the Creighton volleyball team has played this year, but it was enough to get the job done. After riding a steep roller coaster of good and bad volleyball, the Bluejays closed out sets three and four against Seton Hall on Friday night at D.J. Sokol Arena to even their regular-season record at 7-7 and move to 1-0 in the Big East regular-season standings with a 25-13, 14-25, 25-18, 25-22 victory over the visiting Pirates.
In a rematch of last season's Big East Tournament title match, head coach Kirsten Bernthal Booth's Bluejays played about as well as they could play in a dominant first set. They recorded 18 kills and senior outside hitter Melanie Jereb tied her career-high with three aces to help Creighton earn 21 of their 25 points in the opening game.
In the second set, however, the Bluejays played about as poorly as they could play in a lopsided game that saw them trail from the very first point on, allowing the Pirates (Overall: 6-7, Big East: 0-1) to head to the locker room with the match tied at intermission.
"I thought we didn't respond well after game one," Booth said. "I've made jokes to this team, but I actually think this is sincere, if you're going to lose the first game it's almost better to get blown out, because a lot of times a team lets down. I think you saw that from our team from point one in game two. I think they thought that Seton Hall would continue to play the way they did in game one, and Seton Hall wasn't going to go down without a fight. We obviously kind of fell apart in game two, but I liked how we rebounded in game three and four."
The Bluejays committed 11 attack errors and hit -.029 in the second-set defeat. Both marks were new lows for the season in any set. They regrouped in the locker room at intermission, however, and led almost wire to wire in the third set to seize control of the match.
"It was a little bit of a kick in the butt just to know that just because you roll a team over once that doesn't mean they're going to roll over for the rest of the game," freshman outside hitter Jaali Winters said. "Every team in the Big East is good, and every team is going to fight for that win."
Winters had another big time performance as she recorded her third double-double of the season with 13 kills and 11 digs to go along with a match-high .300 attack percentage on her 30 swings. The newcomer out of Ankeny, Iowa, finished the first set with a tip kill over a double block that Seton Hall set up along the left side of the court. In the third set she had three kills, including another one on set point to give Creighton a 2-1 lead in the match.
The fourth set was the only game that was competitive until the end, although it didn't look that way midway through after Seton Hall used a 9-3 run to turn a 6-6 game into a 15-9 lead. Needing to shift the momentum in the hopes of avoiding a coin toss fifth set, Creighton inserted senior Maggie Baumert into the match at setter for her first action of the night. Sophomore Kenzie Crawford got the start and finished with 33 assists, a career-high 16 digs, and four kills of her own, but the Bluejays wanted to change things up after falling into a hole midway through the set.
The move paid off as Baumert set up kills for junior middle blocker Lauren Smith, freshman outside hitter Taryn Kloth, sophomore middle blocker Marysa Wilkinson, and Winters on a couple occasions to spark a 15-5 run that saw Creighton take the lead late in the set as they looked to close out the Pirates.
Creighton's quartet of power hitters all finished the match in double figures for kills. Smith led the way with a match-high 14, followed by the aforementioned 13 from Winters, a career-high 11 from Kloth, and 10 from Wilkinson.
Wilkinson's final kill of the match put Creighton up 21-20 in the fourth game, and the Bluejays did not trail again. Smith and Kloth got together on a combo block of Seton Hall senior outside hitter Kacey Richards to make it 22-20. Then Smith teamed up with freshman middle blocker Kelsey O'Connell on another block to make it 23-20.
Junior defensive specialist Amanda Foje set up match point by serving an ace for the Bluejays to make it 24-20. Coming into the season Foje had just one ace in her career from the service line, but the one that set up match point against Seton Hall on Friday night was her ninth of the season as she continues to be a reliable weapon off the bench for the Bluejays.
The Pirates did end up saving two set points before Lauren Smith finished them off with her 14th kill. The redshirt junior from Lincoln, Nebraska also led all players with eight total blocks to give her 330 for her career, which is good for ninth all-time in school history.
The win improved Creighton to 11-2 under Kirsten Bernthal Booth in conference home openers, but they won't only take away the positives from a match that saw them come out flat and sloppy in set two after dominating the first game.
"It's a game of errors, and I think we just have to remember that it always goes back to 0-0," Smith said. "Within the game it's important to push and get those wins, but it's not over until you get to three."
The Bluejays will be back on the court on Sunday at 1:00 p.m. to take on a Villanova Wildcats team that is off to an 11-3 start to the season after they opened their Big East conference schedule with a sweep of the Georgetown Hoyas in Washington, D.C., on Friday night. Creighton won't lounge around while they wait for the upstart Wildcats to show up at D.J. Sokol Arena either. On Saturday they'll hit the practice floor for an afternoon session to iron out the kinks and get ready for another Big East test.
"We've got to learn from it," Booth said of the Seton Hall match. "We've been playing good volleyball. We didn't play our best volleyball tonight, but I think there are things we can learn from it, and I believe they'll respond on Sunday."
Listen to postgame interviews with Creighton's Kirsten Bernthal Booth, Lauren Smith, and Jaali Winters:
Comments
Tagged in: