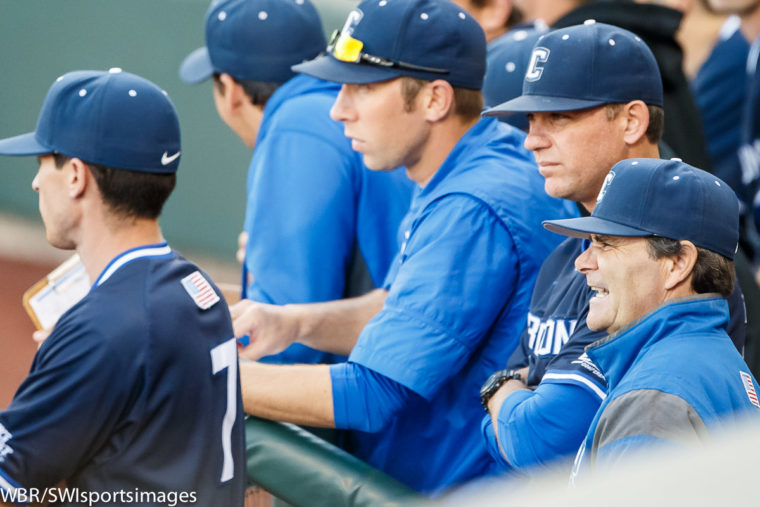 Creighton Winning Streak Moves to 10 behind Another Walk-off Win, and Another Big East Sweep
The Creighton 'baby' Bluejays continued to make up for lost time in a big way as they won their 10th consecutive game on Sunday afternoon, defeating Villanova 2-1 on a walk-off error in the bottom of the ninth to sweep the weekend series against the Wildcats. It was the second walk-off win of the series f9r a Creighton team that feasted on Villanova's inept bullpen for three days in a row. Of the 19 runs scored by the Bluejays on Friday, Saturday, and Sunday, 13 were produced in the final three innings.
"We definitely knew coming in that we could get to their bullpen for sure," Creighton sophomore center fielder Clark Brinkman said. "They had some great starters all weekend that did a hell of a job, but we knew when we got to the bullpen that we were going to get some runs across."
Brinkman produced the ground ball that led to the game-ending error by Villanova freshman shortstop Timothy Lilly with two outs in the bottom of the ninth. With the game tied, 1-1, senior left fielder Riley Landuyt led off the inning with a double to the gap in left-center field. A perfectly executed sacrifice bunt by fellow senior Bryce Only moved Landuyt over to third, but a not-so-well executed squeeze bunt by freshman Jason Allbery was popped up to the catcher for the second out of the inning. Fortunately for the Bluejays, their sophomore center fielder was able to make enough contact on an 0-1 pitch to force Lilly to charge in from short to save the game. He scooped it up on the run, but flipped the ball behind him as he tried to transfer it from his glove to his hand, allowing pinch-runner Nicholas Ortega to cross home plate and kick off the celebration.
"It was a great at-bat by Riley to start off that inning with a double," Creighton head coach Ed Servais said. "We put pressure on their defense and they finally broke down. I think that's our 15th one-run game already now, and we are playing better in these kinds of situations. You can tell they weren't quite as anxious and excited as they were in some of the earlier ones. I don't think it's going to be our last one, either. We're going to play in a lot more of these before it's all said and done."
Creighton's offense was led was once again by freshman second baseman Isaac Collins. He went 3 for 4 at the plate, stole two bases, and scored the team's first run of the game back in the bottom of the first inning. He is currently on a five-game hitting streak, and has hit safely in 12 of his team's 14 games so far in the month of April.
During the team's current 10-game winning streak, Collins is batting .425 with nine runs scored, three runs batted in, and is a perfect 4-for-4 on stolen base attempts.
"Isaac has been huge," Servais said. "He's just a baseball player. There is not one thing that he does over the top, but he doesn't do anything poorly. He hits from both sides, he fields his position, he runs the bases, he can execute, he's not intimidated by the situation."

"For a freshman he's very calm, and he's got a very good idea of the strike zone too, which is very unusual for a young player. Sometimes that's something they don't develop until they are juniors or seniors. He doesn't swing at a lot of pitches outside the zone and that's why he's having a lot of success. I think some of the other hitters could probably learn from him a little bit."
On the mound, junior right-hander Keith Rogalla was dominant at home once again for the Bluejays. Over his eight innings of work he allowed only one run on four singles, walked just two, and struck out a career-high 10 batters.
"He was really good today and we needed him," Servais said. "On Sunday sometimes your bullpen is not quite as rested as you'd like it to be. He had a great outing against St. John's two weeks ago, and he had a great outing again today. Obviously we didn't score many runs so he knew he had to find a way to keep the score down, and he did exactly that. He gave us 24 outs and gave us a chance to get to Dave so we didn't have to extend him. I can't say enough about Keith. That's what you want your starting pitcher to do is give you a chance to win and that's what he did."
Rogalla appeared to lose the feel for his slider as he had trouble putting hitters away in the early innings despite getting ahead in the count on numerous occasions with his fastball, but a mound visit in the bottom of the fourth inning from his sophomore battery mate Michael Emodi turned that around in hurry. Working against a 3-o count against Villanova left fielder Tyler Bruno, Rogalla tossed each of his next seven pitches over the plate to get two strikeouts and end the inning.
"In the first inning my slider was feeling pretty good, and then towards the second and third innings it kind of got away from me a little bit," Rogalla said. "When he came out he just told me to calm down and be confident in our game plan. The coaches gave us a great plan for what we want to do, and he told me to just stick to that and trust the process."
After some simple advice from his catcher, Rogalla retired 14 of the final 16 batters he faced on the afternoon, even pitching through the eighth inning despite being well over 100 pitches as he walked out to the mound. In his complete game win again St. John's he threw 121 pitches. He ended up with 124 on Sunday against Villanova, but gave credit to pitching coach Eric Wordekemper's conditioning regime for allowing him to stay strong inning after inning as the pitch count climbed.
"It was batter by batter out there in the eighth inning," Rogalla said, "but everything we do with our conditioning with Coach Wordekemper allows us to go deeper into ballgames and stay fresher, so I felt pretty good at the end of the game."
Creighton will return to the friendly confines of TD Ameritrade Park on Tuesday night at 6:30 p.m. when they put their shiny new 10-game winning streak on the line against a familiar foe from the past in the Wichita State Shockers.
It will be the 164th meeting overall between the two teams, by far the most of any Creighton opponent in its program's history.
"They were very young last year and they are playing much, much than they were at any time last year," Ed Servais said of his old rivals from the Missouri Valley Conference days. "I think the folks that come out and watch this game on Tuesday will see a really good college baseball game. They'll see two teams that used to be kind of rivals, kind of get reacquainted in that situation on Tuesday."
Kind of rivals, Ed?
"Kind of. I'll let you guys figure out what I mean by that."
Comments
Tagged in: