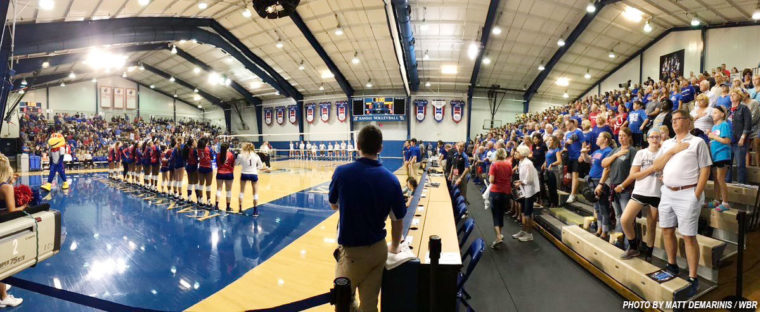 Creighton wipes out 7th-ranked Kansas in highly-anticipated rematch
The sold-out crowd was fired up. The Jayhawks were hungry for payback. The Bluejays didn't care.
Ninth-ranked Creighton won their third straight weekend tournament title with a clinical sweep of seventh-ranked, and previously unbeaten, Kansas on Saturday night in Lawrence. The Bluejays hit .302 as a team and kept the Jayhawks out of system and frustrated with a strong performance from the service line that helped set up a wall of blockers at the net in a 25-20, 25-16, 29-27 straight sets victory to improve to 7-2 on the season.
"If you asked me at the beginning would I take [that record through nine games], I would have in a heartbeat," Creighton head coach Kirsten Bernthal Booth said. "I didn't go in expecting to be 9-0 at this point. I'm jazzed about the way they played this weekend. I told the players that I didn't feel bad after the Purdue loss. I think they felt really bad, but what I liked was our third and fourth game. I really thought we responded well. I thought we played pretty clean against Belmont and I thought we played a really good match tonight."
The first set was tightly contested until a late run allowed Creighton to take control and eventually pull away. A service error by Kansas broke a 17-17 tie, then Ankeny, Iowa standouts Megan Ballenger and Jaali Winters produced kills on the next three points to extend the lead to 21-17. Kansas cut the deficit in half at 22-20, but seniors Marysa Wilkinson and Lydia Dimke terminated the next two points before Winters sealed the win with her sixth kill of the night on set point.
Creighton replicated that set-clinching 8-3 run to start the second set and never let Kansas get any closer than three points the whole time in a game two wipe-out. The Bluejays hit a blistering .448 and held the Jayhawks to a .154 attack percentage thanks to a 4-1 edge in blocks. Kansas had already burned both of their timeouts midway through the game only for Creighton to immediately earn a sideout after the Jayhawks scored out of each break.
Through the first two sets, the Bluejays had combined for 32 kills on 70 swings while committing only three attack errors. While Kansas setter Ainise Havili was busy chasing down errant serve-receptions, Dimke was hardly moving off the net to set up her hitters.
"We were in system almost the entire time," Dimke said. "I think we passed a two-five, which is just incredible, and they were out of system the whole time. I know, especially as a setter, that it's really frustrating when you're not in system. We had four or five options coming at them sometimes. I'm glad I wasn't on their side of the net when we were passing that well."
Kansas' attack percentage dipped by 156 percentage points from game one to game two. While it didn't seem like Creighton was dominating at all times, the Bluejays did hold an edge in every facet of volleyball and soon it started to look like they were in the gym all by themselves as the hostile crowd got more subdued and the Jayhawks became more visibly frustrated with each serve, with each block touch, and with each sideout that killed any potential shift in momentum.
"We could definitely tell that we were getting them out of their rhythm," Winters said. "Our serving was really great tonight and it got them out of system, which they aren't used to. Once we start running we just try to keep it going.

"Everything that happened was expected. The band was loud and the fans were loud, but we just dialed in and stayed focused on our side of the net."
The punches didn't stop flying from the Kansas side of the net in set three as the Bluejays had to dig deep to finish out the win. The Jayhawks built a 10-5 lead early in the set before Creighton stormed back to take a 15-13 lead. That was answered with an 8-2 run by Kansas that looked to all but wrap it up and force a game four. But with the crowd on its feet and all of the momentum on the other side of the net, Creighton started disrupting their opponent's rhythm one point at a time. A serve leading to get them out of system here, a stuff block here, a touch there, and before the 1,302 fans in attendance knew it it was all tied up at 23.
"I did not want to go to four sets, man," Winters said of her team's unwillingness to let one go and move on to game four. "I really wanted to get it done in three. You can give some points here and there and you can fight your way back, but we just wanted to get it done as quick as we could and get out of there."
Each team had a chance to either end or extend the match. Kansas saved match points at 24-23 and 25-24, and Creighton saved game points at 26-25 and 27-26. In the end, a combo block by Dimke and local Lawrence native Naomi Hickman gave the Bluejays a third shot at the win, and junior outside hitter Taryn Kloth didn't waste it as she spiked home her 10th kill of the night followed by a fist pump to hand Kansas their first home loss in straight sets since 2011.
"Anyone who has followed this season has known we've had some pretty awful third games in matches, so we said that was going to be our goal," Dimke said. "We wanted to go out there and didn't want them to think there even was a possibility to get two more sets. We said we're going to get in here, get home, and get to bed at a good time. We didn't want them to gain any momentum. If they would have won that third game it could have been a totally different outcome. They get momentum, they confidence, and then maybe we pull back a little bit. We all knew that the third set — even though we had sets to spare — was super important and the turning point in the match."
Dimke finished with 38 assists to go along with eight digs and two blocks in the win. Jaali Winters was named Most Valuable Player of the tournament after her match-high 14 kills and 12 digs against the seventh-ranked Jayhawks. Taryn Kloth and sophomore libero Brittany Witt also earned spots on the Kansas Invitational All-Tournament Team.
Creighton edged out their third straight tournament win based on their set winning percentage of .700. The Bluejays edged out 17th-ranked Purdue, who won seven of the 11 sets they played in, by bouncing back from a four-set loss to the Boilermakers to sweep Belmont and Kansas to clinch the title. More importantly, it's another big resume-building weekend that is expected to pay off in December. Last year's Elite Eight run was fueled by the hunger of close calls in non-conference play. This year, the Bluejays will be banking on results.
"This is the first year since I've been here that we've been winning so much in the non-con," Winters said. "Every loss still hurts that's for sure, but we're off to a great start. I just hope we can look at those losses and say, 'hey, we still need to get better.' Just because we got these wins does not mean we're good enough to make the Final Four yet.

"We were able to bounce back and beat Belmont pretty effectively last night. Every time we've lost we've got back in the gym the next week and worked hard, so I'm sure that's going to happen again this week. Yes, KU was a great win for us, but we still have to look at Purdue and say, 'hey, we folded during that match and we need to get better to make sure that we can go during crunch time.'"
Next weekend doesn't provide any breaks for the battle-tested Bluejays, either. They'll be back in the state of Kansas for the Shocker Volleyball Classic on Friday and Saturday. First they'll face old Missouri Valley Conference rival, and hater of everything blue, Wichita State at 7:00 p.m. on Friday, then they'll face currently unbeaten and 22nd-ranked Iowa State the next day at 4:30 p.m. to finish out the non-conference portion of the regular season.
"They can enjoy this for a little while, but it doesn't get any easier next week," Kirsten Bernthal Booth said. "We're going to play two Top 25 teams next week, so it will be tough again. The last two weekends we've dropped a match, so the question is whether we can sustain high level play on back-to-back days."
Comments
Tagged in: