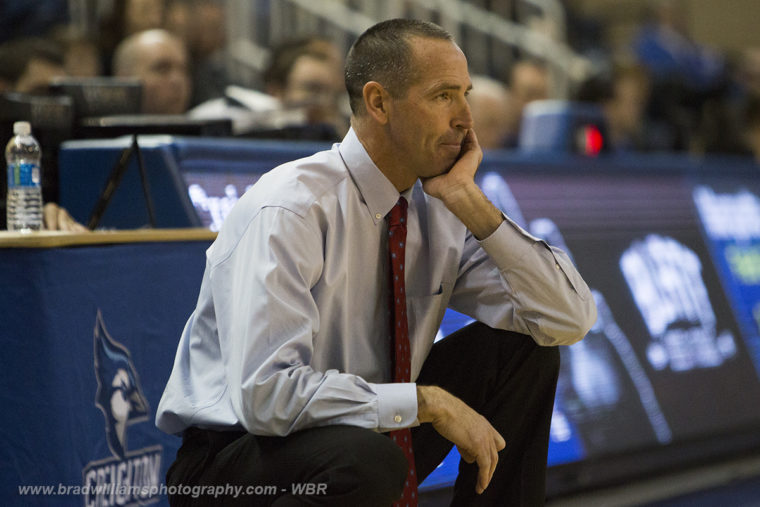 Creighton Women's Basketball: St. John's/Seton Hall Weekend Wrap-Up
Olivia Elger's Infectious Intangibles
The scoring punch she provides off the bench shows up in the stat sheet, and Creighton's record when she's on her game one can find without needing to see the whole picture. What's becoming more apparent as the season rolls along, however, is all those points, rebounds, and assists come from a foundation of toughness that permeates through each of her teammates. She's been hit, tripped, knocked down, and tackled more than anyone on the entire team combined.
Sometimes it looks like she can't get back up. Sometimes she gets back up, but hunches over as if she's questioning whether she can take anymore punishment. But every time the whistle blows, she takes a deep breath, gets back in a stance, and gets ready to rock. And her teammates take notice.
"'Liv has always been like that," senior guard Sydney Lamberty said of the sophomore point guard. "That's something that she has always brought to the team, and it's huge. Especially once you see her do it a couple of times you tell yourself that you need to start doing that, because you see her hit the floor really hard and you see her get fouled, and it makes you feel like you need to step up and do the same thing. Her making those plays is huge."

Reigning Big East Freshman of the Year, Jaylyn Agnew agrees, "The coaches have talked to us about second effort, and she displays that a lot. Her doing that reminds us that those second-effort plays really count. They count when she does it, so everyone else needs to join in and get some good ones."
That style of play comes second nature to Olivia herself. She learned from playing one-on-one with guys growing, and now it's the only way she knows how to play.
"It's a physical sport, but I'm fine," Elger said after 34 grueling minutes in the overtime win against Seton Hall. "It's a Big East game and they are all important, so I'm just trying to get a win."
In Friday's 53-39 win over St. John's, she finished with 16 points, four assists, and a steal. Against the Pirates on Sunday, she went for 17 points, four assists, one steal, and a hard-fought career-high eight rebounds. The Bluejays are 6-2 this season when she scores in double figures, and 6-1 when she has three or more assists.
Jaylyn Agnew's Response To A New Challenge
The reigning Big East Freshman of the Year entered this weekend's home stand against St. John's and Seton Hall with one double-digit rebounding effort in 51 career games. When the clock hit 0.0 on Sunday she three times that number. Agnew grabbed 12 rebounds in both games, including 11 on the defensive glass in each game. She was a big reason why the Jays only allowed 18 second-chance points all weekend while adding 28 of their own — a key category every season in their meetings with the more physical and athletic frontline players that the Red Storm and Pirates throw at them.
"All the coaches have been preaching in practice about defensive rebounding, especially this weekend against St. John's and Seton Hall," Agnew said. "We just had to keep that in our minds, and we knew that once we got the rebound we could push in transition and get easy stuff."
Earlier in the season, head coach Jim Flanery had a very strict and specific conversation with his ever-improving sophomore wing: shoot the ball. That came after Agnew scored 14 points in the first two games on 12 total shots. She responded by scoring at least 15 points in each of the next nine games, including a career-high 26 points in an 89-78 win over Northern Iowa.
Now after receiving another set of instructions centered around rebounding, especially on the defensive end, the former Top 100 recruit has answered the challenge on the backboards with the best two-game stretch of her career. Something her teammates hope becomes as much of a mainstay in her game as the scoring.
"She doesn't even realize how big of a role that is in a game like this," Sydney Lamberty said after the overtime win on Sunday. "Especially when we do get good rebounds and she kicks it out for us to get easy baskets out of it. She's really hard on herself, so she needs to realize that those rebounds are huge for us."
Ali Greene's Physicality
The breakout performer of the weekend for the Bluejays was without question Ali Greene. The redshirt sophomore forward had a career-high 14 points on 6-of-8 shooting to go along with six rebounds and a blocked shot in Friday's win over St. John's, then she turned around and threw in seven points, five boards, and a steal in the thriller against Seton Hall.
Capability doesn't always translate to consistency, but if anywhere near the 10.5 points and 5.5 rebounds that she averaged this weekend, then the Jays will have two pieces coming off their bench in her and Elger that not many teams in the league will be able to match among their own reserves.
"Ali's contribution in both games was a big part of this weekend," Jim Flanery said. "I thought late against Seton Hall she was big. She defensive rebounded and she slid her feet better. There was a stretch where I didn't think her ball screen defense was as good as we needed it to be. I told her she had to get lower when you're trying to stay in front of the guard, you have to just bend and get lower and be more committed to staying in front of her. She kind of nodded her head and I thought she was really good from about then on.

"That's a big piece if we can get her to play like that, because we need that physicality. If she can make a basket here and there that's huge too, because of all those other things she brings."
Sydney Lamberty's Three-Game P.O.T.W Campaign
By Monday afternoon, senior guard Sydney Lamberty might add a new milestone to an already impressive, but somewhat understated career. Since being named Big East Freshman of the Week six times during the 2014-15 season, the Cottage Grove, Minnesota native has been mostly an after thought when it comes time for the conference to hand out weekly and yearly accolades.
That could change soon. In wins over Xavier (on the road in overtime), St. John's, and Seton Hall (at home in overtime), Lamberty averaged 16.3 points, 10.3 rebounds, and 5.7 assists per game while shooting 58.1% from the field, 50.0% from three, and 77.8% from the charity stripe. Stacking her week up against the rest of the league, she is fifth in points per game, first in rebounds per game, and second in assists per game, and as a kicker her team went 3-0. She was also the first Creighton women's basketball player to have at least 15 points, 15 rebounds, and 5 assists in a game since Megan Neuvirth back in 2008 after her 15-point, 15-rebound, 5-assist performance in the 71-64 overtime win at the Cintas Center against Xavier.
Her top competition for the player of the week nod appear to be Villanova's Alex Louin and Georgetown's Dionna White.
Louin helped the Wildcats go 2-o with road wins over Xavier and Butler by posting averages of 16.0 points, 8.0 rebounds, and 3.0 assists per game while connecting on 57.1% of her field goal attempts. White, meanwhile, led the Hoyas to road wins in Indianapolis and Cincinnati as well by putting 16.5 points, 7.0 rebounds, 3.5 assists, and 3.5 steals per game on 45.8% shooting from the floor.
Comments
Tagged in: