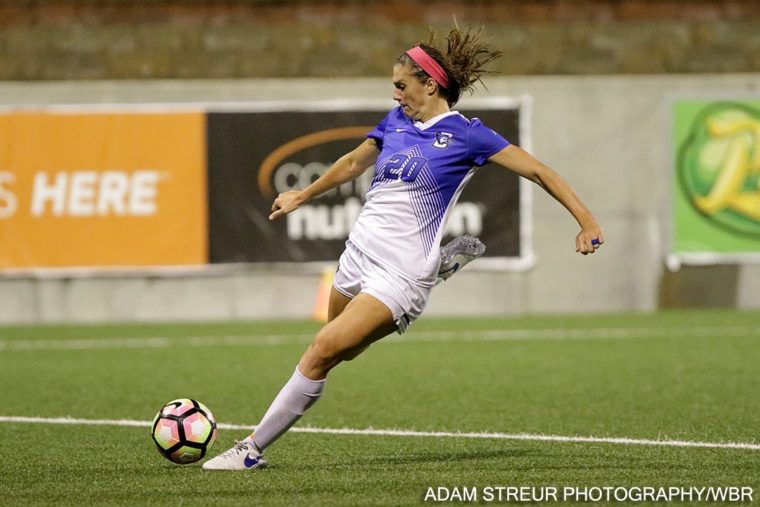 Creighton Women's Soccer Grinds Out a Rain-Soaked Win to Complete South Dakota Sweep
The Creighton women's soccer team spent a lot of time creating chances and controlling possession, but still had to sweat out a narrow 2-1 win over the South Dakota Coyotes on Friday night.
After waiting out the rain and lightning for an hour and a half, freshman center back Jaylin Bosak and senior midfielder Lauren Sullivan sandwiched a pair of impressive goals around a Coyotes' penalty kick to help the Bluejays improve to 4-1-2 on the season, completing a sweep of the "Mount Rushmore State" that began with last Sunday's 2-1 result on the road at South Dakota State.
"I think we played well enough to have a shutout," Creighton coach Ross Paule said. "What's disappointing to me is we gave away a goal when we shouldn't have. On the other side of it — and it seems like we've had this talk before — we can put teams away early, and we had plenty of chances to do that. We just haven't got that killer instinct yet, and that's something you have to have. We can't continue to put ourselves under pressure before we really step up to get the goal. It's just one of those things where when we feel like we put ourselves under pressure by going a goal down or getting tied we all of a sudden have the urgency to put the ball in the back of the net."
Both Paule and his players felt they performed better against South Dakota than the 2-1 result would indicate. They out-shot the Coyotes 16-5 over the course of the match, which included a 10-3 edge in shots on goal. Yet instead of building a three or four-goal lead and getting players some rest, they had to maintain an intense level of focus in order to beat a team that had been outscored, 10-2, in six previous regular-season matches entering Friday.
"I think there is always a little bit of frustration when you think you should be scoring more goals, especially since we were giving ourselves good opportunities to score," Sullivan said. "But I'm really proud of all of us for working through that and obviously getting a pretty good win."
The Bluejays peppered the attacking third of the field with passes, tackles, blocked clearances, and shots throughout the match. Their back line hovered around midfield most of the time as they kept the Coyotes backed into their own defensive third. After generating four shots and three corner kicks in the first 20+ minutes, they broke through to take the lead on the second goal of Bosak's young career.
The Omaha native, and Millard West graduate, out-jumped the defenders marking her in the box to head a free kick from senior center back Emily Roll into the back of the net to give her team a 1-0 lead with 19:29 remaining in the opening half. Both of Bosak's goals this season have come on headers after one of her teammates lofted a ball into the box, something she has become well-known for among her teammates.
"Once I started here everyone kind of noticed that I could jump, so every time it's a free kick or a corner everyone tells me to get in," Bosak said. "I'm always ready to jump in and tip it in with my head.
"It's all about timing your jump right. Once you time it you can jump over everybody."
---
See photos from Adam Streur of the Win
Get your favorites over at the WBR Photo Store
---
Bosak is already one of the most athletic players on the roster, and at 5-foot-8 she has the height to be a dangerous option in the air for the Bluejays. However, her head coach says her success so far has more to do with her approach rather than her measurements.
"You talk about killer instinct, that's the killer instinct," Paule said of his young center back. "She goes and gets the ball. She goes and demands the ball in the box. On the offensive side and defensive side she does a very good job of attacking the ball, and she'll score a lot of goals by having that mentality."
Creighton appeared to lack that mentality at times after grabbing the early lead, and they ended up paying for it in the second half when they their strong defensive shape had a momentary lapse that led to a penalty kick for South Dakota.
With 22:56 remaining in the match, a Bluejay defender was whistled for a foul in the box on an end line run. Coyotes senior forward Corey Strang lined up and blasted the penalty into the back upper half of the net to tie the match at one. Suddenly a dominant performance up to the point turned into an uncertain result because of Creighton's inability to put away prior scoring chances.
"There was definitely tension," Bosak admitted, "but our team is really good at fighting back. We don't put our heads down, we get the ball back and we're ready to fight."
Bosak, who has proven she knows a little bit about keeping her head up, watched in her center back position as her team struck right back to take the lead three and a half minutes later.
Freshman midfielder Taryn Jakubowski played a through ball on the right flank that found a seam in South Dakota's back line and hit All-Big East Second Team striker Lauren Sullivan in stride at the edge of the 18-yard box. Sullivan slotted a ball on the ground to the far post for her third goal of the season, and 23rd of her impressive Bluejay career, to give her team a 2-1 lead that they would not relinquish the rest of the match.
Known for her ability to make chicken salad out of you-know-what when it comes to scoring difficult goals, Sullivan admits that her young teammate took care of the hard part on the game-deciding sequence.
"Taryn put it on a platter for me, so all I had to do was hit it on frame," she said. "I knew I needed to hit it low, because the keeper had some height so I figured she'd have some trouble getting down. Also, with the turf being wet I figured it would skip a little bit. Taryn put it on a platter — I didn't have to do much with it."
The game-winning strike moved her into a tie with a former Bluejay in Jill Thurman for sixth-place all-time in program history. It also put her into a third-place tie with Emily Orbell for most career points by a Creighton women's soccer player at Morrison Stadium.
More importantly, it continued to move her mojo in the right direction — she also had a goal and an assist against South Dakota State — after missing a penalty kick late in last Friday's match against Kansas State that eventually ended in a draw.
"It feels really good, especially since I was having some confidence issues after Kansas State," Sullivan said. "I take that kind of thing personally. I take it really hard and it's hard to bounce back from that kind of thing, but after getting a good win Sunday on the road and a home win under our belts today, it really feels good."
With the only game of the week now in the books, the Bluejays will take Saturday and Sunday off to recover before beginning preparations for a two-match road trip at Rhode Island on Thursday night and at Yale on Sunday afternoon.
Comments
Tagged in: