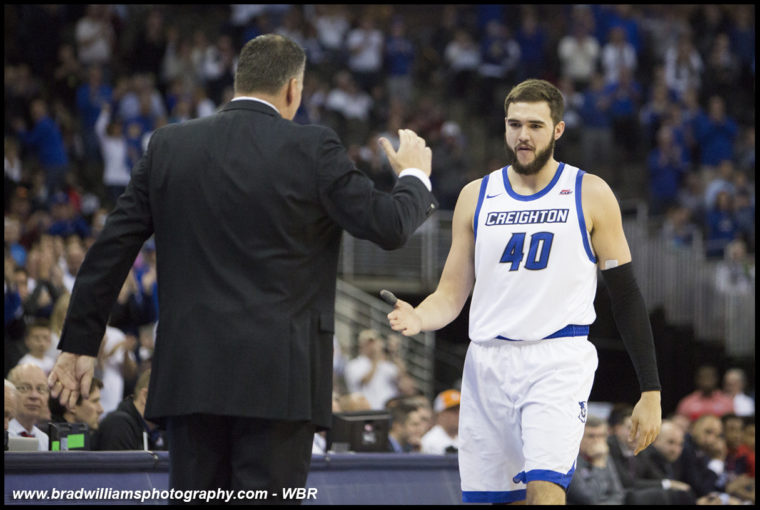 Creighton's Seniors Weathered One Last 'Storm' to go out on top in CenturyLink Center Swan Song
No crutches.
No slings.
No arms draped around teammates to keep the weight off of another injured limb.
As Bluejays, seniors Cole Huff, Zach Hanson, and Isaiah Zierden have flown through a category five hurricane of injuries. On Tuesday night, they weathered the St. John's Red Storm, 82-68, and walked off to standing ovations from their home crowd for the last time in their college basketball careers. They walked off at their own pace, under their own power, with smiles on their faces instead of hitches in their steps.
"They've all been hurt, and almost to a man they've all been back before they were supposed to be back because of their work ethic and their desire to put that uniform back on," Creighton head coach Greg McDermott said. "They represent everything that's right about college basketball and we're very proud that they have worn a Creighton uniform."
In this calendar year alone, Huff and Hanson underwent micro-fracture surgery on their respective knees, Zierden had a shoulder injury surgically repaired, and Hanson missed 15 games from November 26th through January 21st while recovering and rehabbing from surgery to repair torn ligaments in his ankle from an injury he suffered in a win over Ole Miss at the Paradise Jam down in the Virgin Islands.
At some point, either this season or in years prior, there was thought that the injuries they've sustained at one time or another would threaten their college basketball careers, but in the end they each persevered. On Tuesday, they all entered the starting lineup for the first time together in their careers, and after combining for 21 points, 12 rebounds, four steals, and three assists they walked off the court on an emotional high after going through plenty of personal lows in their time at Creighton.
The reality of what they had to overcome to get to that point where they could walk down the line and hug their coaches and teammates was not lost on them after the game …
Cole Huff:
"When you get injured you really don't know how you're going to recover. It's such a long process of rehabbing day to day. Months go by, then when you finally do get back on the court you're so far behind just because you haven't been out there in five or six months. As the season inches closer and time gets shorter, so many thoughts go through your head of why you're struggling and even if you can get back to the level that you were at. But I think the unique thing about all three of us is that we have a winner's mentality. We've all been through this before, and we all have belief in ourselves along with the coaching staff and our teammates. They rallied around us and gave us that extra boost. It's just really cool. The season is not over yet, so knock on wood, but it was great to complete my senior season for the most part and still be relatively healthy."
Zach Hanson:
"It means a lot to be able to get back out there, and the biggest reason — a lot of people don't see all of the behind-the-scenes stuff, they see people get hurt, but not everybody sees the ups and downs, the good days and bad days that go with rehabbing and trying to get back. The biggest thing to credit too is kind of what Coach said with all of us, it is such a special thing to get to play here, so when you're rehabbing and thinking of how to get back and put that uniform on again, that's all the motivation you need right there."
Isaiah Zierden:
"The last three years being on crutches and in a sling, you take it for granted just being able to walk or eat food with your right hand, so it's great to finally stay healthy for a year and be able to walk off the floor under my power."
Creighton Clinches Coveted First-Round Bye
The Bluejays entered Tuesday night's home finale against St. John's with a record of 9-7 in Big East play, one game ahead of four teams with 8-8 records in league play and two games up on the Red Storm who sat in 8th place at 7-9. The possibilities still existed that Creighton could find themselves in the play-in round of the Big East Tournament if they slipped up in their last two regular season games.
They erased the "worst-case" part of that scenario by taking care of business against St. John's. That improved their record in conference play to 10-7 and with the loser of upcoming game between Xavier and Marquette assured to finish no better than 9-9, the Bluejays have clinched a likely top five finish in the standings and no worse than sixth.
The stress of trying to figure out the tiebreaker scenarios should the Jays lose their final two regular season games was maddening enough that it became easier just to focus on getting through step one and taking control of it themselves.
"It was a huge game because going into tonight we could have finished anywhere from third to eighth and I think we've solved that problem," McDermott said.
Beating St. John's also provides a bit of late-season momentum to build off of heading into Saturday's regular season finale at Marquette after the Bluejays dropped four of the first six games once the calendar flipped to February. Tuesday night was about getting the season back on track as much as it was about seeding for the conference tournament, and it was the three seniors in Hanson, Huff, and Zierden who set the tone in the two days leading up to the game.
"We let one get away against Providence that we felt we should have won, and we didn't play great at Villanova, but we muddied it up and ground it enough to make it anybody's game with ten minutes to go and then didn't finish it — we were disappointed," McDermott said. "After the film session we didn't do a lot on Sunday, and then had a very spirited practice here yesterday. I thought their focus and energy was outstanding, and a lot of it had to with these guys understanding it's their last practice on that floor. Besides the sentimental part of it, Z made me cut the practice short just to prove that I don't always go over my scheduled practice time, but there was a lot of energy and a lot of focus and they carried that over to the start of the game.

"I started the seniors, I started Z and Zach, and it speaks for itself what happened. Defensively they were really really good, and we jumped out to that 9-0 lead, and it ended up being huge in the end."
Khyrifense
There aren't many opinions I feel stronger about than the idea that Khyri Thomas is the best defensive player in the Big East by a hilariously wide margin. If you go down the last of top scorers in the league that he as at the very least frustrated and most of the time completely shut down it's incredible.
Villanova star, and national player of the year candidate, Josh Hart has taken two cracks at figuring out how to be effective against Thomas and he's failed miserably on both occasions.
That probably looks strange on paper when you see that Hart is averaging 17 points, 8.5 rebounds, and 2.5 assists per game while shooting 63.6% from the field in two double-digits wins over the Bluejays this season. However, when he's been guard by Khyri Thomas those numbers look dramatically different. In two games against the Creighton sophomore guard, Hart has scored two points.
Total.
Two.
That's it. In two games, he has two points and four turnovers and is shooting 1-for-6 from the field with Thomas as his primary defender.
"He's our defensive player of the year and I think he's done a terrific job on whoever he's guarded," McDermott said.
Not only should he have already been a stone cold, blue-painted lead pipe lock for the conference Defensive Player of the Year award, but he may have sown up the Big East award for Most Improved Player with his 14-point, 12-rebound, 7-assist performance in the win over St. John's.
His numbers are up across the board this season compared to last. He's gone from 6.2 points per game last season to 12.1 this season, from 3.7 rebounds per game to 5.8, from 1.4 assists to 3.3, from 0.9 steals to 1.5. He also shooting the ball better this season, going from 47.1% overall and 52.1% at the free throw line to 51.1% and 73.8% respectively. His 3-point shooting percentage is down almost three full percentage points, but that's because he has taken 55 more shots from beyond the arc in four fewer games so far compared to last season. He's been a swiss army knife for the Bluejays all season, but especially since losing point guard Maurice Watson Jr. to a torn ACL 12 games ago.
"We've asked him to do a lot," McDermott said. "He got a double-double tonight and seven assists to go with it. He turned it over a few times, but his role changed over night and he's embraced it and accepted it. I'm really proud of him. I think he's turned himself into a great basketball player, but I don't think he's even close to reaching his potential."
His head coach then lob some high praise at his jack-of-all-trades sophomore guard when asked for the secret to Khyri's success.
"Tazz is about the team," McDermott said. "The guy is zero maintenance and he's zero ego. He always has been. He's one of the best teammates I've ever coached and I've coached some pretty good ones."
Comments
Tagged in: