CWS General Admission: A Whole Different Ballgame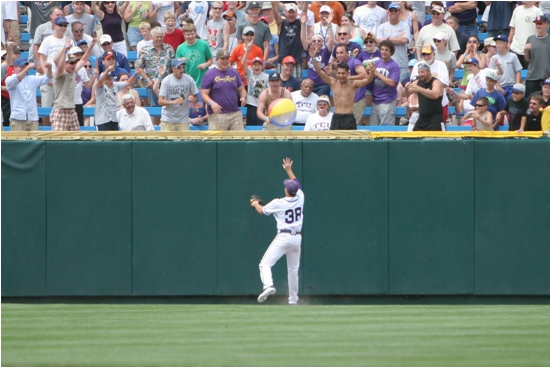 What comes to mind when you think about general admission seating? A cheap way to fill seats? A place for those who don't really care if they have a reserved seat? A place for people who can't necessarily afford a reserved seat? Or a haven for baseball crazies and die-hard fans of the sport? On a warm but pleasant night at Rosenblatt Stadium, I experienced a lot of the later explanation, along with some long waits in lines.
A friend of mine invited me and my two boys to join him and his two boys to enjoy some baseball and take in the final College World Series at Rosenblatt. I had not been to a CWS game in probably six or seven years; getting little kids to sit for 3-6 hours was probably not going to go over well at the time. But now that my sons are a bit older, it sounded like a great idea. The experience was definitely a memorable one, so I took some notes.
5:30: We headed to Rosenblatt with kids in tow to meet up with our friends and stand in the General Admission waiting line. The Florida-Florida State game was still going, so I was hoping to be able to find a decent place to park since our game didn't start until 8.
6:10: Still looking for that great place. Lots of people are around, but none seem to be leaving. I finally settled on a small spot across the street from a nearby golf course. The kids were troopers and walked the whole way to the stadium.
6:25: Met up with our friends. It was a bit of a warm day, but not too bad. Took a quick picture by the Rosenblatt statue. Then off to the General Admission lineup.
6:35: The last time I went to the CWS in General Admission, I definitely don't remember having a big huge corral to wait in line. It used to be some semi-circle thing where people challenged others not to cut in line. This time it was a winding, roped-off area with "security" type people around the perimeter. I have always asked myself, "if people started rioting and bum rushing the line and entrance, will some of those skinny "security" people really be able to stop anything? Oh, and there was quite the group already lined up; we were at the bottom of the hill on the sidewalk with a long way to go.
6:47: The line moves ever so slightly, giving us false hope. The Florida-Florida St. game was still going and the line inched forward about every 10 minutes. Finally, when the Seminoles were finished ending the Gators' season, the ushers cleared everyone out of the stadium. Then the rush was on!
7:15: OK, the rush was more of a crawl. We had to distract the boys by having them pick up water bottles and put them in trash bags that were hanging on some posts along the way. How they ever kept from running around driving themselves and everyone else crazy, I will never know.
7:30: Still working our way around the corral. Herding cattle never looked better. We were now close to a wooded area where we could smell the GA entrance. But the line still crept ever so slowly. There was some brief excitement when a few people tried to cut in line and a guy who seemed to be in charge of the security detail yelled at them to head to the back of the corral. One gentleman spent time arguing with the security guy; not that he was mad he had to go to the end of the line, but that while the security guy was talking to him there were about 5-10 other people who walked right in front of them cutting in line. None of this deterred the violator from going to the end of the line, then going up and around the opposite side where no one could see him so he could still cut in line where he wanted. After the head security guy almost tackled a couple of other fans from cutting in line, my friend exclaimed to those around us, "We could really use him on border patrol!"
8:00: The National Anthem is blaring on the PA, but we are still in the line for GA.
8:15: We're finally in the stadium gates. Now it is time to find a seat. Never mind that the top of the first inning is already in the books. We climb a few flights of stairs, find some seats two rows from the top of the left field bleachers, and settle in for the evening.
1st Inning: At this point I was exhausted from waiting in line and handling the rowdy children, so I stopped tracking a minute-by-minute account of the evening. So we found our seats, right? We also found our appetites, and the children were hungry. My friend took his kids while we guarded their seats. You wouldn't believe how many people come up to you and try to steal the seats that were obviously saved. So while that was going on, I realized that the 1st inning was already over. Huh, looks like UCLA somehow scored a run. Bruins lead 1-0.
2nd Inning: Our friends came back and then it was time for the boys and me to get food. Let me tell you, out in the GA, there isn't much to choose from unless you want to walk over to the stadium. They had some food in between the left and right field bleachers where your choices were a hot dog, a bigger hotdog, a brat, or some peanuts and chips. Already having missed an inning, I didn't want to walk around the stadium looking for chicken fingers or hamburgers, so we settled on the hotdogs. We get back. Already the bottom of the 2nd inning. Got the kids situated with their food, started eating mine, and the 2nd inning was over. I must have missed it again. UCLA was now up 2-0.
3rd Inning: If you have ever been to the CWS, the General Admission area is known for hitting around beach balls in between innings. Though they are "outlawed" by the powers that be, people still get them inside and blow them up and hit them around. Usually it is also done between innings as to not disrupt the play on the field. This group in left field seemed a bit rowdy to me and sure enough they were hitting beach balls during play and sure enough, some went to the field. This time, the security folks caught one of the great CWS fans that hit the ball onto the field. At that exact same moment, my son said he needed to go to the bathroom. So as we made the trek down to the concourse, the left field crowd was all fired up because the fan was going to get kicked out. Everyone around us was chanting, "Let him stay! Let him stay!" Well eventually it appeared they did let him stay and everyone cheered. Oh, by the way, the Bruins bashed a 2-run homer to the left field stands at the exact same time. I almost forgot a game of baseball was going on. As my son and I hit the bathroom, we could hear UCLA music playing again, and found out as we came out that UCLA in fact did hit another home run. Two home runs in the inning put UCLA up 5-0.
To repay my friend who provided us with the tickets for the game, we thought we would get him and his sons something to eat. Everyone loves ice cream, right? So my 4-year-old and I go up to the ice cream stand and say we want 5 waffle cones. I got the strangest look and was asked, "Are you serious?" I had to convince her that I was completely serious. You can probably imagine the sight of me carrying three big waffle cones while my little boy carried two. And of course the ice cream was a hit.
The bottom of the 3rd inning was even more eventful as there was a section in left field that felt the need to yell and encourage everyone else to yell "Right field sucks!" Right field retaliates, leading a chorus of "Left field sucks!" chants, and so on. Is there even a baseball game going on anymore?
4th Inning: Finally, I think I actually watched part of the game. But then I got distracted again. Out of the corner of my eye, I see what appears to be every crowd's favorite game — the Wave. This was not just any wave, but a slllooowwww motion wave. How original. You would have to see it to believe it. Most waves try to go somewhat fast, but this one was really slow and it got over to right field (which, of course, "sucks") and they messed it up. So left field tries again, and this time it circles the entire stadium. The next thing I know the 4th inning is over, engulfed by a series of vicious waves.
5th Inning: We're at about the halfway point of the game, and I think I've seen a handful of outs. The kids? They're ready to go home. But we're there to watch the game, and we're not leaving yet. Anyone who complains that Creighton Basketball games are a social gathering must not have ever been to the GA seats at the CWS. This is absolutely a social gathering. I think I remember watching most of this inning, but it was what happened at the end that really sticks out in my memory. As soon as TCU recorded UCLA's final out in the bottom of the 5th, the section of bleachers right before my eyes was overrun by about 30 beach balls. The place goes nuts, and everyone's reenergized for the home stretch — even my kids.
6th Inning: Nothing of much significance happened during this frame, except for a little Toto between the two half innings.
7th Inning: CWS officials are breaking out all the tunes tonight, playing "Sweet Caroline" to get things going before the 7th inning. The tune also got the Horned Frogs jumping, as TCU scored 3 runs to pull within a pair. What was a one-hit shutout turned into a close game, and that got the folks in GA riled up a bit. After the traditional 7th inning stretch, UCLA scored a run on sacrifice fly and opened up a 6-3 lead. Where are the kids you ask? Well, they were to the point where they were laying on the benches (as people had started leaving) and resting. At the same time, the tone of the crowd changed as well as they all lost focus on the game again and started socializing, with young men trying to meet some young ladies.
8th Inning: We stuck around long enough to see if the Horned Frogs could continue their momentum, but they could not. And with just 3 outs left for TCU to tie or take the lead, we decided to call it a night. As we trekked back to our vehicles for the ride home, our kids found a second wind and walked the entire way back. Expended, the slept the whole way home.
Midnight: Everyone's heads hit their pillows.
So the moral of the GA story? Prepared to be involved. You have to always be on your toes. I will be interested to see how the rowdy GA culture at Rosenblatt translates to the new digs at TD Ameritrade Park. I hope the section retains the same character and excitement. Oh, and I hope people watch some of the games, too.
Comments
Tagged in: