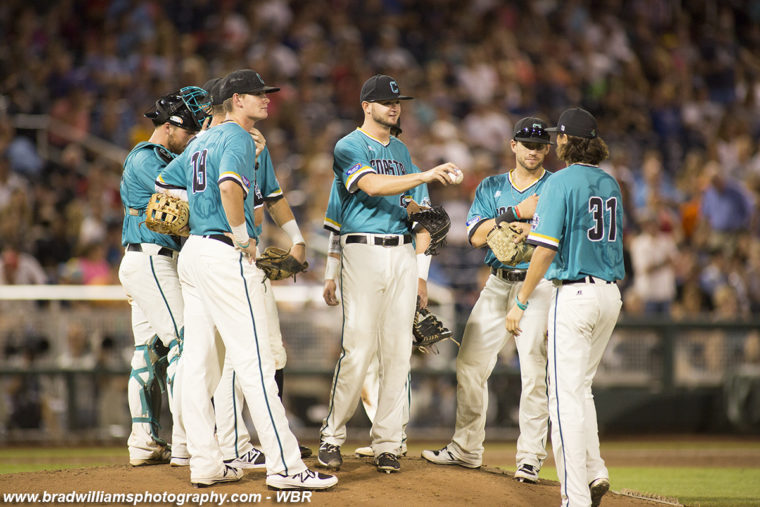 Feel the Teal: Coastal Carolina caps off postseason run with first national title
2016 College World Series Finals Game 3: Coastal Carolina 4, Arizona 3.
Costly two-out errors. A home run. A late rally. A game-ending strikeout. There will be plenty of things to highlight as the years pass when you want to find out what made the difference in Coastal Carolina winning their first national title. Unless you saw it for yourself you'll miss it, because it can't be found in the box score, and in the play-by-play it will read as a double to left field that allowed the tying run to advance to third.
In reality, it was an incredible defensive play for the ages by undrafted senior left fielder Anthony Marks, in perhaps his final inning of competitive baseball, that held up Arizona lead off man Cody Ramer at third base to keep his team ahead 4-3. Relief pitcher Alex Cunningham ended the game by striking out the next hitter and the celebration was underway.
Arizona head coach Jay Johnson called it the play of the season.
"I can't believe it," the first-year Wildcat skipper said. "I told him that when I walked through the line and I congratulated him. We play aggressively — and I mean, it's live by the sword and die by the sword. With two outs we're sending guys.
"The shortstop had the ball when Cody, who is a great runner, was at third base. He would have been out by 100 feet, and it's only 90 feet, I know that. I can't believe that play was made. We won a game at home earlier, two games at home earlier this year on the same ball. You have to tip your hat to Anthony. I can't believe he made the play and got there as quickly as he did."
The Chanticleers had a lead for Marks to protect because of a four-run sixth inning that broke open a scoreless game. All four runs were scored with two outs after a costly error by Ramer on a ground ball up the middle kept the inning alive.
Arizona starting pitcher Bobby Dalbec mowed down the Coastal Carolina lineup through the first five innings. He faced the minimum through the first four innings, then worked out of trouble with two on and two out in the fifth inning. In the sixth he battled some control issues, but as he was almost fully recovered and out of trouble the Wildcat defense that had played so well during this postseason run came unglued at the worst time.
A pair of walks to Coastal Carolina's David Parrett and Michael Paez put two on with one out and the heart of the order coming to bat for the Chanticleers in a scoreless game. Dalbec overcame a 3-1 count to strike out Big South Player of the Year Connor Owings, but strike three got away from catcher Cesar Salazar allowing both runners to move into scoring position. Still, Dalbec induced what should have been an inning-ending ground ball up the middle against Zach Remillard, but second baseman Cody Ramer bobbled the ball as he tried to scoop it up on the run, then in an attempt to catch Paez too far off third base, threw the ball over Kyle Lewis's head at third allowing Paez to follow Parrett home and score the second run on the play.
Three pitches later, designated hitter G.K. Young crushed an 0-2 pitch from Dalbec into the third row of the bleachers behind the right-field bullpen. Young's 18th home run of the season doubled the lead to 4-0 and capped off the two-out rally for the Chanticleers.
"I was telling someone out there, I knew it was time. That ballpark wasn't holding G.K. this whole tournament, no way," Marks said. "No way was it."
Dalbec was pulled after the home run. In his third start of the 2016 College World Series, the 4th-round draft pick of the Boston Red Sox lasted five and 2/3 innings, gave up four hits, four runs (all unearned), three walks, and struck out eight batters to bring his strikeout total to 26 over 20 and 2/3 innings in Omaha.
Before walking off the mound he patted his senior second baseman, who committed the costly errors, on the back.
"He's probably the most important player for us," Dalbec said. "I was just trying to be there for him. We've all made errors before, it stings, and that one stung a lot. I was just trying to pick him up."
The Chanticleers returned the favor in the bottom half of the frame when they committed a two-out error of their own to keep an Arizona rally alive.
With two outs and a runner on first, Coastal Carolina first baseman Kevin Woodall Jr. let a ground ball get under his glove to put two men aboard for the Wildcats. Ace right-hander Andrew Beckwith then walked Alfonso Rivas to load the bases, setting up an opportunity for Jared Oliva. He didn't miss it. Arizona's sophomore center fielder ripped a ball through the six-hole and into left field to bring home two runs and cut Coastal Carolina's lead in half.
Like his counterpart, Beckwith didn't survive the sixth. The junior was pulled after giving up two unearned runs on six hits over five and 2/3 innings. He walked three, struck out two, and held the Arizona offense to 1-for-6 hitting with runners in scoring position.
Sophomore right-hander Bobby Holmes came on for Beckwith, and just as he as had done all season he got the Chanticleers out of trouble by striking out Arizona shortstop Louis Boyd to leave the tying run on base.
Arizona relievers Cameron Ming and Cody Deason held Coastal Carolina scoreless in the seventh, eighth, and ninth innings to give their offense one last crack at winning the program's fifth national championship.
Coastal Carolina right-hander Alex Cunningham matched his bullpen counterparts for two innings, but the last three outs ended up being the hardest to get. After retiring Oliva for the first out, Boyd walked on four pitches and Ramer singled to put runners on the corners. Senior right fielder Zach Gibbons lifted a fly ball into center field. Billy Cooke tracked it down for the second out, but it was plenty deep enough to score Boyd from third to make it a one-run ball game.
Ryan Aguilar followed with the double into the left field corner three pitches later, but Anthony Marks was on it quick and hit his cut-off man at the edge of the outfield grass to hold Ramer at third base. Cunningham bounced back to strike out pinch-hitter Ryan Haug in the next at-bat to end the game.
It was part of a tough luck day on the base paths for Ramer as he was cut down on a bang-bang play at the plate in the bottom of the third inning to keep the game scoreless. Replays should he may have got his hand on home plate before the tag was applied, but home plate umpire Joe Burleson saw otherwise.
Jay Johnson said Ramer told him he was safe.
"I'm guessing if Joe is umpiring the home plate in the national championship game he's the best umpire in the country. I hope that's what the criteria is, and he said he tagged him. I haven't seen it yet. I think it could have had a huge impact."
In the end, it will go down as a "what could have been" for the Wildcats. In the other dugout Coastal Carolina was having too much fun celebrating their first national title in any sport to worry about a close call going their way.
"I'm at a loss for words," an emotional Gary Gilmore, in his 21st season as head coach at Coastal Carolina, said. "I hadn't planned on this one. I didn't know what to say. There were moments along the way all season long, especially down the stretch through all these different tournaments and stuff — and I've said this several times — I felt all along that there's been a hand on my shoulder. I don't know, I think if you go back and look from the seventh inning on I don't know if I unfolded my hands the whole time we were playing."
Gilmore then interrupted his own thoughts on the game itself to pay homage to his father, who passed away a couple years ago.
"My only regret in this is that my father's not here to give me the biggest hug. I would give anything in my entire life for that hug, because I wouldn't be here without him with the things he taught me baseball-wise and everything else. Before I talk about the game, Dad, I miss you, and if there's a thing up in heaven of you looking down on me I know there is the biggest smile that's ever been on your face. You kept telling me we could win a national championship at Coastal Carolina, even when I doubted it myself, and I thank you for that so much."
In delivering Coastal Carolina's first national championship in program history, the 2016 NCBWA National Coach of the Year also picked up his 1,100th career win as a head coach to cap off a memorable run through the postseason. The Chanticleers started in Raleigh, then went on to Baton Rouge, and finished it off with a confetti and tear-filled celebration on the field at TD Ameritrade Park in Omaha.
They beat St. Mary's, NC State (twice), No. 8 LSU (twice), No. 1 Florida, No. 5 Texas Tech, TCU (twice), and Arizona (twice) along the way. Overall they finished with a 55-18 record, including a 6-0 mark in elimination games in the NCAA Tournament.
"They never faltered," Gilmore said of his team. "You look at who we had to beat. To do this is an incredible feat. I don't care what team you are. To go through LSU, and then come here, Florida, TCU, Texas Tech, TCU twice, and [Arizona] three times, it's an incredible journey for any program. This for me has to go down as one of the better competitive teams coming through the hard knocks, the toughest bracket and the whole nine yards."
2016 College World Series All-Tournament Team
Catcher: David Parrett, Coastal Carolina (.222, 2 2B, 4 R, 4 RBI, 2 SB)
First Base: Ryan Aguilar, Arizona (.300, 2 2B, 2 R, 5 RBI)
Second Base: Cody Ramer, Arizona (.313, 2 2B, 7 R, RBI, SB)
Third Base: Zach Remillard, Coastal Carolina (.290, 2 2B, 3B, 4 R, 3 RBI, SB)
Shortstop: Ryan Merrill, TCU (.300, R, 3 RBI)
Outfield: Zach Gibbons, Arizona (.419, 3 2B, 4 R, 9 RBI)
Outfield: Anthony Marks, Coastal Carolina (.387, 2B, 4 R, 4 RBI, SB)
Outfield: Jared Oliva, Arizona (.269, 3 R, HR, 8 RBI)
Designated Hitter: Luken Baker, TCU (.375, 2B, 3 R, 2 HR, 5 RBI)
Pitcher: Andrew Beckwith, Coastal Carolina (3-0, 0.76 ERA, 4 BB, 14 SO, 2 CG)
Pitcher: JC Cloney, Arizona (2-0, 0.00 ERA, 5 BB, 8 SO, CG/SHO)
Most Outstanding Player: Andrew Beckwith, Coastal Carolina
Comments
Tagged in: