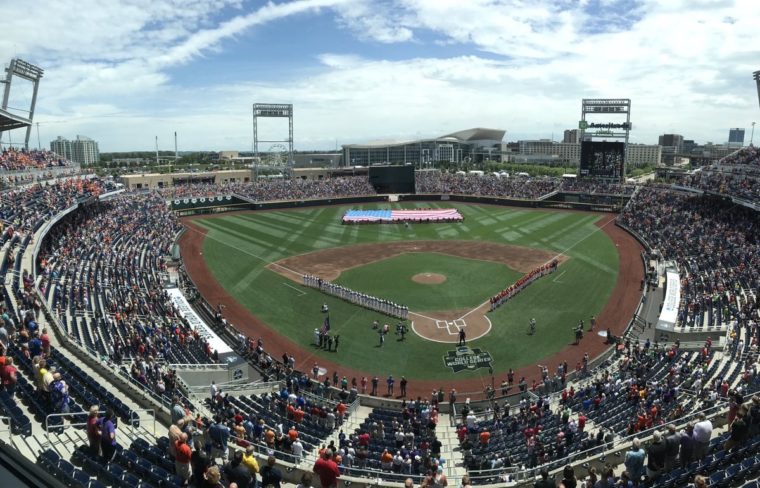 Florida ace dominates in shutout win over TCU
Entering Sunday night, the trend of the 2017 College World Series was that once you get an early lead, hold on tight, because it was about to disappear just when you felt most comfortable.
Cal State Fullerton blew a lead and lost.
Florida State blew a lead and lost.
Louisville blew a lead, but recovered just in time.
But none of those teams had Alex Faedo.
The Florida Gators ace right-hander, an 18th overall pick by the Detroit Tigers in the 2017 MLB First-Year Player Draft, turned in the most dominant performance by a starting pitcher in this year's series, and second place isn't close. Faedo, who improved to 8-2 on the season, scattered a pair of singles and a pair of walks over seven scoreless innings. He struck out 11.
"Alex was special," Florida skipper Kevin O'Sullivan said. "I told some people the other day the last two or three weeks he's been a little bit different, and he was certainly the difference tonight."
Nine of Faedo's 11 strikeout victims came on swings and misses. He only threw a first pitch strike to 58.3% of the batters he faced, but he generated a whiff on 23.6% of the pitches he threw.
"He obviously has great presence — he's pitched in a ton of big games," TCU head coach Jim Schlossnagle said of the Florida ace. "When you're facing a guy like that, you're just hoping he has an off night, because if he has his good stuff, man, you're really going to have to pitch with him and then try to beat the bullpen.

"And we couldn't pitch with him enough."
The only run Florida (48-18) needed to support Faedo came in the bottom of the first inning. Senior center fielder Ryan Larson drew a five-pitch walk against TCU right-hander Jared Janczak to lead off the frame, then moved over to second with nobody out when Janczak's pick-off attempt got by first baseman Connor Wanhanen and rolled towards the wall. Junior shortstop Dalton Guthrie ground out to get Larson to third, and junior catcher JJ Schwarz drove him in with a chopper up the middle to make it 1-0.
The Horned Frogs (47-17) threatened to get the run back when senior second baseman Cam Warner singled off of Faedo to lead off the top of the second, but the junior righty struck out the next two hitters, and catcher Mike Rivera caught Warner leaning too far off of first to end the inning after the second punch out.
That was one of five innings where TCU only sent three men to the plate against Faedo.
"He did an outstanding job just mixing and matching," Wanhanen said. "He threw strikes when he needed to and kept the ball down for the most part. When he did elevate it we just weren't able to put our best swings on it. We were never able to string together enough quality at-bats like they did to push a couple runs across."
Rivera helped out his pitcher on offense as well in the bottom of the fourth when he dug his way out of an 0-2 hole to draw a one-out walk. He would score two batters later when junior designated hitter Christian Hicks drove him in on a base hit to left field.
The Gators added their third and final run of the ball game on an RBI single to left field off the bat of sophomore right fielder Nelson Maldonado. That would also be Janczak's last pitch of the night as he departed after four-plus innings in which he allowed three runs on six hits. He struck out four, but walked five batters. He actually threw a first-pitch strike to 68.2% of the hitters he faced, but generated a swing and miss on just 6.9% of the 87 pitches he threw and went to a three-ball count against seven of the 22 hitters that stood in against him.
The lack of command and ability to finish at-bats as well as he started them was as much of a mystery to the sophomore right-hander as it was to anyone else.
"I think your guess is as good as mine," Janczak said when asked about his performance after the game. "I just felt I was a little amped, I guess … I really can't tell you."
Sophomore right-hander Michael Byrne closed the show for Florida, earning his 17th save of the season by striking out four and scattering three hits over the final two innings in relief of Faedo. With the win, the third-seeded Gators advanced to Tuesday night's winner's bracket game against seventh-seeded Louisville.
First pitch between the Cardinals and Gators is scheduled for 6:00 p.m., but TCU head coach Jim Schlossnagle, whose team takes on Texas A&M five hours before that, warns that the history between the Aggies and Horned Frogs might make that the night game's scheduled start time an unrealistic expectation.
"There's very little chance of the Florida and Louisville game starting on time," he said with a deadpan stare as the laughter broke out in the press conference."
TCU beat Texas A&M, 11-10, back on March 4 in their one and only meeting of the season, but the game took 15 innings to decide the winner.
"You're going to sell a lot of concessions, because we normally much more than nine innings when we play those guys," Schlossnagle added. "It's going to be a great ballgame, no doubt about it."
Comments
Tagged in: