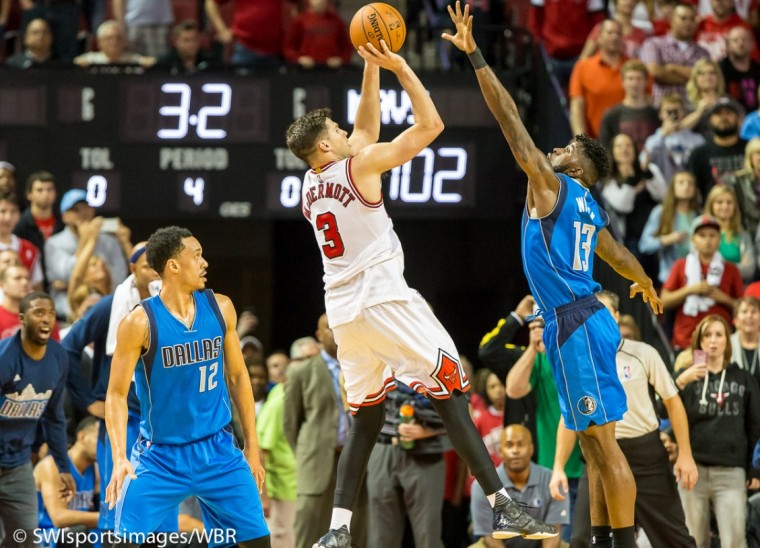 Former Bluejay Doug McDermott Traded From Chicago Bulls to Oklahoma City Thunder
Just before Thursday's NBA trading deadline, former Creighton great Doug McDermott was shipped to Oklahoma City as part of a package deal. McDermott heads to the Thunder along with Taj Gibson and a second round draft pick for Cameron Payne, Joffrey Lauvergne and Anthony Morrow.
McDermott had been averaging 10.2 points per game in his third year with the Bulls, and heads to a Thunder team headlined by one-time Creighton recruit Russell Westbrook. No, really: the eventual UCLA great and NBA All-Star visited Omaha in September 2005, and was almost a Creighton Bluejay. Here's the recruiting visit itinerary, courtesy of none other than McDermott a few years back on Twitter:
What coulda been.. pic.twitter.com/8Ofg9o7C6s

— Doug McDermott (@dougmcdermott) May 20, 2013
The Bulls were likely to miss the playoffs and feature a front office in turmoil, with John Paxson, Gar Forman and coach Fred Hoiberg all rumored to be on the hot seat. Meanwhile, the Thunder are preparing to try for a run through the Western Conference playoffs — though Kevin Durant left in the offseason for Golden State, they remain a formidable team.
Here's some quick articles on the trade from around the internet:
And here's some of the early reaction on Twitter from around Creighton Nation and elsewhere:
Dougie McBuckets and Russell Westbrook on the same team like … pic.twitter.com/62kMG1kAJO

— The Ringer (@ringer) February 23, 2017
Hey @JaysFacilities hold off on updating banners. Or maybe go the Kellogg's route and don't use logos or team names anymore. https://t.co/aAgPV9rbnn

— Rob Simms (@IamRobSimms) February 23, 2017
Best of luck to Doug McDermott in his new home, if this is accurate.

FWIW, the Thunder already have a #3 (Sabonis) and #11 (Kanter). https://t.co/P8eMoybdma

— Rob Anderson (@_robanderson) February 23, 2017
i fucking CANNOT WAIT for the westbrook-mcdermott pre-game dance routines https://t.co/TiKbJpewg9

— Shea Serrano (@SheaSerrano) February 23, 2017
I can't wait to see Westbrook do this with Doug McDermott. pic.twitter.com/znXzcLMwVk

— Rey-Rey (@TheNoLookPass) February 23, 2017
Doug McDermott is shooting an eFG% of 70% on open catch and shoot jumpers in the half court this season.

— Synergy Sports Tech (@SynergySST) February 23, 2017
Sam Presti worked his magic and the Thunder pulled off a big deadline deal. Here's instant reaction to the trade: https://t.co/mZuLG4Lbaz

— Up The Thunder (@UpTheThunder) February 23, 2017
Thank You for being a Chicago Bull @dougmcdermott!!! You will be missed!! pic.twitter.com/2oTwKTBPf8

— BullsKickAss (@Bullskickass) February 23, 2017
Talk about a dynamic duo @dougmcdermott pic.twitter.com/Cb19DWG6kS

— Barstool Jays (@BarstoolJays) February 23, 2017
Sucks for all those fans that just bought #11 Bulls jerseys!

— Heath Gunderson (@Heath_Gunderson) February 23, 2017
I don't know about you….but I like it! pic.twitter.com/zlfS00kBJs

— Joe Popovich, Jr. (@CMTJoe) February 23, 2017
@dougmcdermott time to showcase Mcbuckets

— Austin Chatman (@Austin_Chatman) February 23, 2017
— Martin Krampelj (@MartinKrampelj) February 23, 2017
Roll Thunder

— Matthew Dorwart (@MatthewDorwart) February 23, 2017
Guess I'm okc fan now #rolljays

— Antoine Young (@AY30) February 23, 2017
Looks like I'm a Thunder fan now!! https://t.co/Y0PNsTnfYE

— Joe Popovich, Jr. (@CMTJoe) February 23, 2017
And all of the sudden I have renewed interest in the Thunder! @dougmcdermott

— Bob Harstad (@bobharstad) February 23, 2017
So… I'm a huge OKC fan now? 🙄

— Jahenns Manigat (@JManigat12) February 23, 2017
"Great Googly Moogly" – @JaysFacilities (probably) (again) pic.twitter.com/HoIHEc59eT

— Rob Anderson (@_robanderson) February 23, 2017
Hey, @dougmcdermott. Welcome to Oklahoma City. #ThunderUp pic.twitter.com/fbi8DTiflJ

— Up The Thunder (@UpTheThunder) February 23, 2017
Comments
Tagged in: