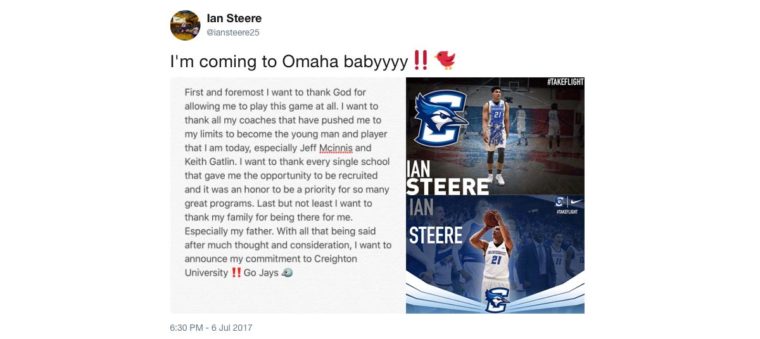 Four-Star Big Man Ian Steere Commits to Creighton
Creighton's recruiting momentum continued, as they secured a commitment from four-star 2018 forward Ian Steere on Thursday. A 6'9″, 230-pound player from Wesleyan Christian Academy in High Point, North Carolina, Steere is ranked as high as #76 by recruiting services (Scout), and is a four-star prospect in rankings by Scout, ESPN, and 247. He held offers from Louisville, Kansas, Arkansas, Clemson, UCONN, Florida State, and others.
I'm coming to Omaha babyyyy‼️🐦 pic.twitter.com/UWLfweXCEf

— Ian Steere (@notorious21_) July 6, 2017
The powerful Steere plays on the same AAU team, Team Charlotte, as incoming freshman Ty-Shon Alexander. Entering his senior year in high school, Steere is already an intimidating presence around the basket, plays above the rim, and is big enough to play on day one in the Big East — there's no concern about a need to add weight to play as a freshman with Steere. He's there already, which is a strange feeling for Bluejay fans used to big men who need a year of conditioning to be ready for action (Gregory Echenique excepted). Here's some clips of Steere in action — his sheer aggression and fearlessness around the rim makes him hard to compare to previous Bluejays, at least of recent vintage.
PF Ian Steere announced his commitment to Creighton today…He's bringing dunks like this to the Bluejays (via @iansteere25) pic.twitter.com/nTxOqsDUNe

— Sports Illustrated (@SInow) July 7, 2017
Who gon stop me huh? 🤦🏽‍♂️@bburrell_11 pic.twitter.com/HsG3ylXN4V

— Ian Steere (@notorious21_) June 27, 2017
According to Rivals' Corey Evans, Alexander helped sell Steere on Creighton by convincing him that Greg McDermott and his staff are among the best in the country.
Steele told Rivals that when he talked to McDermott on his visit, he liked that Creighton wanted to make him a priority, and laid out a plan for how his game would evolve as a Bluejay. That plan? For Steere to be a 3/4 combo big man who would play both on the block and outside, running offense both in the paint and on iso sets.
With fellow four-star recruit Christian Bishop already on board for 2018, Steere's commitment gives the Bluejays a great start to that class and allows CU's staff to now focus on their top guard targets with two big men committed.
Here's a sampling of the reaction around social media following the announcement:
Another great day to be a Jay! #BOOM

— Coach McDermott (@cucoachmac) July 6, 2017
#CurrentMood #GoJays pic.twitter.com/dfOqFXzYhS

— Creighton Basketball (@BluejayMBB) July 7, 2017
Congrats to the big bro @iansteere25 on his commitment to Creighton 🎈🤘🏽🐐… #gojaysgo pic.twitter.com/aF7RaUEB7K

— Jeff McInnis  (@JeffMcInnis32) July 6, 2017
Congrats to our guy @iansteere25 on his commitment to Creighton! Won't be any shortage of lobs being thrown in Omaha! #EverybodyVsTeamCLT https://t.co/aEcZyT9URr

— Team CLT Basketball (@Team_CLT) July 6, 2017
Big man Ian Steere is off the board to Creighton. NC connection paying dividends in 3 straight classes.

— Justin Byerly (@JustinByerly) July 7, 2017
Ian Steere Commits to Creighton

📸 From March 2014 (his 1st #NCPhenom150 Camp) to April 2017 – & everything between

Congrats Ian #LetItFly pic.twitter.com/FZNGKWni5B

— Jamie Shaw (@JamieShaw5) July 7, 2017
Ian Steere to all #Creighton fans: "Let's get Omaha rockin"

— Julius Kim (@JKimElevate) July 7, 2017
Ian Steere was set to draw lots of eyes in July but committed to Creighton. Slated to move up 30ish spots in Top247. https://t.co/Mvhkzq1enT https://t.co/hZ9aV67UDV

— Jerry Meyer (@jerrymeyer247) July 7, 2017
Creighton off to a flying start in 2018. Add athletic and strong big Ian Steere to skilled forward Christian Bishop. Both soon to be 4-stars

— Eric Bossi (@ebosshoops) July 7, 2017
2018 big man Ian Steere just committed to Creighton. Ranked No. 76 overal. That's a heck of pull before the eval periods.

— Evan Daniels (@EvanDaniels) July 6, 2017
There are just 10 C's ranked in Scout's 2018 top 100. Just 6 left after Ian Steere pledged to Creighton last night | https://t.co/KITJYDf6X8 pic.twitter.com/2vpq6DLxba

— Evan Daniels (@EvanDaniels) July 7, 2017
Great addition for the Blue Jays. Hard playing and tough big from same program as 2017 commit Tyshon Alexander https://t.co/Lx4Q69HYbo

— Corey Evans (@coreyevans_10) July 6, 2017
Ian Steere commits to Creighton, speaks on fit, plan in place & connection with freshman TyShon Alexander https://t.co/Z339UMimvY pic.twitter.com/zQIWTE9Cfg

— Corey Evans (@coreyevans_10) July 7, 2017
Good pick-up 4 Creighton in Team Charlotte's Ian Steere. 2018 class has very limited quality bigs & they're coming off board quickly.

— Adam Finkelstein (@AdamFinkelstein) July 6, 2017
Huge get. This kid is a stud. https://t.co/7DsE3XGFSj

— Jacob Padilla (@JacobPadilla_) July 6, 2017
YO @iansteere25 CHILL OUT BRO, SAVE SOME FOR THE CLINK pic.twitter.com/OlK8qYIGAa

— Barstool Jays (@BarstoolJays) July 7, 2017
No recruit coming out of higj school has committed to the Jays like an Ian Steere. Five star level talent for his size. Enormous pickup.

— Jays Hot Takes (@jayshottakes) July 7, 2017
Ian Steere, @iansteere25 is now trending in #Omahahttps://t.co/FGvWwEEl1v pic.twitter.com/GAVspKV8pY

— Trendsmap Omaha (@TrendsOmaha) July 7, 2017
#Creighton's 2018 recruiting class off to a phenomenal start with Steere & Bishop! And here I am thinking they might not be able to top 2017

— Heath Gunderson (@Heath_Gunderson) July 6, 2017
#Creighton just got a big man who one doesn't need to put on weight and two plays above the rim. This is an unfamiliar feeling! #GoJays

— Heath Gunderson (@Heath_Gunderson) July 7, 2017
Above the rim and doesn't need to add weight…I knew one of those guys once…Gregory Echenique 😉

— Brody Deren (@BrodyDeren) July 7, 2017
Comments
Tagged in: