From the Other Side: Denton Record-Chronicle's Brett Vito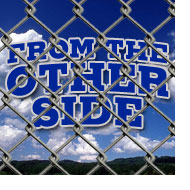 Creighton fans will likely come out in large numbers on Friday night to the CenturyLink Center to see one of the most anticipated Bluejay teams in recent history. What some of them may not know is that two of the country's top ten players will be on the court, and that the Bluejays' opponent is a dangerous one.
Don't know much about North Texas Mean Green? You're probably not alone. But don't treat them like just another directional school. The Mean Green have a stacked roster, led by potential NBA lottery pick Tony Mitchell. The super sophomore gets all of the headlines, but he has plenty of talented teammates.
To help us get a better idea of what to expect on Friday night, we reached out to Brett Vito from the Denton Record-Chronicle to give us more insight about North Texas. Here is what he had to say.
White & Blue Review: What kind of expectations are there for North Texas this season? Do fans pay attention to basketball while football is still in session?
Brett Vito: There are huge expectations for North Texas this year. UNT made the NCAA tournament in 2007 and 2010 and gave Memphis a run in 2007, but this is the Mean Green's best team. UNT is hoping to not just make the NCAA tournament, but get there and make run like Western Kentucky did a few years ago. UNT has the team to do it. Football still rules in Texas, but UNT has not been good since 2004, so people are turning their attention to basketball a lot earlier than they used to.
WBR: What was it that ultimately brought Tony Mitchell to UNT? Also, it seemed that he was headed to the NBA during the offseason, but did not. What changed his mind to return for this season?
BV: UNT recruited Mitchell while he was a senior in high school. He signed with Missouri, but did not qualify academically, largely because he went to a prep school in Florida for a while. The credits he earned from that school didn't pass muster with the NCAA. At that point, Mitchell had to go somewhere and pay his way for a semester before he could be put on scholarship. UNT was the perfect spot because it's close to his home in Dallas, where his mother is a teacher, and he already had a relationship with UNT's coaches.

Mitchell considered going to the NBA, but I think pretty much everyone around the program expected him to return. He told me that was what he was likely going to do toward the end of last season. There was some talk nationally that he would declare, but I don't think that had a whole lot of basis.
WBR: With two potential All-American's facing off on Friday night with Mitchell and Creighton's Doug McDermott, who will likely win that matchup and do you think they will defend each other?
BV: I would be surprised if those two guys don't battle to a stalemate of pretty close to it. Yeah, I'm pretty sure they will defend each other.
WBR: Mitchell grabs all the headlines for UNT, but what other players to Creighton fans need to be aware of in the matchup on Friday night?
BV: UNT is solid all the way through that lineup. Point guard Chris Jones was another steal of a recruit for UNT. Coach Tony Benford came from Marquette and believes Jones could start for just about anyone in the Big East. Jordan Williams, a 6-6 wing player, was a Top 150 recruit nationally coming out of high school and is playing very well.
WBR: Who is a newcomer that might make the biggest impact for the Mean Green this season?
BV: UNT needed a post player to pair with Mitchell, so that he can play the power forward spot and move away from the basket. UNT picked up a 6-10 center named Keith Coleman who originally signed with Nebraska. UNT just needs him to defend and rebound. He should do that pretty well.
WBR: How will the large crowd at the CenturyLink Center affect North Texas? Are they used to the big arenas?
BV: I don't think it will bother UNT at all. It's not like UNT is a high school team that has never played in big arenas before. UNT played at Texas, at Texas Tech, and at Mississippi State last year. Jacob Holmen played on the team that drilled LSU by 20 in Baton Rouge two years ago.
WBR: What is your final prediction? Will UNT have enough firepower to leave Omaha with a win?
BV: Yeah, UNT could win this game. I think it will go down to the wire and could go either way. It all depends on how well the superstars play. If Tony Mitchell, Keith Coleman, and the rest of UNT's big guys can contain Doug McDermott and Mitchell has a big night, UNT will win. If McDermott has a big night and Creighton can contain Mitchell and Jordan Williams, it could be a long night for UNT.
Comments
Tagged in: