From the Other Side: Evansville Courier Press' Jonathan Lintner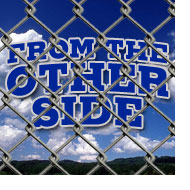 Last season, Creighton finished the regular season with a couple of dramatic wins.  The one against Long Beach State in the Bracketbuster might have been expected.  The following game on Senior night against Evansville, probably was not.
Colt Ryan scored a CenturyLink Center record 43 points and Denver Holmes scored another 25 points of his own as the Purple Aces came within a tip by Gregory Echenique in regulation and clutch shooting of Josh Jones in overtime of upsetting the Bluejays.  The Bluejays ended up blowing out the Aces a couple weeks later at Arch Madness in St. Louis.
On Saturday, the Bluejays get to do the opposite by playing Evansville in the first game of conference play instead of towards the end.  However, Ryan is just starting to really come on after an injury to start the season and could be a thorn in the side again as he loves playing in Omaha.  In his three career games in Omaha, he has scored 31, 16 and 43 points.
Fortunately there is more to Evansville than just Ryan.  We check in with Jonathan Lintner of the Evansville Courier Press who has done a spectacular job covering the Aces since starting with the newspaper earlier this year.  He gives us some insight before the game on Saturday night.
White & Blue Review:  The Aces got off on the wrong foot to start the season with Colt Ryan suffering an injury. With him back, does the team seem like they are where they wanted to be at the beginning of the season and is he back to 100% now?
Jonathan Lintner:  "Not yet. Evansville had four marquee games, really, against Notre Dame, Colorado State, Murray State and Butler. Colt Ryan played in each of those, and the Aces didn't win one. Looking back at the beginning, I think this team could have expected to win one or two of those matchups and walk into MVC play with some confidence. They haven't really proven to anyone yet that they can beat a Creighton, Wichita State or Illinois State type of team."
WBR: With Ryan slowed a bit, which players stepped up in his absence and who was the biggest surprise?
JL: "D.J. Balentine, an in-state freshman, fits both of those descriptions. That's not to say Balentine wouldn't have stepped up anyway, but he definitely filled the scoring void when Ryan was out (and even when Ryan returned). Balentine scored as many as 26 points in a game against Colorado State, he hits more than 40 percent of his 3s, and he's as confident as a freshman can be."
WBR: The thing seemingly missing over the past few seasons for Evansville is a good big man. Have they found that missing piece yet?
JL: "I believe in Egidijus Mockevicius they've found a long term solution. He's a 6-foot-10 center from Lithuania and a former player on that country's U20 national team. Mockevicius (pronounced something like Mosk-eh-veech-us) has overcome a foul-prone beginning and now starts at the five spot. He still splits time there with sophomores Ryan Sawvell and Jaylon Moore, but with time he could be a guy who can go for a double-double and play 30 minutes."
WBR: Now that we have watched the non-conference season, Where do you predict Evansville to potentially end up in the MVC standings at the end of the season? Has the non-conference season changed where you projected them?
JL: "I picked Evansville third, which was probably higher than anyone. I feel they can still finish there, but at the same time, this team could end up seventh or eighth with the way the rest of the league is playing. Wichita State has kind of surprised me, and Illinois State looks strong even under a first-year head coach. Missouri State aside, everyone looks like a threat to beat any team on a given day. Expect parity."
WBR: Doug McDermott is having another great season for the Bluejays. What will Evansville look to do to neutralize him or will they not play him any differently than any other player?
JL: "That I honestly don't know, but Evansville hasn't played too far out of its identity this season when facing other high-profile players, such as Jack Cooley at Notre Dame and Murray State's Isaiah Canaan. The Aces rarely move to a zone — they've maybe done that in just two games — and really rely on their players to switch well through screens and help with dribble drives."
WBR: How has Evansville's defense been so far this season? Have they forced teams into a lot of turnovers?
JL: "This team is seemingly at its best when it can force a turnover and score quickly in transition. The Aces won't press, but they will run, which I think can be deceiving for folks who enter thinking they're playing an old-fashioned half court motion team. Like most everything else, this only happens in stretches, not the entire game. You look at when Evansville was up 16 points early against Murray State. Their big men got in foul trouble, Murray's posts took over and then the Racers led by 16 points. That's how inconsistent Evansville can be."
WBR: Evansville and Creighton have both been subject to rumors about conference realignment. What is your take on the situations and do you think anything comes of it?
JL: "Someone within the MVC thinks Evansville is leaving. I don't know who it is, because it's not Evansville. The Aces will probably stay put based on recent facilities improvements that fit the MVC footprint much better than the Horizon League. The belief here among most is the Horizon League represents a step down in competition and makes no geographical sense now that Butler's not in the conference. As far as Creighton goes, if the Big East Conference's breakaway schools do indeed decide to go to 12 teams and create east and west divisions, that scenario makes sense for a move."
WBR: What is your final prediction? What will Evansville have to do to try and steal a win in Omaha?
JL:  "Evansville needs to rebound. Their season margin is something like 33-32, but that's inflated by playing some really, really bad teams. In most every one of those high-profile games, they were beat on the boards by at least 10. Getting rebounds, moving it in transition and scoring some easy buckets would give Evansville a chance. Still, I think Creighton wins by about 10 points, though I would expect Evansville to challenge. The Aces have done that all season, regardless of the opponent."
Comments
Tagged in: