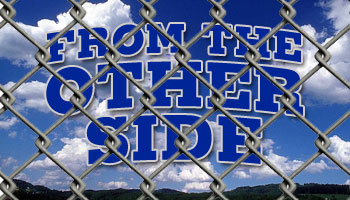 From the Other Side: Log Cabin Democrat's David McCollum
The Creighton Men's basketball season opens the 2014-15 season on Friday night against Central Arkansas. There are a lot of questions going into this season, as Greg McDermott is replacing four starters — including his superstar son, Doug. While the exhibition win against Sioux Falls was entertaining in spurts, Jays fans will learn a bit more about this team when they play a game that counts.
Central Arkansas may not necessarily be that defining opponent though; they start the season ranked by Sports Illustrated as the 350th of 351 teams in Division I this year.
The program looks like it has a lot of work to do, but you never know what might happen. We got in touch with someone who might know a little more and reached out to the local beat writer, David McCollum of the Log Cabin Democrat. Here is what he had to say about the Bears.
White & Blue Review: With basketball ready to get underway on Friday night, are UCA fans ready for hoops or are they still thinking about football? What kind of fan base does Central Arkansas have?
David McCollum: Like most schools in this part of the country, the primary interest for UCA is football. Women's basketball has a solid following because it has been one of the school's most successful sports in NCAA Division I. Men's basketball has had a dwindling fan base because of a series of losing seasons in D-I and probably reached its lowest point last season. It's a cautiously optimistic wait-and-see approach right now. The fan base is low right now.
WBR: What kind of history does UCA have in hoops? Would Scottie Pippen be considered the biggest name to come out of the University?
DM: Scottie Pippen is easily the biggest name. Nobody else close. UCA's glory years came in 1993-94 when they played Oklahoma City University two straight years for the NAIA title. Limited success in NCAA Division II. Men's basketball has been one of the school's least successful sports in D-1. No traction. Incidentally, the back-to-back NAIA runner-ups came after Scottie Pippen.
WBR: For the 2014-15 season, it sounds like a lot of changes came to the program. How is the health of the program and what does it look like for the future?
DM: The program was way down, pretty much on life support, both on the court and academically, before Russ Pennell took over. He's bringing a lot of hope for the future, particularly with his national recruiting connections and experience in D-1. But he has only one returning player and Ethan Lee saw very limited action. Pennell's also an alum. It will be a building process, particularly since the school is ineligible for the NCAA tourney because of APR issues, which is why this is a completely new team.
WBR: UCA will take on all three Nebraska D-1 schools to start the season (Creighton, Nebraska, Omaha). Is this a unique scheduling quirk or does UCA try to schedule this way?
DM: UCA likes to combine regional stops on a road trip because it's more economical, particularly if you can get three different challenges on one trip. It's not unusual in this level of basketball.
WBR: Who is the player Creighton needs to look out for from UCA on Friday night?
DM: That's a good question because this team, and its makeup, is almost a complete unknown, even to the coaches. The Bears have played exhibitions against DIII Hendrix and NAIA University of the Ozarks, so that's really no gauge because it's not apples-to-apples with D-1 competition. Jordan Howard, a guard who scored 20 points, on 7 of 12 shooting against Ozarks and forward Jake Zuilhof, who was 7 of 11 with 18 points, are two players to watch. But they plan to play a lot of people and it's difficult to assess who will be the go-to players in D-1 competition.
WBR: What style of play does UCA play — a controlled offense and defensive style or a pressing and running up and down the court?
DM: UCA will run a motion offense with a lot of passing, but it will be an up-tempo style. Defensively, they will be primarily a man-to-man team. UCA coach Russ Pennell is an Eddie Sutton disciple (he played and coached under him). That should tell Creighton fans a lot about the defensive philosophy. Pennell also coached under Lute Olson at Arizona and the offensive style may be similar to that with some tweaks.
WBR: What is your final prediction? What does Central Arkansas need to do in order to upset Creighton at home on opening night?
DM: I think Creighton wins by 25 to 30. UCA will play well in spurts but I don't see any scenario that this UCA team at this stage can beat Creighton.
Comments
Tagged in: