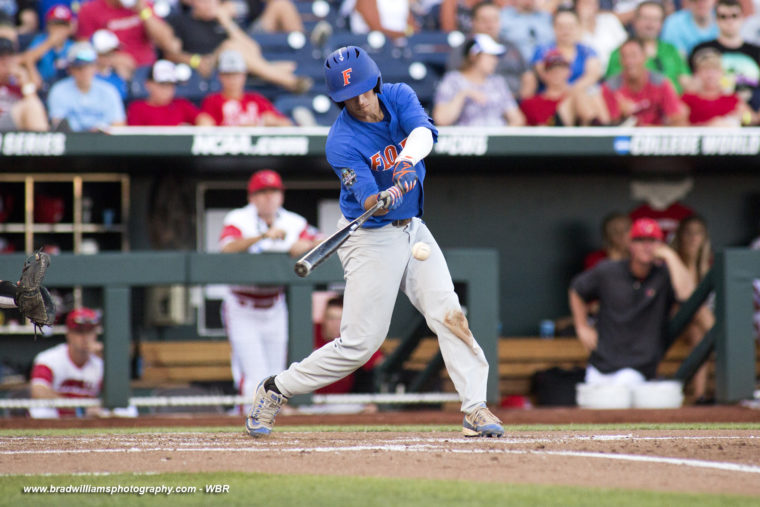 Gators on the doorstep of first CWS title after win over LSU
Dominant starting pitching and just enough offense has been Florida's recipe for success all season. It remained the case in their first four games in Omaha, and rang true again on Monday night in their 4-3 win over LSU in Game 1 of the 2017 College World Series Finals.
The Gators put up a three-spot in the top of the fourth, added an insurance run in the seventh, and let Brady Singer and Michael Byrne take care of the rest.
Singer, a 6-foot-5 hard-throwing right-hander, struck out a CWS Finals-record 12 batters through seven-plus innings on the mound, and Byrne, a mid-80's hurling sophomore, closed the show with scoreless frames in the eighth and ninth to move the third-seeded Gators one win away from their first collegiate baseball national title.
"We went up against, who I believe to be, the best pitcher I've seen in the SEC for an opponent since I've been coaching at LSU," Tigers skipper Paul Mainieri said of Singer. "I think the guy will be the first pick in the draft next year, and we were having to piece it together with our bullpen guys."
While Singer was mowing over the LSU lineup one hitter at a time, his counterpart in senior Russell Reynolds was doing his best to match him. Despite working with a fastball quite a few ticks slower than Singer's, the right-hander was able to locate well enough and slow down the pace of the game to keep Florida's hitters off balance.
However, it only lasted one time through the lineup. With one out in the top of the fourth inning, Florida's 2-3-4 hitters — Dalton Guthrie, JJ Schwarz, and Nelson Maldonado — drew four-pitch, five-pitch, and six-pitch walks, in succession, to load the bases and force Mainieri to bring freshman left-hander Nick Bush out of the bullpen to inherit the mess.
"I got a little greedy there and tried to get an extra inning out of him," the LSU head coach said of his starting pitcher. "In hindsight, I probably would have started the inning with Bush."
Five pitches from Bush was all Florida needed to put each of those one-out walks on the scoreboard. Left fielder Austin Langworthy drove in the first run with a pop up into foul territory that was just deep enough to allow Guthrie to tag up and score. LSU failed to cover second base on the ensuing throw home, which resulted in Schwarz and Maldonado each moving up a base. That would prove to be costly as third baseman Jonathan India made it 3-0 Gators two pitches later when he belted a ball to straight away center that landed at the warning track and hopped the wall for a two-out, two-run ground-rule double.
"I'm sure everybody would have disagreed with [pulling Reynolds before the inning] because we had shut them out for three innings, but I knew in my heart if we got three good ones out of him, I should have been pleased," Mainieri said. "I'll take the blame for that. I tried to stick with him for too long and it backfired."
Failing to cover second on Langworthy's sac fly is the other moment of the inning the LSU skipper wishes could be replayed. Had they held Maldonado at first, he would have finished the inning on third base instead of in the dugout after scoring what would prove to be a crucial third run.
"We were a little bit unaware to not cover second base there and allow the other runner to tag and take second," Mainieri said. "Turned out to be important."
And both teams knew it. Entering Monday's game, the two clubs were a combined 35-29 when allowing four runs or more in a game. Their combined record when giving up three runs or fewer: 68-8.
The rest of the night became a race to run number four.
Singer did his part in blanking the Bayou Bengals for a few more innings, but finally showed some chink in his armor when the sixth inning rolled around. After striking out the leadoff batter, the sophomore right-hander fell behind in the count to left fielder Antoine Duplantis and grooved a fastball that Duplantis "duplanted" in the right field bullpen for a solo home run.
After a hit by pitch and five-pitch walk, junior designated hitter Beau Jordan made it a one-run ballgame with a base hit to left field.
"I knew before the game started that we would obviously have some rough patches," Florida junior catcher Mike Rivera said. "They're a competitive team. I knew it wasn't going to be easy, so I figured the fourth inning was going to be a start for them and I was trying to slow Brady down, making sure he executes every pitch instead of overthrowing, and he did it."
Singer got ahead of LSU catcher Michael Papierski and induced a pop fly to left for the final out, leaving the game-tying and go-ahead runs on base for the Tigers.
Florida's offense responded in the next half inning, scoring that all important fourth run on an RBI single off the bat of Rivera. The rally started with a leadoff double to the gap in right-center by Austin Langworthy, who then moved up to third base on a sac bunt by Jonathan India. With the LSU infield drawn-in to make a play at home on anything they could keep on the ground, Rivera split the defense in half with a shot back up the middle that easily scored Langworthy to make it 4-2.
Singer started the bottom half of the seventh with his record-setting 12th strikeout and finished it with his fourth ground out of the night. All together he scattered eight hits — six singles, a double, and a home run — and two walks over 112 pitches. He finished the game with a 16.1% swing and miss rate, and only went to a three-ball count against four of the 31 batters he faced.
"I felt like I was landing [the slider] a lot more for strikes than I usually do," Singer said. "And just off the plate with two strikes, but it did feel good, and I found the fastball to both sides of the plate."
LSU's last gasp came in the bottom of eighth when clean-up hitter Greg Deichmann led off the frame with a double. After falling behind 0-2 to Singer, the junior slugger fought off a couple two-strike pitches, and worked the count back to even before lining one the opposite way into left field.
That would mark the end of a brilliant night for Florida's sophomore flamethrower as head coach Kevin O'Sullivan turned to his First-Team All-American closer, Michael Byrne, to kill the rally and seal Game 1.
Byrne induced a pop up to right field for the first out, but LSU freshman third baseman Josh Smith fought off three straight two-strike pitches before lining a ball into the gap in right-center. Deichmann scored easily on the play to trim Florida's lead to 4-3, but Smith got a little greedy with the ball in the gap and try to put himself in scoring position to really build some momentum with one out. Instead, Florida junior outfielder Nick Horvath — who entered the game as a pinch-runner with two outs in the top half of the inning — raced over from his spot in center field, cut the ball off in the gap, and fired a strike to cut down Smith as slid into second base.
In a matter of highly intensive moments, LSU went from trailing by one with the tying run on base and less than two outs to trailing by one with the best closer in the nation on the mound and no rally in progress.
"That changed the whole complexion of the game, to be honest with you," O'Sullivan said. "They would have had a runner at second, down a run with one out, and all the momentum in their favor. A play like that can just change the whole complexion of the game … that was really big."
Byrne got a ground ball to end the eighth, then rolled through the LSU side in order in the ninth to earn his nation-leading 19th save of the season, and third in as many chances in Omaha.
The loss dropped the Tigers to 52-19 in their 2017 campaign, while the win bumped up the Gators to 51-19, moving them one away from the College World Series title that eluded them in two prior championship series appearances in 2005 and 2011.
Florida was swept by Texas in '05 and again by South Carolina in '11, but one win doesn't mean any more than zero to Florida's skipper if it isn't accompanied by a second.
"We're here to win this thing," O'Sullivan said. "We're close, but we haven't finished — we haven't crossed the line yet."
Game 2 between third-seeded Florida and fourth-seeded LSU is set for 7:00 p.m. on Tuesday. With their season on the line, the Tigers plan to start their program's all-time wins leader in left-handed senior Jared Poche'. The Gators intend to counter him with freshman right-hander Tyler Dyson, who threw five scoreless inning of two-hit ball in the Super Regional-clinching victory over the power-hitting Demon Deacons of Wake Forest.
Dyson has thrown an inning and 2/3 in this year's College World Series. He struck out two batters in a flawless outing to close out a 5-1 win over Louisville seven days ago. Poche', meanwhile, is already 2-0 in Omaha in 2017. The LSU senior got the win in relief against Florida State, then turned around and beat the Seminoles again four days later with eight strong innings in an elimination game.
Comments
Tagged in: