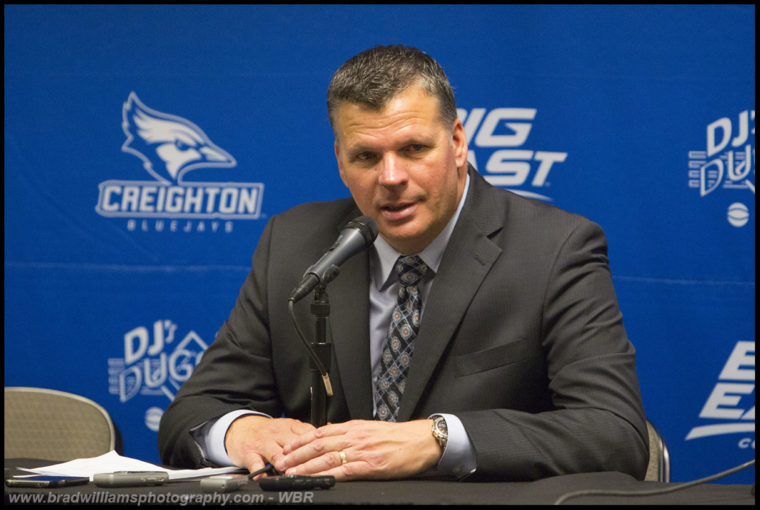 Greg McDermott Turns Down Reported Offer from Ohio State, Remains Creighton's Coach
Greg McDermott will remain Creighton's head coach, spurning a reported offer from Ohio State to stay with the program he's steadily built over the past seven seasons. The coach announced his decision on Twitter late Thursday morning:
I'm blessed and honored to be the coach at Creighton…..and am looking forward to many more great years in Omaha! #rolljays

— Coach McDermott (@cucoachmac) June 8, 2017
When Thad Matta was dismissed as the head coach of the Ohio State men's basketball team on Tuesday, early speculation for his replacement centered on several current Big East coaches — Chris Mack of Xavier, Chris Holtmann from Butler, and Ed Cooley from Providence. One name not on that list? McDermott. Then seemingly out of nowhere, the Buckeyes were not only interested, but flew to Omaha to interview him face to face. Just as Game Three of the NBA Finals was getting underway between Cleveland and Golden State, ESPN's Jeff Goodman broke the stunning news:
Ohio State is meeting with Creighton's Greg McDermott tonight, source told ESPN. https://t.co/x2pzPTtvnJ

— Jeff Goodman (@GoodmanESPN) June 8, 2017
Soon after, Goodman fleshed out that report with more details, including the news that Coach Mac was not just meeting with Ohio State, but had emerged as perhaps the leading candidate for the opening.
Creighton's Greg McDermott emerges as serious candidate at Ohio St. Will meet tonight w/ Buckeyes, source told ESPN: https://t.co/Vft3CfCO3j

— Jeff Goodman (@GoodmanESPN) June 8, 2017
As the night wore on, more and more outlets updated the story with additional details, and it was clear that McDermott leaving for Columbus — while completely out of the blue, and completely shocking — was in fact a very real possibility.
Creighton's McDermott the Favorite for Ohio State Opening https://t.co/hIilZsigLH via @adamzagoria

— Adam Zagoria (@AdamZagoria) June 8, 2017
Ironically, as Jays fans were following the updates on their coach, Kyle Korver was having a good night for the Cavs. He nailed a couple of threes, threw down a backdoor dunk, and even took a charge from Kevin Durant. However, as the game wound down, Korver uncharacteristically missed a corner 3-pointer in a two point game that ultimately allowed Durant to hit a game-winner to give Golden State the lead and a 3-0 lead in the finals.
The eFG of the left-corner 3 Korver missed down the stretch was 89% pic.twitter.com/JhzBU4AC1j

— Andy Glockner (@AndyGlockner) June 8, 2017
Korver's early highlights in Game Three gave Jays fans a bit of an uplift as continued news of McDermott's talks with Ohio State rolled in. His missed shot in the final minute was equally deflating. And like a one-two punch, while Korver's miss was still fresh Goodman tweeted this:
Ohio State has offered job to Creighton's Greg McDermott, source told ESPN. Two sides met tonight.

— Jeff Goodman (@GoodmanESPN) June 8, 2017
Offered? As Twitter and the BluejayUnderground blew up with thoughts both positive and negative, the reality of trying to replace a coach in mid-June — the same week new 2017 recruits showed up on campus for summer workouts, and a week before a key 2018 recruit deadline — began to sink in. Whatever your opinion of McDermott is or was, having to hire a new coach mid-summer could have negative repercussions both in the short and long term for a program.
Fans and media tracked the plane that came to Omaha from Columbus as it left Eppley Airfield, with the same question on everyone's mind: was he on the plane? Or had he stayed back?
ESPN: Greg McDermott offered Ohio State head coaching job.

Private plane departs for Columbus late Wednesday night: https://t.co/fq1BJHcjsz pic.twitter.com/sjvBiDpnrQ

— KETV NewsWatch 7 (@KETV) June 8, 2017
Well after midnight, we learned from the Buckeyes' beat writer in Columbus that McDermott did not fly back on the plane — either staying behind to contemplate the offer or declining it.
Greg McDermott did not fly back to Columbus with Ohio State athletic director Gene Smith.

— Adam Jardy (@AdamJardy) June 8, 2017
Gene Smith told me, "I'm not done" and "I've got a list" but would not comment further or confirm names on the list. Indicated it's long.

— Adam Jardy (@AdamJardy) June 8, 2017
As Bluejay fans woke up Thursday morning, the speculation continued, with nothing but silence on both Ohio State and McDermott's ends. The OWH's Tom Shatel laid out the pros and cons of both jobs. Bluejay Banter's Tim Krueger went on 1620AM to discuss his thoughts. And then around 11am, the coach announced he was staying at Creighton, with the line "for many more years" perhaps signaling a contract extension (and raise) had been agreed upon.
The Columbus Dispatch' Adam Jardy reported that the position was never actually offered, though that's quite possibly semantics (or savvy PR to avoid the appearance of being turned down):
Greg McDermott wasn't offered the Ohio State job, but he's not taking it either. The latest right now: https://t.co/JjDGZEJVGD

— Adam Jardy (@AdamJardy) June 8, 2017
In any event, McDermott remains the head man on Creighton's bench, and enters his eighth season with a solid cast of returnees (All-Big East performers Marcus Foster and Khyri Thomas headlining) and his best recruiting class (Ty-Shon Alexander, Mitch Ballock, and Jacob Epperson), picked to return to the NCAA Tournament.
More to come from WBR as the story develops.
Comments
Tagged in: