Highlight Reels: Evansville and Southern Illinois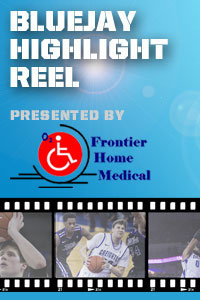 On Saturday, Creighton snapped a three-game losing streak with a big road win at Evansville. It wasn't without it's share of heartburn or drama, though, as Otter wrote in his postgame column:
"Stay the course. Stay the course. That's the mantra I repeated under my breath during the first half. When Evansville's seldom-used Jordan Nelson made his first basket since December 29 to give the Aces a 16-point lead with 7:49 to play in the first frame, I replaced that mantra with a hearty laugh.
So this is going to be how it goes down, huh? Nelson's knocking down a shot, but Doug McDermott's 0-3 from the field and the Jays are in danger of getting run? Awesome.
To their credit, the Bluejays stayed the course."
That they did. They erased the 16-point deficit, and came back for a 71-68 win. Here's all the highlights from the victory:
Then on Tuesday, the Jays turned the losing streak into a two-game WINNING streak, defeating Southern Illinois 59-45, a game that turned into the Will Artino Show as I wrote in the Morning After recap:
"On a night when Gregory Echenique wasn't terribly effective — though I can't exactly blame him when he's playing against defenders six inches shorter and 50 pounds lighter, whose only defense is to clobber him — the quicker, nimbler Artino provided a spark off the bench.
Artino did a little of everything. He scored a career-high 13 points on an array of jump shots, layups, alley-oops and post moves. He grabbed five rebounds, including two big offensive boards. He had two assists, including one nifty pass to Nevin Johnson for an alley-oop. Heck, he even had a steal when he literally ripped the ball away from SIU's Davante Drinkard; when he scored a layup on the resulting possession, it was the loudest roar of the night from the 17,000+ in attendance."
Here's all the highlights:
Comments
Tagged in: