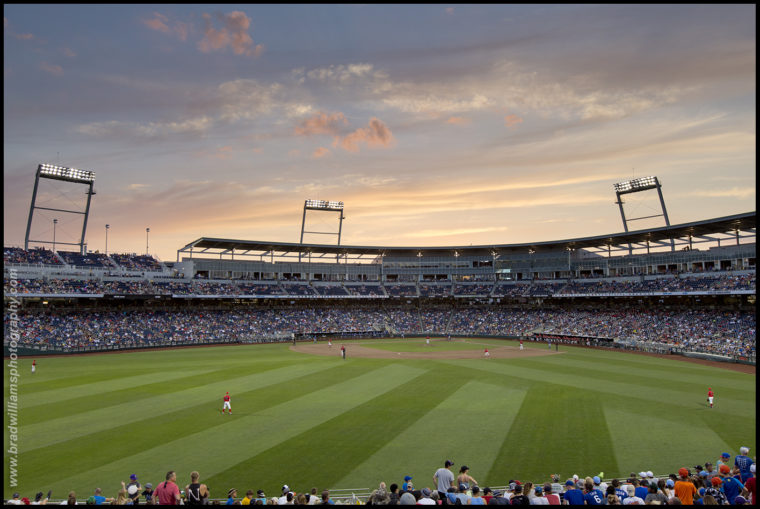 Howard's 12-strikeout performance eliminates Aggies, earns TCU another game in Omaha
His teammates call him "Big Game Howie" and in Tuesday afternoon's elimination game between sixth-seeded TCU and Texas A&M, Horned Frogs' senior starting pitcher Brian Howard delivered one of his best performances in perhaps his biggest game, striking out 12 hitters and walking none in a 4-1 win.
The performance helped TCU improve to 48-17 on the season and extend his team's time in the 2017 College World Series for at least a few more days.
"I think today was probably the best stuff I had all season," Howard said. "I'm pumped I didn't walk anybody. I didn't give up any free bases. I felt like I was attacking the strike zone from the beginning and I was able to carry that through. We talked pregame about how aggressive that lineup was, and they were aggressive today. They're a real good lineup. I was able to make pitches and get some outs early in counts."
Howard and the Horned Frogs had the Aggies on the ropes from the opening pitch. He struck out the side in each of the first two innings, allowing only a two-out double in the top of the first in the process. Meanwhile, his counterpart on the mound for Texas A&M — sophomore Stephen Kolek — battled command issues as he try to navigate through the TCU lineup.
The 6-foot-3 right-hander walked the first two batters in the bottom of the first, and although he went to a three-ball count against all four hitters he faced in the inning before eventually getting a strike 'em out, throw 'em out double play to strand the threat.
He didn't get so lucky in the next two innings. The Horned Frogs took a 1-o lead on Kolek and the Aggies on a one-out RBI ground out by junior first baseman Connor Wanhanen that was set up by senior center fielder Nolan Brown's leadoff double and senior third baseman Elliott Barzilli's ground out to move Brown to third.
In the bottom of the third inning, TCU senior shortstop — and Omaha native — Ryan Merrill, led off the frame by taking Kolek's 1-2 offering deep to the back wall of the bullpen in right field to make it 2-0.
After hitting freshman designated hitter Zach Humphreys with a 1-2 pitch two batters later, Kolek surrendered another big hit when junior catcher Evan Skoug stroked a first-pitch RBI double into the right-center gap. Skoug moved up to third on what should have been an inning-ending ground ball, but A&M second baseman Braden Shewmake couldn't scoop it up with a back-hand attempt. The error led to a run on the very next pitch when Barzilli shot a single into right field to bring Skoug home to make it 4-0.
"I felt like in the first inning he was nibbling a little much," Aggies head coach Rob Childress said of his starting pitcher. "Very fortunate to get out of that inning with runners at first and second and nobody out … Second and third inning, we had advantage counts, but didn't make pitches."
Barzilli would be the last batter of the game for Kolek, who allowed four runs (three earned) on four hits to go along with two strikeouts and two walks in two and 2/3 innings. He was replaced by left-hander Kaylor Chafin, who quickly induced an inning-ending ground ball to strand a runner at third, but the damage was already done, and it proved to be more than enough run support for Brian Howard.
The 6-foot-9, 185-pound right-hander pitched into the eighth inning before a leadoff double chased him from the game. He allowed only one run on five hits, with no walks and tied the TD Ameritrade Park record for most strikeouts in a College World Series game with 12.
"Obviously he was the story today," TCU head coach Jim Schlossnagle said. "'Big Game Howie,' as he's affectionately known in Fort Worth, showed up today."
Howard started off 20 batters in a row with a first-pitch strike from the last batter of the second inning until the first batter of the eighth. He generated 20 swings and misses on his 91 pitches, and only went to a three-ball count one time over his seven-plus innings of work.
After allowing a leadoff double in the eighth, he gave the ball up to right-handed sophomore Sean Wymer to close out the game. Wymer earned his second save of the season with two perfect innings of relief, striking out a pair of Aggies, and shutting the door with three straight ground outs in a stress-free ninth inning.
Texas A&M finished the season at 41-23 with the loss. The win gives TCU at least one more game in Omaha, which will come against the loser of Florida/Louisville on Thursday night at 7:00 p.m.
Comments
Tagged in: