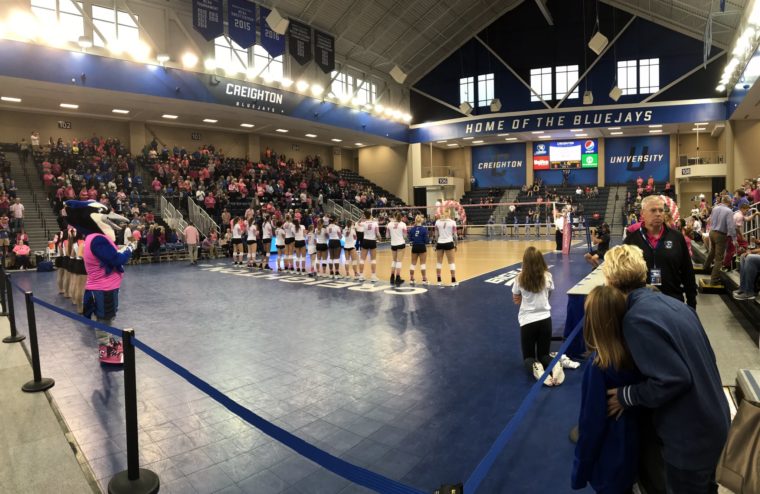 In an emotional tug-of-war, Creighton found their edge in another sweep of Seton Hall
Every point in volleyball is an emotional roller coaster. One side of the net gets to jump, stomp, fist pump, and scream, while the other gets to console and regroup, but rarely does it visibly spill over to the other side of the net or get out of control. That was not the case at times on Sunday afternoon at D.J. Sokol Arena as 16th-ranked Creighton remained atop the Big East regular season standings in a 25-19, 25-17, 25-11 straight sets wipe-out of the Seton Hall Pirates in a match that was about chippy as it can get for a one-sided affair.
The Pirates finished the match with more yellow cards than ace blocks as head coach Allison Yaeger, middle blocker Abby Thelen, and setter Sophia Coffey all received cards throughout the 83-minute drubbing in which the Bluejays hit .419 as a team with 51 kills on 105 swings, while holding Seton Hall to an attack percentage of .206.
"I thought it was a good match," Creighton head coach Kirsten Bernthal Booth said. "Some of the things we've been working on we did tonight. Obviously when you hit .420 you feel good about it — the team's goal was to hold Seton Hall below .200, so they just barely missed that, but statistically if you just look at it on paper it looks really good.

"We've really been locking on some defensive stuff and dig transition, and I thought we did that well today. It's a good win. Seton Hall is a good team. As [assistant coach Ryan Meek] pointed out in the locker room, this is a top 100 team, so to come in and win it pretty decisively in three is a good effort."
Before Seton Hall's emotions started to unravel along with their chances of a Top 20 upset, the first 30 or so points seemed to be setting up a competitive, back and forth afternoon of volleyball. The Pirates built an early 11-9 lead as they fed off of that emotion and an efficient offensive attack that produced kills on 9 of their first 20 swings. Creighton kept up with them thanks to a sharp performance from the service line, and eventually seized control of the match late in set one after dialing up their intensity on the defensive end.
The Bluejays started to fly around and cover the back row better, and also helped that cause with more block touches. Things started to fall apart for the Pirates after a timeout following a combo block by Creighton senior Lydia Dimke and Marysa Wilkinson. Seton Hall scored the next point on a kill by Thelen to cut Creighton's lead to 19-18, and a kill by Wilkinson prompted Thelen to receive the first yellow card of the afternoon as she protested the point to the up official.
Seton Hall's second yellow card of the match came moments later when Allison Yaeger pleaded overzealously with the side official that her team wasn't ready for a serve by junior Jaali Winters that dropped in for a Bluejay ace to make it 21-18. All of it was part of a momentum-seizing 8-2 run that Creighton used to close out a 25-19 set-one victory, and the play was dictated mostly by their side for the rest of the afternoon as they never took their foot off the gas in any phase of the game.
"Something that we've been talking about is not even skill-related, it's just playing harder," Dimke said. "I think we saw that in the first few points of the game we weren't playing as hard as we could. Obviously all of our skills stepped up after that, but we needed to turn it on. We needed to flip that switch. Next time hopefully it will be from point one instead of point fifteen … baby steps."
Both sides traded the first 10 points of set two before a couple kills by redshirt sophomore Megan Ballenger and an extended serving run by Winters helped spark a decisive 13-3 spurt that broke game two wide open. Kirsten Bernthal Booth practically emptied the bench with the big lead, but no matter how many reserves stepped on the court the Bluejays stayed sharp. They only committed one attack error and it didn't come until their 36th swing of the set. Creighton finished it 25-17 on a kill by Winters to cap off a dominant second set in which they hit .474 as a group against an overwhelmed opponent.
As improbable as it may seem, that would actually end up being their second-most efficient game offensively as they turned right around after a five-minute intermission and hit .552 in a set that saw them reach game point before the Pirates reached double digits. Seton Hall even managed to add another yellow card, this one on Coffey, after the outcome was all but official.
What seemed like a dogfight at first turned into a lopsided affair from both a mental and physical standpoint, but the Bluejays weren't unaware of the lesson learned from the early moments of the match, especially the edge Seton Hall brought with them on the court.
"Everyone knows we have a target on our back and Seton Hall was gunning straight for that target," Dimke said. "They came out with a lot of energy and it showed in the first set. They really wanted to take this from us. They had lots of energy and lots of mouths running off, but they really wanted it, so hats off to them. I just said, 'Hey, we'll make them stop by crushing them.'"
Creighton followed the sage advice of their senior setter, and it showed on the court, on the faces of the Seton Hall players and coaches, and in the stat sheet. Along with the gaudy hitting numbers, the Bluejays also out-blocked the Pirates, 7-2, out-dug them, 46-37, and added six aces from the service line against just five errors to finish with a better than 1:1 ratio for the first time this season since September 8th against Purdue. The aggressive approach from behind the line spread to both corners of the court and the front row as they kept the Pirates off balance and out of system for much of the match, executing the zone calls that assistant coach Angie Oxley Behrens made from the sideline.
"Angie called different serves and had us move around a lot," Ballenger said. "I know I served short a little bit to get them out of system — I think it was No. 5 [Dominique Mason], she had to come short and play the serves and couldn't hit then on the back side, so that was helpful. Then we just went corner to corner. That was something we had worked on during practice this week."
Ballenger finished with two aces on the afternoon, tying for the match-high with her former high school teammate Jaali Winters. She also added 10 kills and led all players with a .643 attack percentage as one of three Bluejays in double figures. The other two were junior Taryn Kloth, who finished with match-best 12 kills, and Winters who ended up with 11 to go along with eight digs. All together, the Creighton trio combined for 33 kills on 61 swings and just two attack errors.
The offensive parity, the defense, the serving, and the energy all felt like that "Creighton Volleyball" mojo that the team has been trying to recapture since straight sets defeat at the hands of Marquette on October 5th.
"It felt more natural out there," Dimke said after dishing out a match-high 33 assists to go along with seven kills, six digs, and three blocks. "Coach always says you don't want to be peaking right now — I think we are close to our peak, but you'd rather hit that in the NCAA Tournament so I think we are taking steps every day. At this point that's all that matters. We're just going to control the next match and the next match, and make sure that we are learning from things and playing harder every time."
With Butler's win at Marquette on Saturday night, the Bluejays roll into the second half of league play in a familiar position atop the Big East. But they don't get to hang banners based on where they found themselves in the standings in October.
"It's even better to be there at the end of the season," Kirsten Bernthal Booth said when asked how it felt to have first place all to themselves again. "Obviously with Marquette losing to Butler — I think a lot of people had their eyebrows raised that we went five with them, and my counter to these people was Butler is good. The league is better this year and I think that's good for us. It makes it more fun, and it gives you an edge when you walk onto the court because you know if you don't play your best you're going to lose.

"Obviously we pay attention to the standings, but we're really locked in to one match at a time. If you start thinking too far ahead that's when you stub your toe. We've got to play a much, much improved Providence team twice this weekend, so there are some challenges there that we've really got to make sure that we're prepared for."
The Bluejays head out to Rhode Island on Thursday and will face the upstart Friars on consecutive days beginning with a 6:00 p.m. match on Friday before concluding the season series on Saturday at 4:00 p.m. before returning home for the highly anticipated rematch with Marquette on November 4th.
Match Notes:
Junior outside hitter Jaali Winters reached 250 kills for the season, becoming the fourth player in Creighton history to have three consecutive seasons with at least 250 kills and at least 150 digs. Only former Bluejays JoDe Cieloha and Melissa Walsh have ever done it four straight seasons.
Head coach Kirsten Bernthal Booth likes to say that championships are won in October. The win over Seton Hall was the fifth in a row this month for the Bluejays, who are now 44-5 over since 2012 in the month of October, a stretch that has so far produced four regular season conference titles.
The win over Seton Hall was the 400th for the Bluejay program since the university reinstated volleyball back in 1994 — 307 of those 400 wins have come with Kirsten Bernthal Booth and Angie Oxley Behrens on the sideline.
Creighton has now swept each of the last six meetings with Seton Hall. They've won 20 sets in a row against the Pirates dating back to September 25, 2015.
Junior outside hitter Taryn Kloth surpassed 800 career kills during the Seton Hall match. She is now one of three active players with at least 800 career kills at Creighton, joining senior middle blocker Marysa Wilkinson and fellow junior All-American outside hitter Jaali Winters.
Creighton is now 48-2 over their last 50 matches against Big East competition. They've finished off 31 of those 48 win in straight sets.
Highlights:
Postgame Interviews:
Comments
Tagged in: