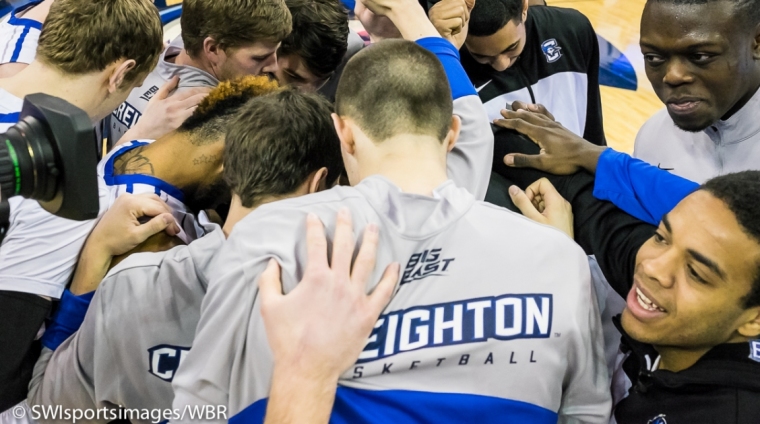 Inside the 2015-16 Creighton Bluejays Men's Basketball Non-Conference Schedule
We've been compiling random mentions for months, but now we know the full slate that Greg McDermott's Creighton Bluejays will tackle in the non-conference portion of the 2015-16 men's basketball schedule.
There are plenty of intriguing storylines at first blush: five games against Football Five schools (maybe six, if a matchup against Clemson materializes in Vegas); three home games against schools from the Lonestar State; even the program's first game against a member of the Missouri Valley Conference since Creighton's departure from that league a few years ago.
Each game will present its own challenges and intrigue, though. Now, more than three months before the season tips off, let's take a quick glance at Creighton's 15 potential non-conference opponents.
Upper Iowa Peacocks
Exhibition // November 6 // Omaha
Coach McDermott welcomes his former player at Northern Iowa, Brooks McKowen, to Omaha. McKowen is in his second year at the helm in Fayette, Iowa, where the Peacocks call home. He'll be familiar with the CenturyLink Center; he played (and lost) four games in the building while with UNI from 2003 to 2007.
McKowen won't lace 'em up, so what about the guys who will? The Peacocks lose their top two scorers from last season but return plenty of experience otherwise.
Texas Southern Tigers
Game 01 // November 14 // Omaha
The Tigers (202 in KenPom '14-'15) advanced to the NCAA Tournament last season, losing in the second round to Arizona. That team included former Bluejay Nevin Johnson and Omaha native Deverell Biggs; neither will be with Mike Davis when he brings Texas Southern to open Creighton's season. But Davis will have a foreign trip under his team's belt to build some camaraderie and familiarity throughout the roster; the Tigers went to China this summer, led by a number of the team's leading scorers from last year.
UTSA Roadrunners
Game 02 // November 17 // Omaha
The Roadrunners (206 in KenPom '14-'15) bring back Ryan Bowie; he's the only guy from last year's team to average double figures and return to UTSA this season. Joining him on the roster is Omaha Central graduate Nick Billingsley, who committed to UNO but instead ended up at New Mexico Junior College before heading to UTSA for his first taste of D-I hoops.
Their coach? Former NBA player Brooks Thompson. Fun fact: During his first year as a college basketball coach, as an assistant at Oklahoma State, in 1998-99, the Cowboys came to Omaha that year and left a loser to Creighton.
Indiana Hoosiers
Game 03 // November 19 // Bloomington
Last year, Tom Crean brought his Hoosiers (53 in KenPom '14-'15) to Omaha for the NCAA Tournament, where they lost as a 10-seed to 7-seed Wichita State in the second round. When the Bluejays head to Assembly Hall, they'll see returning leading scorer Yogi Ferrell and a roster top heavy with experience.
Oh, yeah, Assembly Hall. Home to three national championship teams. Opened in 1971, with a young firecracker named Bob Knight roaming the sidelines in his first season at Indiana. One of the loudest buildings in college hoops, and home to impressive crowds night after night.
Should be fun.
Rutgers Scarlet Knights
Game 04 // November 23 // Las Vegas
The second of two straight road/neutral games against Big Ten teams, this contest will be Creighton's first in Sin City since the epic 2012 trip. The Bluejays hope to have the same success this trip, and it starts against a Scarlet Knights (215 in KenPom '14-'15) program that ended last season in a tailspin. Losers of their last 15 games, it is remarkable to think the Knights' last win last season was versus Wisconsin – the eventual national runner-up to Duke.
Coach Eddie Jordan loses his top two scorers from that team, Myles Mack and Kadeem Jack. Jordan adds a few ESPN Top 100 recruits, though. We'll see how much the returners and newcomers have gelled when, a few nights before Rutgers faces Creighton, the Knights face another the Bluejays' Big East peer St. John's in New York.
Clemson Tigers or Massachusetts Minutemen
Game 05 // November 25 // Las Vegas
The who-knows-what-will-happen game. Last year, Clemson (80 in KenPom '14-'15) went 16-15; UMass (136 in KenPom '14-'15) went 17-15. The Tigers return four of their top six scorers from that squad, including leader Jaron Blossomgame (13.1 ppg, 8.2 rpg). The Minutemen lose now-San Antonio Spur Cady Lalanne and three other top scorers from last season; Trey Davis (10.8 ppg) returns to run the point, where he started all 32 games for UMass last season as a junior.
Western Illinois Leathernecks
Game 06 // November 28 // Omaha
Who wants a cupcake? Western Illinois has been slipping into that territory the past few years. Check the Leathernecks' KenPom rankings the past few seasons:
326 in '14-'15
283 in '13-'14
160 in '12-'13
181 in '11-'12
The last time WIU came to town was Doug McDermott's freshman season, in Gregory Echenique's second game for the Jays. Fun times!
Arizona State Sun Devils
Game 07 // December 2 // Omaha
The last we saw ASU (63 in KenPom '14-'15), the Bluejays were fattening up on the Sun Devils on Thanksgiving Night 2013. See the carnage below:

Last year, things bottomed out for Herb Sendek, whose Sun Devils went 18-16 before he got canned. His replacement? Bobby Hurley! He'll bring his first ASU squad to Omaha in December (guts!), one can only assume as a warm-up for a trip to Lexington a few games later to face Kentucky.
Loyola Chicago Ramblers
Game 08 // December 5 // Chicago
Awkward, eh? In the spring of 2010, during Dana Altman's last season at Creighton, the Bluejays draw a home game against fellow Jesuit university Loyola Chicago in the ESPN BracketBusters event. The Jays win, Altman leaves, Greg McDermott shows up, and for regular scheduling reasons the 'mandatory' return game Loyola should get from Creighton doesn't materialize.
Until now, with the Ramblers coming off their second season as Creighton's replacement in the Missouri Valley Conference.
Porter Moser, a Creighton grad, is still at the helm for Loyola. And guess who he added to his staff? Bryan Mullins, Southern Illinois grad and Ultimate Bluejays Killer.
Nebraska Huskers
Game 09 // December 9 // Omaha
Presented without comment, the last four meetings between these in-state rivals:

IUPUI Jaguars
Game 10 // December 12 // Omaha
OOOEEEY POOOOEY! The Jaguars (286 in KenPom '14-'15) won 10 games last year. I will always remember them fondly for being the easy win Creighton had before beating Notre Dame in Kansas City at the ol' Guardians Classic in 2002. I mean, Skinny Freshman Nate Funk scored 10 points against them in the 99-52 drubbing. DAVID FINKLEA scored in that game.
Oklahoma Sooners
Game 11 // December 19 // Norman
Man, do they owe us some sort of sweet revenge after this scene last year:

God, that was fun. SO FUN. Who knew it would crumble so quickly after that, right? I mean, Creighton entered the national rankings after that win last November. And then go on to lose 12 of their next 18, including 9 in a row. Fun times!
Seriously, though, the Sooners should be salty this year. Plus, they'll be more than battle tested by the time Creighton comes to town. OU opens at Memphis, hosts Wisconsin, and plays a neutral court game in Hawaii against Villanova.
North Texas Mean Green
Game 12 // December 21 // Omaha
Speaking of revenge, the Jays have a measure to enact with the folks from Denton after this travishammockery:

Creighton got down TWENTY-SEVEN to UNT last year, then cut the deficit to TWO. In what was supposed to be a homecoming for Austin Chatman, the senior guard had one of his worst games of his CU career. It was the lost that started the deep, dark slide into oblivion (aka, the 9-game losing streak mentioned previously).
So, you know, we're due.
Coppin State Eagles
Game 13 // December 28 // Omaha
The Eagles (322 in KenPom '14-'15) went 8-23 last season, including losses in brutal non-conference matchups against Oregon (107-65), Illinois (114-56), Notre Dame (104-67), UConn (106-85), and Michigan (72-56; way to grind that one out, Beilein!).
So, yeah, a cupcake to close out the non-conference, right before the Big East slate begins.
Comments
Tagged in: