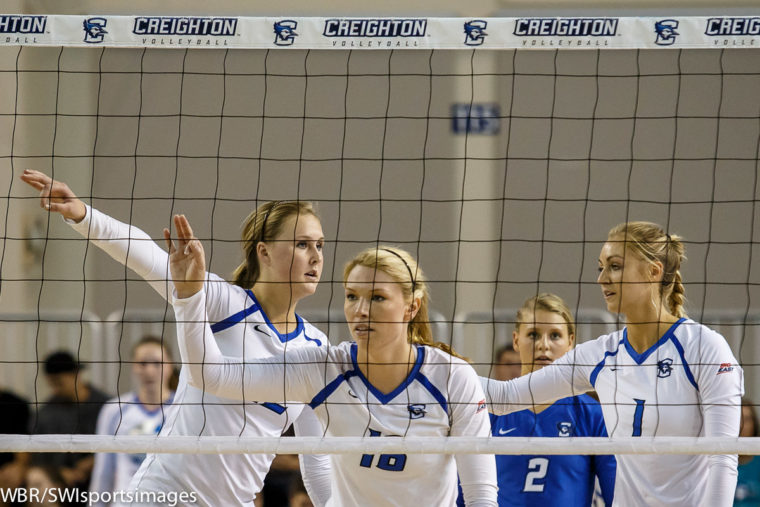 Jays sweep Marquette off the floor in Big East opener
After surviving one of the most challenging non-conference slates in the country, the Creighton volleyball team opened conference play against a Marquette Golden Eagles team that many expect will be the Bluejays' biggest hurdle in their quest for a third straight Big East regular-season title.
However, there wasn't much indication of that on this night. Other than the third set, which was a landslide on its own, the scores for each set don't accurately depict how in control Creighton was throughout the match as they swept the Golden Eagles behind scores of 25-22, 25-22, and 25-18 to improve to 7-6 overall on the season in front of 1,667 fired up volleyball fans at D.J. Sokol Arena.
The Jays led wire to wire in games one and three, and their largest deficit in game two was by just one point when Marquette took a 3-2 lead early in the set before Creighton reeled off four straight points and never looked back.
"Marquette is a great team," Bluejay head coach Kirsten Bernthal Booth said. "I think we would have taken an 18-16 game in five with a victory tonight, so to sweep what I think is a top 20 program is big."
The Bluejays hit .299 as a team and committed only 16 attack errors on 117 swings.
"I think our offensive parity was the reason for a lot of success," Booth said. "A lot of people hit at high clips."
Creighton also ended the match with a 55-45 edge in digs despite the Golden Eagles having 11 fewer total attacks then they did. Sophomore outside hitter Jaali Winters and junior setter Lydia Dimke led the Bluejays with 13 digs each, while freshman libero Brittany Witt added 12 of her own. Winters in particular established her presence defensively in the back row early on to help limit Marquette's sophomore standout outside hitter Taylor Louis. Winters dug each of the Marquette's go-to hitter's first four swings, which all resulted in points by Creighton.
"Our game plan among other things was to see if we could try to contain Taylor Louis," Booth said. "She's just such a phenomenal player, and I think we did a good job on her tonight."
The two-time Big East Player of the Week, committed eight attack errors against the Bluejays and finished with a season-low .122 attack percentage.
"Particularly early in the game, I thought [Winters] made a lot of good digs [on Louis]. I thought [the team] followed game plan really well. We had different nuances of types of balls that were supposed to go to different places, and they did a great job of that."
Winters also led the team with 12 kills to finish with her sixth double-double of the season. The Bluejays also got another efficient offensive performance from fifth-year senior middle blocker Lauren Smith, who added 10 kills on 17 swings and didn't commit a single attack error all night.
"It's been fun since Lauren has really gotten her mojo going," Booth said of the Lincoln, Nebraska native. "To have zero errors that's a pretty impressive line."
For Smith it's just another in a string of performance that has seen her raise her attack percentage from .188 to .327 on the season. The 6-foot-3 redshirt senior is hitting a robust .407 in her last seven matches. A stretch her setter, a transfer from Purdue, attributes to developing a more comfortable rhythm as the season has gone on.
"I think it's hard because if I'm right I think Lauren has had five different setters every year she's been here," Dimke said. "So it's been a work in progress, but she is always up which makes it a lot easier. She works really hard in transition and she gives me a great window, so any time I can put it anywhere near her I know she'll put it down."
Dimke finished with a match-high 35 assists, including one on seven of Smith's 10 kills on Friday night against the Golden Eagles.
"We do a really good job of communicating," Smith of the ever-improving on-court chemistry between herself and Dimke. "I know she is going to put up the best ball possible, and I have to make sure that I'm doing everything that I can to put it away for her and all my other teammates."
The win was Creighton's sixth in a row over the Golden Eagles, who fell to 10-3 overall and 0-1 in Big East play. Since losing to Marquette in the 2013 Big East Championship match in Omaha, Creighton has taken 18 of the last 22 sets against their conference rivals, and they have now swept them in three of the last four meetings.
Next up on the conference slate for the Bluejays is a Sunday afternoon home match against the DePaul Blue Demons, a team that has the Creighton head coach's complete attention.
"They are good, especially in system," Booth said. "They've got a lefty on the right side who is tearing things up — I think she's at four kills per set, and then they've got two really good middles, and a setter who, if in system, dishes really well. We'll have our hands full.
"I think it's a bear trap game, because the hype is Marquette, Marquette, Marquette, and now it's all DePaul. I told the players they are a top 50 RPI team — this is a huge opportunity to build our resume, and it's a very good team. That's the speech they've been getting, and I think they get it. They're smart and Lauren has heard this for five years, so I'm sure she could give the speech to the team at this point."
Last season the weekend lineup was reversed and the Jays got DePaul on Friday night in advance of a big match with Marquette on Sunday. In that scenario, they nearly slipped up and got caught looking ahead as the Blue Demons put them in an 0-2 hole heading into the locker room before former setter Maggie Baumert led Creighton to a come-from-behind win.
The Bluejays will approach Sunday's match the same way the do all the others — expecting to win, but understanding that it's not a foregone conclusion.
"We discussed that they took us five [last year]. That was said tonight in the locker room," Booth said. "The one thing that this team has done traditionally pretty well over the last few years is respect every opponent. I don't think there is ever a match that they walk in and assume they're going to win. Now, they are confident, but they know that if they don't play well against any Big East team we will lose. They have to bring it every single day."
First serve between Creighton and DePaul (7-6, 1-0), who beat Providence in five sets in their first conference match, is set for 1:00 p.m. at D.J. Sokol Arena.
Comments
Tagged in: