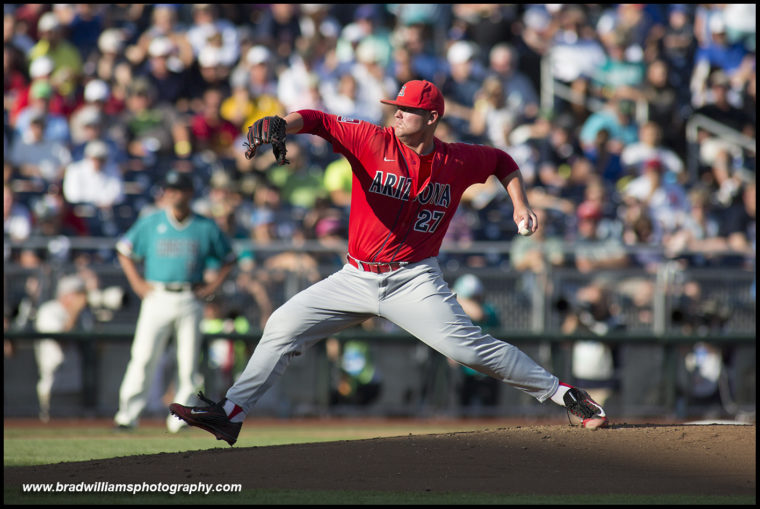 JC Cloney's four-hit gem carries Arizona in Game 1 win over Coastal Carolina
2016 College World Series Finals Game 1: Arizona 3, Coastal Carolina 0.
If there were any questions about how Arizona would navigate through a best-of-three series on the mound, they were set aside for one more day thanks to a master class performance by junior left-hander JC Cloney.
Facing a Coastal Carolina club that entered the game with 15 extra-base hits to lead all teams in the 2016 College World Series, Cloney generated 13 ground-ball outs, and struck out another six hitters over his nine innings of work.
"Cloney was very good," Coastal Carolina head coach Gary Gilmore said. "He was moving the ball both sides of the plate, throwing cuts, breaking balls, you name it — and locating. I don't think we hit a ball square the whole entire first six innings."
"At the end of the day I have to tip my hat to that young man. He was the guy that was bigger than life today. He beat us pretty much by himself, and they played great defense behind him."
The Wildcats took some of the big game pressure off of their starting pitcher by giving him some run support before he threw his first pitch. The early production that carried Arizona through the loser's bracket was on display again when senior second baseman Cody Ramer led off the game by dropping a fly ball into the left field corner that hopped over the fence for a ground-rule double. He moved over to third on a grounder up the middle, then scored on the next at-bat when senior first baseman Ryan Aguilar lined a base hit into center field to give the Wildcats a 1-0 lead.
Coastal Carolina right-hander Zack Hopeck allowed three of the first four Arizona hitters to reach base, but he found his rhythm in time to limit the damage to just one run with strikeouts of Jared Oliva and Alfonso Rivas.
Cloney started to rock the Coastal Carolina offense to sleep the moment he took the mound. He retired the first seven hitters he faced, with only one of those outs being recorded in the outfield. The California native retired the side in order in the first, second, fifth, and seventh inning.
"He was adding and subtracting, throwing three pitches for strikes," Coastal Carolina lead off hitter Michael Paez said. "You want to sit on a fastball, and he throws you a cutter. You sit on the offspeed, and he throws a fastball. He just threw a great game, like Coach said."
"It's hard to hit when you have a guy that's going to add and subtract, throw three pitches for strikes, and keep you off balance all game."
Arizona tacked on a few more runs to cushion their pitcher's lead heading into the seventh inning stretch. With runners on the corners and one out, senior two-hole hitter Zach Gibbons added to his CWS-leading RBI total, driving in his eighth run of the week on a sacrifice fly to center field.
Cody Ramer, who earlier in the inning reached base for the fourth time on the night, caught Coastal Carolina off guard by taking second on the shallow fly ball. His hustle was rewarded when Ryan Aguilar lined a ball into left field for an RBI single, driving in Ramer for the second time in the game to extend Arizona's lead to 3-0.
Ramer finished the game 2-for-3 at the plate, reaching base four times in total and scoring two of his team's three runs on the night. Aguilar, who drove in Ramer both times, went 2-for-4 with two runs batted in, taking full advantage of his opportunities with runners in scoring position.
"It's awesome having Cody and Gibbons up right before me," Aguilar said. "Right before every game you're going to have an opportunity to score runs, and I just have to thank Coach for putting me in that order and trusting me a lot so I could get that opportunity. Today I pulled through for him."
A 3-0 lead felt like a ten-run cushion with Cloney throwing as well as he was, but the Chanticleers made for some touch and go moments in the eighth and ninth as they tried to put together a comeback. Coastal Carolina second baseman Tyler Chadwick led off the bottom of the eighth inning with a base hit to center field. Cloney retired the next two hitters without much trouble, but the third out wasn't as easy. Shortstop Michael Paez got ahead in the count 2-0, then sent a deep fly the opposite way to right field. As the fans sitting in the bleachers stood in anticipation of the potential momentum-swinging blast Arizona right fielder Zach Gibbons made a leaping grab against the wall to preserve the shutout heading into the final inning.
"I thought it was a short popup," Cloney said. "I thought Ramer was about to go out and make the catch, and then I saw Zach running to the wall. I knew the park played bigger than it looks, but when I saw him get to the wall and look for the ball when he was on the track, I had to hold my breath for a second. When he jumped and caught it, it felt good."
The ninth inning provided some drama as well. With Cloney's pitch count rising the first two hitters reached for the Chanticleers to bring the heart of the order to the plate with a chance to tie the game with one swing. Instead the junior left-hander got ahead of Conor Owings 0-2 before inducing a 4-6-3 double play, then froze G.K. Young with strike three to end an eight-pitch at-bat, and move the underdog Wildcats one win away from their fifth national title in program history.
It was the second time Cloney has gone the distance this season for Arizona, but it was his first shutout. Even after throwing 122 pitches, several of which were of the high-stress variety in the last two innings, the 6-foot-1 220-pound lefty still felt he had something left in the tank after the game.
"I'm not really tired," he said. "The adrenaline is still going. I'm still trying to figure out what just happened. Tomorrow morning I'm sure I'll be a little sore, a little tired, but we'll figure that out tomorrow."
Game 2 between the Wildcats and Chanticleers on Tuesday night is set for 7:00 p.m.
Comments
Tagged in: