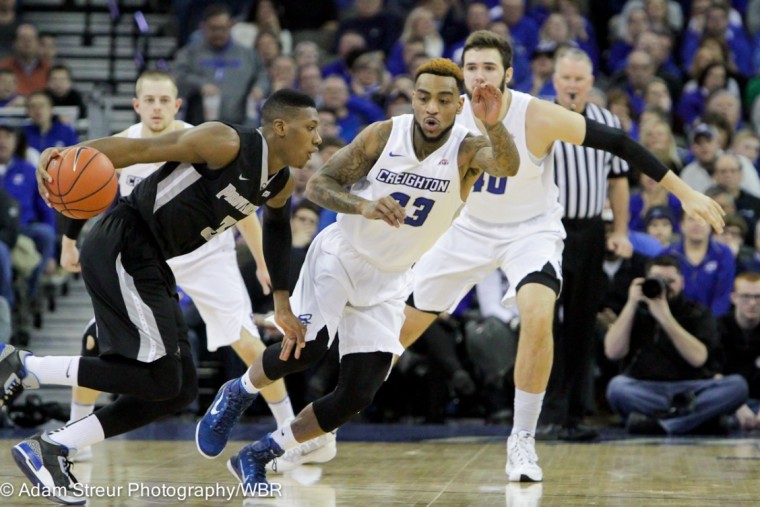 Kris Dunn Beats Buzzer, Bluejays in a Big East Rock Fight
With 12th-ranked Providence and national player of the year candidate Kris Dunn in town, Greg McDermott's Creighton Bluejays saved their best defensive game of the season for the Friars. Unfortunately for McDermott and the Jays, they countered it with their worst performance of the season on the offensive end of the floor. In the end, it was Dunn's buzzer-beater — the first by a Creighton opponent at the CenturyLink Center — over Creighton freshman guard Khyri Thomas that won the day for the visitors, 50-48, in a what both McDermott and Providence associate head coach Andre LaFleur referred to as a "typical Big East basketball game."
LaFleur, speaking on behalf of head coach Ed Cooley — who had to combat vertigo all night — said the Friars' success on the road leading up to Tuesday night's game against the Bluejays gave them the edge they needed to overcome a 29% shooting performance.
"Been in the Big East for a long time. That was a typical Big East game. Two teams, a great environment, a great night to play basketball. I think our road schedule in the non-conference kind of prepared us for a night like this in a great environment with a big crowd," LaFleur said. "We played some pretty good non-conference road games and we're still undefeated on the road. I think that kind of prepared us."
A crowd of 17,073 provided that great environment from the opening tip-off, and saw their energy rewarded as Creighton held the Friars to just 2 of 13 from the field as they built a 19-7 lead with 8:26 left in the first half — 15 of those 19 points were scored by just two players. Sophomore forward Toby Hegner, who finished with a team-high 11 points, knocked down three 3-pointers in a row and junior center Zach Hanson scored six of his eight points to cap off the 12-1 run that was key in building what would be the largest lead of the game for the Bluejays.
While Providence continued to struggle from the field, the Bluejays hit a wall themselves, missed six straight layups to end the half and only managing six points in the final eight and a half minutes to enter the locker room with a 25-18 lead.
"Obviously we had an opportunity there at 19-7 to really create some separation, and we go eight possessions in a row without scoring, so it goes to 21-15," McDermott said. "There was a real opportunity there to create some space and really get the crowd into the game."
The shooting woes continued for both teams into the second half, but Creighton was able to execute just enough to stay in front and even extend the lead a bit to 38-31 with 8:35 remaining after senior guard James Milliken drove to his right and scored off the glass.
Providence kept Creighton within reach just long enough for Dunn, the reigning Big East co-player of the year last season, to do what he does best when it matters most — take the game over.
Over the final eight minutes, Dunn scored 12 of his game-high 20 points to lead the comeback. He started it off by drawing a foul and knocking down a pair of free throws to cut Creighton's lead to 38-33. Two possessions later, working away from the ball, he cut back door along the baseline, caught a pass and rose up for a two-handed dunk to cut it to 38-35.
Creighton junior point guard Maurice Watson Jr.'s 3-point play with 5:29 to play extended the lead to 41-37, but Dunn answered six seconds later with a deep 3-pointer from the left wing to pull the Friars within one at 41-40.
Out of a timeout, Creighton senior center Geoffrey Groselle slammed home a pass from Watson after the point guard got the Providence defense spinning in circles on a baseline drive. But Providence had the answer again, this time sophomore forward Ben Bentil was left open on the perimeter to bury the game-tying 3-pointer with 4:29 remaining.
After a turnover by Watson, Dunn drew fouls on the next two possessions and hit 3 of 4 at the charity stripe to give the 12th-ranked Friars their first lead of the game at 46-43 with 3:45 to go.
Leading 48-46 with under 30 seconds to go, Providence tried to seal the game, but Watson picked Dunn's pocket and scored with his left hand off the glass to tie the game at 48-all with 11.7 seconds left in regulation. That set the stage for Dunn's heroics. The junior point guard brought the ball up calmly, drove left on Creighton's Khyri Thomas, stopped at the elbow, stepped back and fired up a shot that hit hard off the back iron, bounced around the cylinder a few times before finally dropping through the net with no time remaining on the clock to help the Friars survive.
The national player of the year candidate said he was simply trying to atone for his costly mistake on the possession prior to his game-winning shot, and praised his teammates for their continued faith in him during the game's waning moments.
"I was really just trying to make up for the mistake," Dunn said. "The team leans on me as a leader. I just appreciate the guys for believing in me as much as I believe in them. It's not about me and the last shot, it's about the group. The younger guys played a great game today. They stepped up — at one point in time we had five guards on the floor. We were just out there battling and fighting, so it was just a good team win for Providence."
The win improved the Friars to 15-2 on the season and 3-1 in conference play. The loss dropped Creighton to 12-6 on the season and gave them their second loss in conference after a 3-1 start to league play that had caught most prognosticators by surprise. Despite the bitter ending, Creighton's coach — in his sixth year leading the charge — was complimentary of his team's showing on the defensive end of the floor.
"Obviously a tough, tough loss," McDermott said. "I'm really proud of our effort, incredibly proud of our effort. For the most part our execution defensively, we did everything that I felt we had to do win. We limited points of turnovers. We limited second chance points. We limited fast break points. For the most part we kept them off the foul line, and really for the first time with this team we found a way to be competitive in a game when our offense was anemic — with effort and defense and rebounding. That hasn't happened with this team this year. Obviously that's a sign of progress, but it goes without saying we had an incredibly tough shooting night."
Creighton's defense held the Friars to 29.6% shooting from the field for the game — a season-low by any Bluejay opponent this season. But the upset bid was spoiled due to their own offensive struggles which produced a 25.8% mark from the field, including the same 5 of 23 clip from the 3-point line that helped due them in during an 85-71 home loss to Villanova in their only other loss in conference play this season.
"Obviously we played a good team tonight, and like Coach said, the effort was there, but for us to improve from this comes from watching the tape and there's going to be some plays in the first half and second half where maybe if we would have changed those, and did what we were supposed to, the game might have went the other way," Hanson said. "I think we have to watch and see what mistakes we made, and just try to learn from it so we can win this game next time."
Toby Hegner echoed his teammate's feelings on taking away what they need from this game and closing the book on it, and moving forward with 13 games remaining on their conference slate.
"Every loss is disappointing," Hegner said. "You can ask anybody on the team, or anybody that has played the sport, or any sport, every loss hurts. The difference between feeling bad about it and learning from it is the difference we need to make. We have to learn from our mistakes, correct them, and move on. There is a whole new chapter to write. There is a new game to play. You have to have a short-term memory. You have to take what you've done and just move on. Take what you've done good and move on and keep building on that."
Creighton's next game will come on the road this upcoming Sunday, January 17 at noon against the DePaul Blue Demons. The game will be televised on Fox Sports 1.
Postgame press conference video (courtesy of GoCreighton)
Creighton Postgame

Providence Postgame

Comments
Tagged in: