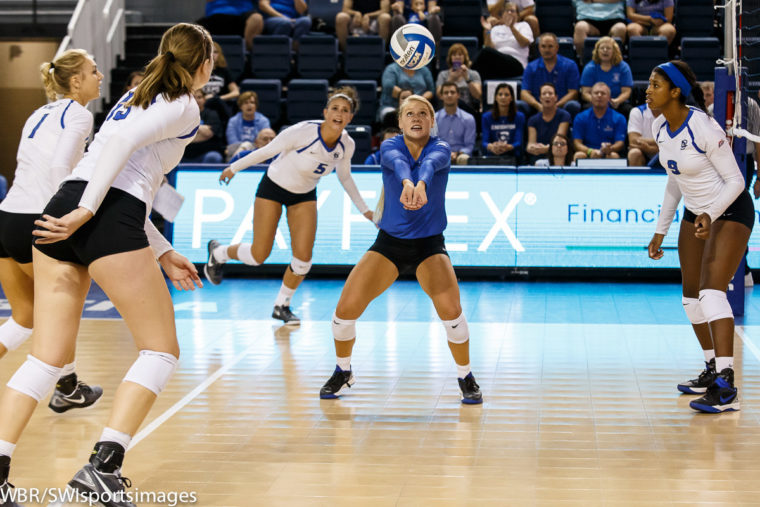 Lauren Smith and Creighton Dominate in Sweep of St. John's
Creighton volleyball returned home Friday night after nearly three weeks on the road, and notched their seventh straight win with a dominating sweep of the Red Storm of St. John's. Creighton moves to 7-0 in conference play, as they continue their quest for a third straight Big East regular season and tournament championship.
Creighton's prolific offense and ever-improving defense helped the Bluejays hand St. John's their first three-set loss of the season with set scores of 25-16, 25-13, and 25-14 respectively. The Red Storm were able to keep it close to start the final two sets, but the Bluejays' attack ultimately proved too potent. The 1,200 fans in attendance at D.J. Sokol Arena were witness to the potential of this year's Creighton team.
St. John's came into the match averaging over three blocks per set, something that caught the eye of Creighton Coach Kirsten Bernthal Booth and her staff. Creighton out-blocked the Red Storm 10-5 in the match and did not concede a block until the 14-9 mark of the second set. Coach Booth attributed her team's success at the net to several factors including the rigorous non-conference schedule the Bluejays faced at the start of this season.
"We told the team that [St. John's] is a top 10 blocking team in the country but that we have played a lot of teams like that. We had great respect for what they do at the net but we also weren't intimidated by it," said Booth.
Junior setter and Purdue transfer, Lydia Dimke, was a key player in breaking through St. John's defense. Coach Booth spoke of the impact Dimke had in creating opportunities for the Bluejays.
"We talked to Lydia about not running straight into [St. John's] and diversifying our offense. She did some things to make them hesitate just a little bit that created holes for our hitters."
Dimke quickly stressed the importance of the back row's defensive play in allowing the Bluejay attack to succeed.
"It stems from passing and when the ball is up in the area that we can set all three hitters, we are a pretty good offensive team. Having that parity and being able to set anyone at any time makes it really hard for them to block. Even when did they get a double block, our hitters did a great job of creating and hitting shots."
Although St. Johns only managed 21 kills in the three set match, Creighton registered 48 digs. Freshman libero Brittany Witt led both teams with 17 digs on the night. Dimke provided an additional 10 digs to go along with her 32 assists for another double-double, her 10th of the season.
Prior to the match, senior Lauren Smith was honored for recording her 1,000 career kill at Villanova on October 7th. While sophomore All-American Jaali Winters dominated the first set with five kills on six attempts, the offensive player of the match was Smith. Smith ended the match with 11 kills on only 13 attempts, resulting in .846 hitting percentage, the second best in Creighton history. Smith's performance lags behind only her 2014 performance against Providence in which she recorded 12 kills on 14 attempts.
When asked about her impressive night, Lauren Smith insisted it was a team effort and looked forward to what the remainder of the season might hold.
"I think we came out with a ton of energy and that really helped. I don't think we ever really know the stats until the end. If you play aggressive, have fun, and trust your teammates this should happen all the time. I'm really proud of the girls out on the court tonight and hopefully it's going to be like that the rest of the season. "
Setter Lydia Dimke recognized the efforts of Smith, "I love setting Lauren. She gives me so much confidence. Because no matter where it is, she puts it down." Dimke continued, "It's a group effort. In general, we have worked on spreading the offense and keeping tempo from all over. We worked on that a lot this week and it was good to see the offense come alive."
The Bluejays improve to 13-6 on the year after getting off to a 6-6 start in non-conference play. Both Smith and Dimke credit the team's unity and support for the recent success.
Smith, now in her fifth season, sees something special in her team.
"I would say this is a very special group of girls. Even when we put in players off the bench who are not always in, we get so excited for each other no matter what happens. We trust each other without fail."
Dimke echoes those sentiments when discussing her thought process when transferring schools.
"When I was making the decision to come here, one of the main reasons was because I could tell the girls played so well together. That was a huge thing for me coming in here." She added, "I think we have a lot of girls who play with wisdom and are so supportive that no matter what happens, we can always stay together."
The Bluejays return to action on Sunday, facing Seton Hall at noon at D.J. Sokol Arena. Following that match, Creighton will again hit the road for a four match stretch away from home. Six straight home matches will follow to end the Bluejays' regular season schedule for 2016.
Lauren Smith described the evening back in Omaha best, smiling and admitting, "It's good to be back."
Comments
Tagged in: