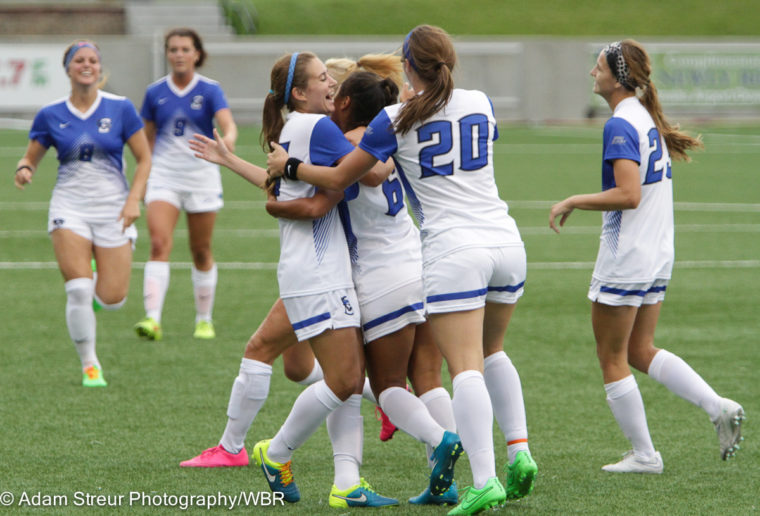 Lauren Sullivan's Equalizer Helps Creighton Avoid Sunday Afternoon Letdown Against UMKC
Senior forward Lauren Sullivan found the back of the net with 29:13 remaining in regulation to help the Creighton women's soccer team earn a 1-1 draw against Missouri-Kansas City, and stay unbeaten after the first weekend of the season.
Coming off of a thrilling 5-3 home win against the Iowa Hawkeyes on Friday, the Bluejays struggled to combine, especially on the attack, throughout much of the match against a Kangaroos team that was hoping to bounce back after a 2-0 loss to Nebraska-Omaha two nights ago.
While he was pleased to get a result, especially at home, Creighton women's soccer head coach Ross Paule felt his team came up short in some key areas throughout the 110 minutes of action.
"It was hard fought, but we very much under-performed to our potential," the second-year Creighton coach said. "We have to hold ourselves to a higher standard with the ball. With the ball we weren't good enough today. We had very good defensive shape and didn't give away too many dangerous shots or chances for them, but to me we just weren't good enough on the ball. We weren't good enough at connecting passes after we win the ball. We gave the ball away cheaply. Those are things that we need to get better at."
"The positive thing in all of this is we did keep good defensive shape, and to not play well and still get a result is a positive thing."
Sunday afternoon letdowns have not been uncommon occurrences for the Bluejays, either. Last season they went from scoring 2.5 goals per game on Friday to just one goal per game on Sunday. This time the turnaround was even shorter for both Creighton and UMKC after each of their matches on Friday night were delayed by an hour due to inclement weather.
"Sunday games are always tough obviously," Sullivan said. "Both teams were tired from Friday, especially not having as much time to recover because of the storms, but I feel like we came out here and fought. Not everyone had their best game. I was just really proud to see us tough through it and get a result at home — never want to lose at home."
UMKC struck quickly in the second half to break a scoreless tie. Sophomore midfielder Lexie Howard initiated the play when she flipped a ball ahead to herself along the sideline in front of her team's bench. She then centered a pass to sophomore forward Kelsey Mothershead about 10-15 yards beyond the penalty box. No Creighton player stepped up to mark Mothershead, giving her a clean look at the goal as she beat Bluejays goalkeeper Erin Scott to the upper left corner for her first goal of the season.
Mothershead's strike came from the same area of the field where Creighton surrendered three goals in the match against Iowa; an issue that Creighton's coach expressed needs improving as the team heads into the second week of the season.
"Anytime you get goals scored on you from outside the box, or in any way if there is a pattern, you have to fix it," Paule said. "It's not okay to get scored on in any way if you don't get that blocked shot or if you don't make it difficult on them. A lot of things led up to them getting that shot at the top of the box, so it's not just the one player that isn't blocking it. It's about what aren't we doing to allow them to get in that position to shoot."
The Bluejays switched into a different gear after falling behind, pressing to get the equalizer. It finally came in a quick sequence in the 61st minute. Scott sent a goal kick just over midfield, and freshman midfielder Caeley Lordemann headed it towards the UMKC back line. Lauren Sullivan caught up to the ball and flipped it through two defenders, leaving her in a one-v-one with Kangaroos goalkeeper Anna Lillig. The Creighton star striker took a touch to her left to beat Lillig and slotted the ball into the right side of the net to tie the match at 1-1 with less than 30 minutes left to play in regulation.
All together on the play, Sullivan beat her own defender to the ball, then flipped it past two more before beating the keeper to finish it off. A goal that her head coach described as business as usual for a player who has scored more goals at Creighton than all but two women's soccer players since 2000.
"That's a typical Sully goal," Paule said. "She scores the hardest goals I've ever seen. She's a hard-working player who makes something out of nothing and she did that this time. It all came from 100% effort and desire on her part to make something happen. That's what we need her for. We need her to be that player that can get us a goal when we're not playing well and when we are playing well. It was great to see her get that goal."
In seasons past that was a ball that Sullivan would rush and struggle to convert. Sometimes the simplest plays are the hardest to execute in the moment. That wasn't the case on Sunday.
"I've been really working on trying to keep my composure and find the back of the net better," Sullivan said. "I think maybe the last couple years I would have just tried to slot that through and they got some saves on me."
"I'm just sick of keepers blocking my shots. When I got into the box I was just thinking about not thinking about it and kept my composure. Thankfully she bit and I found the back of the net."
Both teams had a few chances to produce a game-winning goal, but after 110 minutes they settled for a draw. The Bluejays improved to 1-0-1 after the first weekend, while UMKC moved 0-1-1.
Next up for Creighton is an 8:00 p.m. kickoff next Friday night at Caniglia Field against cross-town rival Nebraska-Omaha. The Bluejays beat the Mavericks, 4-0, at Morrison Stadium last fall, but UNO paid them back during the spring season. Creighton has won four straight games in the series and six out of seven overall. UNO's only win came back on September 22, 2002.
Listen to full postgame interviews with head coach Ross Paule and Lauren Sullivan
Comments
Tagged in: