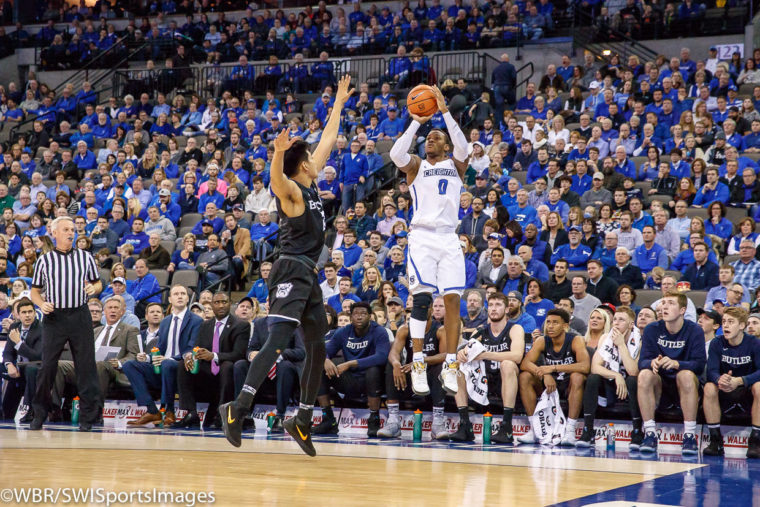 Lettin' It Fly: #25 Creighton at #10 Xavier
On the heels of a home win over Butler that put them on top of the Big East standings, the 25th-ranked Creighton Bluejays get ready to navigate an active mine field on Saturday when they travel to Cincinnati to take on a 10th-ranked Xavier squad that has dropped two games in a row in league play at Providence and at No. 1 Villanova by a combined margin of 33 points.
Grad transfer Kerem Kanter led the Musketeers in scoring and rebounding in the two losses. The 6-foot-10, 240-pound forward averaged 20 points and 8.5 rebounds per game against the Friars and Wildcats, while the team's top two scorers Trevon Bluiett and J.P. Macura were a combined 14-of-45 from the field (31.1%) and 5-of-21 from the 3-point line (23.8%). Bluiett, especially, was the target of a few questions and comments regarding the current state of his confidence following the 89-65 loss to Villanova on Wednesday night, an issue that could not be cropping up at a worse time with one of the nation's best perimeter defenders in Khyri Thomas set to chase him around like a bloodhound at the Cintas Center on Saturday afternoon.
Despite the losing skid, any extra juice Xavier might bring to the court in two days isn't changing how the Bluejays are approaching this game as they attempt to win their fifth straight game in league play.
"Anytime you go on the road in the Big East you better be ready for a great effort by the home team," Creighton head coach Greg McDermott said. "I don't think that's ever going to change, whether a team has won its last game or lost its last game. I'm not sure that makes a whole lot of difference.

"Obviously Macura and Bluiett are a hard matchup, and they've kind of got a three-headed monster inside now where they rotate three guys that have all been equally effective."
Creighton's challenges on Saturday won't just be on the defensive end…
As they try to figure out how to slow down the second-fastest offense in the Big East since league play got underway, the Jays also know that the Musketeers have a very disruptive 1-3-1 zone defense in their back pocket that has flipped more than a few results in their favor when the going has gotten tough this season.
"It's coming at some point in time and when it does you have to be ready for it," McDermott said. "It's changed a lot of games for them and I think has won a lot of games for them this season already, and we're going to see it on Saturday."
Most of the chatter in living rooms, sports bars, and message boards will have you convinced that Creighton's offense goes from lethal to lethargic when it's even in the same area code as a zone defense. But for Greg McDermott, there is a simple formula to follow if you want a team to get back into man-to-man.
"Sometimes it's as simple as whether or not you make the shot that you have," the Jays head coach said. "Everybody thought that our zone offense was terrible against Baylor because none of the shots went in. But when you bang a couple of threes against it it looks a little bit different.

"With Xavier, it's tough to get into the teeth of their zone because of their length, and they keep their big at the basket, so it's hard to get anything at the rim. It forces you into some corner threes, some angle threes, and some mid-range shots. Teams that have knocked down those shots against them have chased them out of that zone in a hurry."
New Mexico transfer making steady progress…
With each passing month, sophomore wing Damien Jefferson is grading out higher. October was a major struggle, November was better, December was his best, and so far through 10 days in January he has maintained that upward trajectory.
"He has to continue to progress," McDermott said. "He's working on that shot, but obviously his athletic ability, and his ability to guard several positions because of his strength and his length is something that we hopefully think will help us down the road."
Now fully recovered from an early season foot injury, Jefferson is settling into a key role on the scout team during his redshirt season, doing his best to simulate an aggressive, long, athletic perimeter presence on both ends of the floor with his 6-foot-5, 195-pound frame.
Epperson packing on 'good weight' away from practice…
As the rehab from knee surgery continues, true freshman center Jacob Epperson is looking noticeably bulkier as he works his way back to the practice floor. Between time well wasted in the weight room and a trip home over the holidays, Coach McDermott estimates that the 6-foot-11 Aussie has added 20 pounds to his frame.
"For the most part I think it's good weight," McDermott said. "The fact that he hasn't practiced for three or four weeks obviously gives him a chance to spend extra time in the weight room, and he went home and got mom's cooking for five or six days over Christmas. I think that helped as well."
For now Epperson is participating in non-contact drills. With no need to rush him back to the practice floor, McDermott thinks will be closer to February 1st before the rookie center will get a chance to start throwing that extra weight around in 5-on-5 drills.
Mitchell Ballock's shooting slump isn't causing any concern just yet…
Heading into Big East play with a third freshman of the week award in his back pocket, freshman guard Mitch Ballock has cooled off a bit in his first five games against league foes. During the non-conference portion of the season, the 6-foot-5 guard from Eudora, Kansas averaged 9.2 points per game and shot 37.0% from the 3-point line. Through five conference games, he's 0-for-6 from beyond the arc, is averaging 1.6 points per contest and has committed six turnovers while only registering two assists.
Despite all that, the panic button is nowhere to be found inside the walls of the Championship Center.
"He's still making a lot of positive plays," Greg McDermott said. "There have been a few games where matchups are tough for him — Seton Hall and Butler in particular. But I don't worry about Mitch. He's going to be fine. He just needs to see a couple go in the basket."
Ballock was the last player to leave the practice floor on Thursday afternoon. He finished up an extra half an hour of shooting drills by making his final 25 attempts from beyond the arc.
Musketeers vs. Creighton
Trevon Bluiett (7 games):
11.9 ppg, 4.6 rpg, 3.1 apg, 2.0 topg, 0.4 spg, 0.1 bpg, 29-73 FG (39.7%), 6-32 3FG (18.8%), 19-27 FT (70.4%)
J.P. Macura (7 games):
8.9 ppg, 2.7 rpg, 1.7 apg, 1.7 topg, 0.7 spg, 0.1 bpg, 19-44 FG (43.2%), 13-28 3FG (46.4%), 11-15 FT (73.3%)
Quentin Goodin (3 games):
8.7 ppg, 2.3 rpg, 3.3 apg, 2.3 topg, 2.7 spg, 10-30 FG (33.3%), 5-9 3FG (55.6%), 1-4 FT (25.0%)
Tyrique Jones (3 games):
8.0 ppg, 2.0 rpg, 0.7 topg, 0.3 spg, 0.3 bpg, 12-13 FG (92.3%)
Kaiser Gates (5 games):
6.2 ppg, 5.4 rpg, 0.2 apg, 0.4 spg, 0.2 bpg, 9-21 FG (42.9%), 5-12 3FG (41.7%), 8-10 FT (80.0%)
Sean O'Mara (6 games):
2.0 ppg, 1.0 rpg, 0.8 apg, 0.7 topg, 0.3 bpg, 6-9 FG (66.7%)
Head Coach: Chris Mack (5-6 vs. Creighton)
Bluejays vs. Xavier
Marcus Foster (3 games):
17.7 ppg, 1.3 rpg, 3.3 apg, 1.0 topg, 1.0 spg, 21-55 FG (38.2%), 7-19 3FG (36.8%), 4-6 FT (66.7%)
Khyri Thomas (4 games):
9.5 ppg, 4.8 rpg, 4.3 apg, 2.8 topg, 0.8 spg, 13-32 FG (40.6%), 5-14 3FG (35.7%), 5-7 FT (71.4%)
Toby Hegner (7 games):
4.4 ppg, 2.9 rpg, 0.1 apg, 1.0 topg, 10-20 FG (50.0%), 7-15 3FG (46.7%), 4-6 FT (66.7%)
Ronnie Harrell, Jr. (4 games):
3.3 ppg, 2.8 rpg, 0.3 apg, 0.8 topg, 0.5, 4-13 FG (30.8%), 2-6 3FG (33.3%), 3-6 FT (50.0%)
Tyler Clement (6 games):
1.8 ppg, 1.0 rpg, 0.8 apg, 0.5 topg, 0.3 spg, 0.2 bpg, 4-7 FG (57.1%), 3-4 3FG (75.0%)
Davion Mintz (3 games):
1.6 ppg, 1.6 rpg, 1.0 apg, 1.3 topg, 0.3 bpg, 1-3 FG (33.3%), 3-4 FT (75.0%)
Martin Krampelj (2 games):
1.0 ppg, 0.5 rpg, 0.5 bpg, 0-1 FG (0%), 2-2 FT (100%)
Head Coach: Greg McDermott (6-4 vs. Xavier)
Comments
Tagged in: