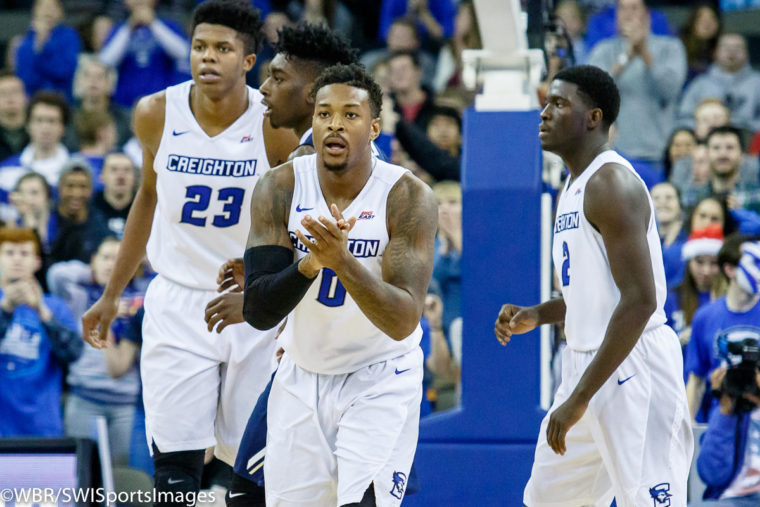 Marcus Foster's Road to Redemption Provides a Second Chance at One Shining Moment
Had you asked 18-year-old Marcus Foster to map out how his life would look in four years he probably would have told you he'd either be hitting the home stretch of the NBA season or preparing to finish out his senior year at Kansas State on a high note to give professional scouts a lasting impression.
You might have even got the same answer from him a year later after he averaged 15.5 points per game and earned a Second Team All-Big 12 selection as a true freshman in 2013-14, which then led to a Preseason All-Big 12 nod prior to his sophomore season.
However, that never became Marcus Foster's reality. Instead, his production on the court dipped significantly across the board compared to his freshman season, and his behavior off the court led to a three-game suspension in mid-February and an eventual dismissal from the program at the conclusion of the season.
All of that left the soon-to-be 20-year-old Foster in basketball purgatory with a tough decision to make that would shape his future not only as a player, but as a person. Fortunately for him, Creighton assistant coach Steve Lutz, who had a long relationship with Foster and recruited him out of high school, was confident enough in the type of person he knew Foster to be that he offered him another opportunity to attend Creighton University.
"I've known him since he was probably 12 or 13 years old, and I knew what was in his heart," Lutz said. "Even good kids can be led astray at times. He just got into a situation there at Kansas State where he made a couple bad choices and those bad choices turned into a couple more bad choices, and before you know it you've put yourself in a position where you can't really recover. But I knew deep down inside what was at his core, and I knew about his family and what their values were. Everybody deserves a second chance at some point in life, and I felt like we had enough guys in this program that they will all stay together and make sure that he stays on the right track."
Becoming a Part of the Family
Creighton has been proud of the culture it has built since long before they anyone saw it on the wall of the Championship Center on campus or a t-shirt of an athlete walking across Florence Boulevard to get from class to practice. It transcends winning and losing on the playing surface and as a reputation it takes longer to build than to tear down.
That made committing to Creighton the easy part for Foster. The real challenge would come during the 2015-16 season when he sat out because of the NCAA's transfer rules and worked behind the scenes with a Kansas State-sized cloud hanging over him for an entire season.
"I think a lot of people on the team were curious about I was going to be when I got here," Foster said. "If you watched me the first couple weeks I was working hard because I wanted to prove to everybody that I wasn't that type of person, and I really appreciated Creighton for giving me the second chance when they didn't really have to."
But it wasn't as simple as playing hard at practice, going to class, and doing the right things. How could he prove to the new team that he wasn't the guy Kansas State dismissed if he didn't get a chance to share in any of the ups and downs the team experienced firsthand? For him, handling all of that scrutiny was made easier thanks to the support of his teammates and the community he was exposed to when he got to Omaha.
"It was very hard," Foster said. "I'm not that type of person. Things went the wrong way and they could have gone better, but I'm not that type of person. My teammates around me just embraced me even though they heard all of that stuff, and it made me feel like a better person. The guys on the team were vouching for me when I couldn't and telling people 'nah, he's actually a good dude, you'd be surprised.'

"It definitely was hard for me. It was something that I had to overcome, but more and more as the year went on I think the inner circle of the Creighton family — the alumni and the fans that came in — they saw that all of that stuff was not who Marcus Foster really is."
When thinking about the decision he had to make after his time at Kansas State came to an end, not only does he remain grateful for the opportunity he's been given, but he's not sure that he would have made it through that first year sitting out had he decided to go somewhere else.
"With this family atmosphere and being in Omaha with such great fans, and the great support system with my teammates and the coaching staff and the athletic department, I don't think I could have done it anywhere else," he said. "Everybody is so open here. Most people when they hear about the stuff that I went through they would be kind of skeptical to open up to them, but the first day everybody from the fans, Coach Mac, the players, the staff, everybody just opened up to me. It made me feel better about coming here."
The Bond Between Player and Coach
Although Foster has enjoyed a career season from an individual point of view, leading the team in scoring at 18.3 points per game and earning a First Team All-Big East selection, there still have been some low moments when he hasn't played up to his own standards. And while he has often credited his teammates for getting him through those stretches, he's also leaned on his head coach, Greg McDermott, quite a bit, even when the practice sessions are over and there are no games to play.
"He's very influential on me," Foster says of McDermott. "We're not really the face to face type of people, but we will text all day about stuff. After games he'll send me a long message and I'll send him a long message back, and we'll just talk for hours about what we saw and what we think.
"I think the reason he has such a good relationship with everybody on the team is because it's not really a player/coach relationship, he's more of a helping hand. He's there for whatever you need. You can talk to him about anything, whether it's life, basketball, or whatever is going on, you can always talk to him. I think that's why he's such a great coach, and it helps us on the floor because we trust him and he trusts us."
Foster recalls a key moment recently during the Big East Tournament in the quarterfinal game against Providence when after missing five straight free throws in a game that his team was still trailing by two points at the time, he got the helping hand from his head coach when he was actually bracing for the honest kick in the shorts.
"In the Big East Tournament I was 0 for 5 at the free throw line, and he could have been yelling at me, but he just pulled me aside and made a little joke to clear my head, then I went down and made the rest of my free throws," Foster said. "He does a really good job of doing little stuff like that. He understands each and every player. He knows when to yell at us and when to put his arm around us and laugh."
Coach McDermott and Coach Lutz were both there to put an arm around him at his most difficult time as well. Even after he chose Kansas State instead over Creighton out of high school, the relationship between the three never fizzled. That's why Foster and Lutz immediately connected when he had to find a new home.
"Coach Lutz was one of the first people to text me and call me as soon as everything went down," Foster recalled. "That's why I liked this program a lot. I built a relationship with Coach Mac and Coach Lutz in high school and they always kept it no matter what, even when I decided to go to Kansas State. It just felt like we picked up our relationship where it left off."
Despite the team's success and Foster's improvement as a basketball player, the seven-year Bluejays assistant coach is as impressed with the opportunities the now 21-year-old native of Wichita Falls, Texas is opening up for himself off the court as well as on it.
"We don't do this just because of the wins and the losses," Lutz said. "Marcus has a chance to be an unbelievable story. He could be a candidate for national player of the year next year, an NBA Draft pick, the whole nine yards, and you take a lot of personal pride in each one of these guys and their journey and helping them succeed through it. In addition to that he's going to have an opportunity to earn a degree — he's very close. He'll finish out the summer and the fall, then he'll have one class in the spring and he'll have a Creighton degree, which will mean something when basketball is finished for him.

"You take a huge amount of personal pride in each one of these guys, in helping them grow from a young man into a man that will eventually become a good father, a good husband, and a valued member of the community, and Marcus certainly has done everything on his end in terms of making steps towards that. He certainly has more steps to go, but we're proud of where he is at this point."
A Second Chance at Making March Madness Memories
In a few days the Bluejays and Foster will play in an NCAA Tournament for the first time since the 2013-14 season. That year, Creighton bowed out in the round of 32 while Foster's Kansas State club fell 56-49 against eventual national runner-up Kentucky in the round of 64.
Despite experiencing more downs than ups during the last month and a half of the season, Foster leads a 25-9 Bluejays squad that tied for third place during the regular season — and won two games in New York City before falling in the championship game to eventual number one overall seed Villanova — into the NCAA Tournament with a shot of confidence.
"It's crazy how two games can really bring up the team's confidence," Foster said. "We feel like we can play with any team in the country, but it's going to take a little bit extra. Just like that championship game, it takes a little bit extra for us to beat teams like that.

"I think we're in a perfect position in the tournament. I'm not saying we're better than the teams we're matched up with, but I like how we match up with the teams we could potentially face down the road and in the Sweet 16. I really would like to accomplish making the Sweet 16, because that's something that Creighton has never done. We've been making history this year for Creighton, so we might as well keep doing it and finish out strong."
The Bluejays are the No. 6 seed in the Midwest Region. They face No. 11 seed Rhode Island on Friday at approximately 3:30 (central time) in Sacramento. Then should they win, a date with the winner of No. 3 Oregon and No. 14 Iona awaits on Sunday with a trip to Kansas City, Missouri, on the line where thousands of Creighton fans would be waiting should their team advance to the Sweet 16 for the first time in program history.
That's a milestone that has been on Foster's mind since going one and done as a true freshman.
"It stung losing to Kentucky, especially when we only lost by seven — we were right there until the end, so it definitely means a lot to me to get farther than that and keep going beyond the second round," he said. "I grew up watching the NCAA Tournament, filling out brackets and all of that stuff, so this means a lot to me to be able to play in it again. I really want the chance to make a good run. It starts with us playing hard. The hardest-playing team wins."
The ball hasn't even been tipped yet for the game against Rhode Island and already the redshirt junior has played more games and logged more minutes than any of his two previous seasons at the college level … is he worried about fatigue as the grind of a long season heads into late March?
"I wish we played tomorrow," Foster said after practice on Tuesday. "After seeing our name pop up I was ready to play. I'm excited to get the chance to be back in the tournament, especially with this group of guys. Coming here and actually having a team that bonds and wants to hang out together every day is something special, so I'm just playing hard for my teammates because I know this is something they want to accomplish and something I want to accomplish."
Comments
Tagged in: