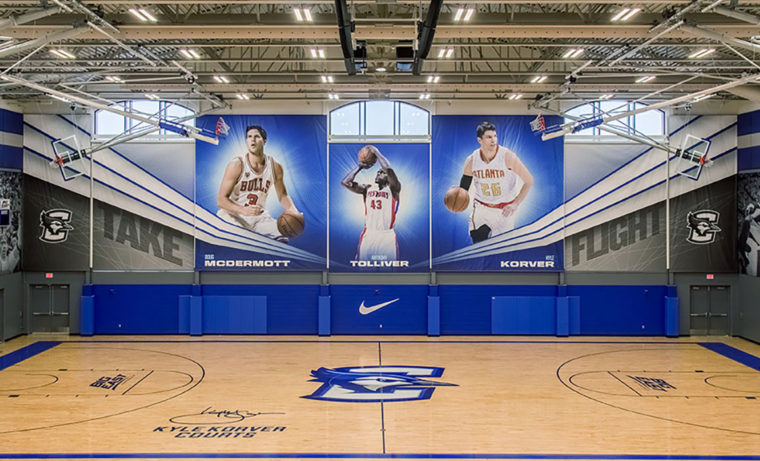 Marcus Zegarowski's Path to Creighton Paved by Trust Off the Court and Competitive Drive on it
The process of deciding on which college to attend can sometimes be as stressful on a recruit and their family as it can be on a coaching staff that loses sleep trying to snag a commitment. Fortunately for Marcus Zegarowski, that part is now in the rear view mirror after the 6-foot-2, 175-pound point guard committed to Creighton University on Monday night.
"I feel really comfortable and happy with the decision," Zegarowski said. "I'm so lucky that I had really good people around me that knew what to expect and how the process is done."
That's putting it mildly.
Marcus' father, Zach, was a star for the UMass Lowell men's basketball program in the mid-90's where he led the River Hawks in scoring at 16.8 per game and assists at 4.2 per game as a senior in 1994-95. His mother, Mandy, played at Salem State University and coached the girl's basketball team for 10 years at Ipswich High School in Massachusetts. His older sister, Masey, averaged 6.1 points, 2.8 rebounds, and 1.5 steals per game in 15 starts last season as a freshman at Bryant University, and his older half-brother, Michael Carter-Williams, was a 2nd Team All-Big East performer at Syracuse in 2013 before being drafted 11th overall in the 2013 NBA Draft and going on to win NBA Rookie of the Year for the Philadelphia 76ers.
Despite all of that expertise in his corner, the decision at the end of the day belonged to Marcus.
"My parents really helped with the decision, but obviously it's my decision," he said. "It took some time and some thinking. It was really stressful at some points, but at the same time I was really grateful for the opportunity of hearing from all of these schools. I got lucky to narrow it down to four. I looked more in-depth into each school and I knew Creighton was the right fit for me and my family."
Ranked 96th on ESPN's Top 100 list for 2018 prospects, Zegarowski — who attends Tilton School, a prep school in Tilton, New Hampshire — feels his skill set is an ideal fit for the style of the play the Bluejays prefer.
"All the players are unselfish and they always make the right read," he said. "Coach McDermott doesn't get on people for taking quick shots because that's how they play — they play fast, they play smart, they shoot within 15 seconds of the shot clock most of the time, and they score 90-plus points. I think that he thinks that I can come in and it'll be easy for me to adapt to his system, because that's how I play."
Zegarowski's relationship with Creighton head coach Greg McDermott was one of the first reasons he mentioned as to why he chose Creighton after making an official visit late last week. The Hamilton, Massachusetts native had narrowed down his list of schools to four, including Ohio State, Minnesota, and Washington, but pulled the trigger shortly after returning from Omaha.
"I knew Coach Mac was true to his word," Zegarowski said. "On my visit all the guys said some schools say these things, but they don't really mean it. With Coach McDermott, whatever he says, he keeps it real. He would never just lie.

"They told me I can really play well in this system. It was all about honesty. Just telling the truth. That's big. I trust Coach McDermott a lot and that definitely helped me make this decision."
It also didn't hurt to see some familiar faces when he arrived on campus. Sophomore guard Jordan Scurry played on the same AAU team as Marcus, and junior point guard Kaleb Joseph played for Cushing Academy, Tilton's rival, in high school. Reconnecting with a couple old basketball friends made it easier to feel comfortable around the team on and off the court.
"It was definitely nice to have them in my ear," Zegarowski said. "I know them and I trust them as friends. They always tell me the truth, whether it was come to Creighton or don't come to Creighton. They told me they would really love to have me here and on my visit I hung out with them a lot and enjoyed myself. We just had a lot of laughs, spent a lot of time just joking around, but also competing on the court. That was really nice."
A little trash talk to get the competitive juices flowing didn't hurt either. That's where Preston Murphy came in. The third-year Creighton assistant coach's persistence during the recruiting process really resonated with the young point guard.
"[Coach Murphy] would pretty much text me every single day," Zegarowski said. "Me and him built a really strong relationship. I was probably as close to Preston as any coach that recruited me."
But any assumption that Murphy, a former standout himself at Rhode Island, would ease up on Zegarowski on the court in order to build favor with the prospect was put to bed immediately.
"He always talks about killing all the guys on the Creighton team in one-on-one or shooting contests," said Zegarowski of the recently turned 40-year-old coach. "He would always tell me that I have no chance [of beating him]. That side is something that appeals to me. I like that competitive drive. He has these games and shooting drills that help me get better and compete, but at the same time I get to laugh and have fun, and that's why I play basketball."
With the decision now behind him, Zegarowski plans to get back to working on his craft to improve his skills and his strength in time for when he returns to campus next summer for offseason workouts.
"I obviously have to get in the weight room more," the future Bluejay said. "I have to get stronger and add some weight. I don't think I'm perfect at anything, so I have to try to improve at everything. I think there is always room for improvement in every aspect of the game, so every day I'll just keep building. That's just how I work."
Here is what Creighton fans have to look forward to
Comments
Tagged in: