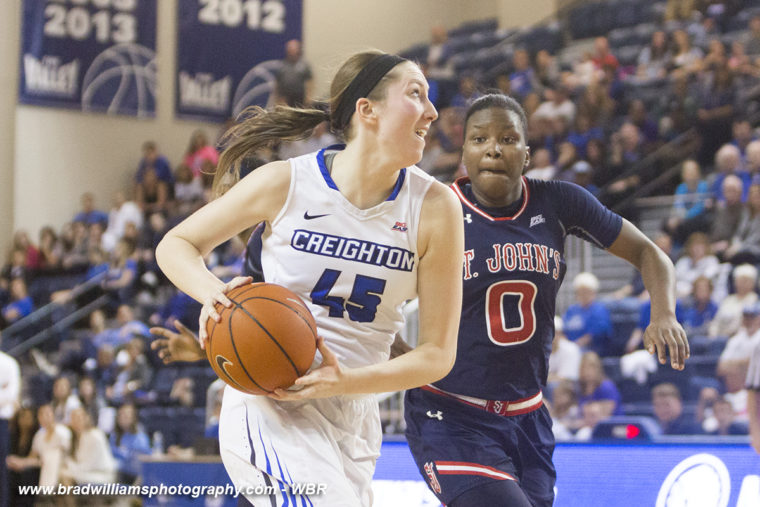 Meet the Bluejays: 2017-18 Creighton Women's Basketball Team
That bounce you hear on the Creighton campus is a sign that college basketball season is close at hand.  The Creighton women's basketball team heads into this season coming off a share of the Big East title and a second round appearance in the NCAA tournament.  This season, the Bluejays are picked fourth in the preseason Big East polls.
WBR Photographer Brad Williams was at Creighton Media Day this week.  Enjoy the photos and get your own copy while we "Meet the Jays"
#45–Audrey Faber, Jr.
Faber, while only a junior, assumes the primary leadership role heading into the season. Faber starts the season as a member of the preseason All-Big East team and the Big East knows her name. While earning a spot on the All-Big East first team last season, the sophomore led the Jays in scoring, averaging almost 13 points a game. An inside and outside threat, Faber will keep opponents guessing on what she will do next.
#14–Sydney Lamberty, Sr.
Lamberty starts the 2017-18 season as the player with the most experience on the team. She has spent her career on the court for the Bluejays getting better and better each season.  Her play earned her a spot on the Big East All-Tournament team and that carried over into the NCAA Tournament.  This season could be the best yet for the Bluejay as she looks to help lead her team to another NCAA Tournament.
#5–Jaylyn Agnew, R-So.
Agnew was a bit of a secret weapon for the Bluejays last season.  As a redshirt freshman, Agnew came off the bench to do pretty much everything, whether it was to play down in the post, outside and drive the lane, or play some defense, scoring 228 points, grabbing 112 rebounds, and dishing out 11 assists.  That well-rounded play earned her the Big East Freshman of the year last season.  This season, Agnew will likely get an opportunity to be a starter and raise her game in her sophomore campaign.
#11–Bailey Norby, Sr.
Norby heads into her Senior season looking for an opportunity to finish her career strong in 2017-18. She played in all 32 games for the Bluejays off the bench in limited minutes after starting 34 of 35 games as a sophomore. Her height will be important for the Bluejays this season to help guard the post.
#1–Jade Owens, R-Jr.
After a year on the sidelines, Owens is looking forward to getting back on the court. One of the more athletic players on the team, Owens was a starter most of her sophomore season until a hip injury sidelined the guard. With Marissa Janning gone, Owens hopes to jump back in again to take off where her sophomore season left off.
#2–Myah Mellman, Sr.
Mellman played in 28 games off the bench last season as a junior. One of five seniors on the roster, Mellman is looking for the opportunity to play a larger role on the team, but is already a leader off the court, joining 153 other Creighton athletes on the Big East All-Academic team.
#22–Brooke Kissinger, Jr.
Kissinger has an opportunity to contribute right away. The transfer from Illinois was able to practice with the team last season while sitting out and may get an opportunity to compete for a starting role. Before coming to Creighton, Kissinger finished her sophomore season fourth in scoring for the Illini, including 48 baskets from behind the arc. Kissinger is a Nebraska native from Minden.
#24–Temi Carda, Fr.
Carda is one of three freshmen joining the Bluejays this season. The pipeline of Minnesota talent continues to come out of Omaha. A multisport athlete in high school, her defense may come in handy for Creighton this season. She also scored over 1500 points and dished out 200 assists in her high school career. Look for Carda to play the Jalyn Agnew role this season for the Bluejays.
#21–Olivia Elger, R-So.
Elger redshirted last season after playing in 20 games as a freshman. Elger is a point guard out of Peoria, Illinois came to Creighton highly regarded. She could have an opportunity to play a larger role this season with her previous experience and being able to watch and learn during her redshirt year.
#15–Tatum Rembao, Fr.
Rembao comes to the Bluejays as a scorer, averaging over 24 points a game during both her junior and senior seasons in high school. Another multisport athlete, Rembao was named the All Around Athlete2016 Colorado Sportswoman of the Year and was the Coloradoan Northern Colorado Sports Awards, Female Athlete of the Year. Her talent could easily be added into what could be a deep rotation for Jim Flanery's Bluejays.
#12–Gracey Griglione, Fr.
Griglione committed to Creighton right after her sophomore year and hasn't looked back. With Iowa high schools allowing eighth graders to play high school basketball, Griglione played right away, earning All-State recognition for four seasons. She ended her career with school records in blocks in a game (11), rebounds in a game (18), points in a game (40), points in a season (464) and rebounds in a season (262). She has a low post game, but has the versatility to play out from the basket. She could also contribute early as a freshman.
#40–Ali Greene, R-So.
Greene is looking to build upon her freshman season after having to cut last season short only seven games into the season due to a knee injury. Getting a medical redshirt, Greene gets the opportunity to repeat her sophomore season and get back into the rotation. Greene played in 31 games as a freshman off the bench. She gives Flanery another option in the post.
#33–Kylie Brown, Sr.
Brown has had a limited role in her career with the Bluejays, but has 90 games of experience coming into the season. The tallest player on the team at 6'3″, the senior could get opportunities to add to her block total and lead by example to this well rounded team.
#4–Aimee Rischard, Sr.
Rischard started her college career as a student manager at Oklahoma. With an opportunity to continue her basketball career, Rischard walked on at Creighton and last season got into 17 games including both NCAA Tournament contests.
See all the photos from Creighton women's basketball media day.
Comments
Tagged in: