Metro Summer League Recap (Week 3)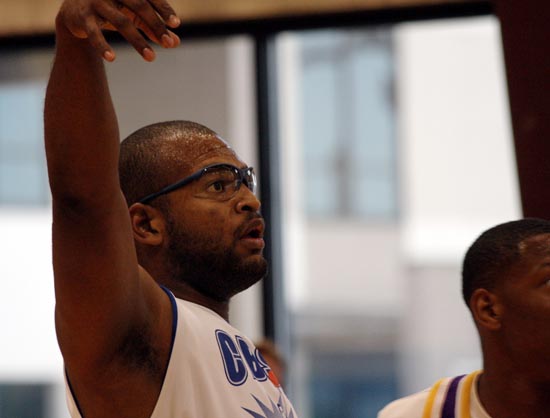 When Gregory Echenique announced he was leaving Rutgers for Omaha back in January, Jays fans were equal parts stunned and excited. Big men, centers in particular, in the Valley tend to be projects; guys who with hard work and serious weight training can be dominant players by their junior or senior years. But in Greg, Creighton had landed a guy whose ceiling seemed much higher than most, who had arms the size of tree trunks, who had proven his mettle in perhaps the toughest of leagues, the Big East. Needless to say, as fans wait to see Greg play for the Jays, its been a bit like that feeling you used to get as a little kid on Christmas Eve, as you waited to see what was inside the presents under the tree.
On Thursday, the 200 or so fans who flocked to the Omaha Sports Academy caught a glimpse of what might be in store this fall. Those who wandered over to Court 4 also saw a thrilling double-overtime battle that included a 20-point comeback in the final ten minutes of the second half, fueled by hot shooting from Kaleb Korver and Wayne Runnels.
Game of The Night: Bellevue University 80, State Farm 69
With fans packing the bleachers and every available open spot along both baselines, and with Final Four referee (and Omaha native) John Higgins working the game, Greg Echenique made his summer league debut for State Farm. As we watched him warm up, Otter and I remarked that while we knew he was big — I mean, we'd both met him before, and he made Kenny Lawson and Brody Deren look small by comparison last week on the sidelines — seeing him on the court was something else entirely. Gigantic.
How gigantic? The summer league jerseys, which appear to be Fab Five Large on everyone else, on Greg looked like he was wearing a shirt three sizes too small. He wore number 100, making him the only basketball player I can ever remember to wear a triple-digit jersey number. There's lots of real estate to cover on his back, though, so why not use it? He also wears goggles, something I don't think we'd heard previously, but given his eye injury (detached retina) at Rutgers, isn't terribly surprising. And no, we're not talking the sweet Kareem goggles I wanted to wear in high school games even though I didn't need them — these are modern, streamlined athletic glasses. Cool.
Once the game started, he had moments of utter domination, where his sheer power was too much to overcome. Its obvious that he's still getting into game shape after the injury, but my goodness, is he going to be tough. He has soft hands, which allowed him to corral several dishes in the lane from teammates and convert them into points, either with easy buckets or free throws. Yes, free throws — while he missed as many as he made, the misses had the sort of shooters roll off the rim that gives you the sense that eventually, they'll go in more often than not. To put it another way, his misses were not Shaq O'Neal misses circa 2001, where he chucked missiles towards the backboard. Awesome.
Despite still getting into playing shape, when Greg got into position on the blocks, he was unstoppable. Bellevue threw three players at him at various times during the game in an attempt to guard him, but none were big enough or strong enough to stop him. Each time he was in position and got the ball, one of three things happened: Greg threw down a massive power dunk, Greg made a basket and was fouled, or Greg was fouled so hard he couldn't get a shot off. All three scenarios led to points.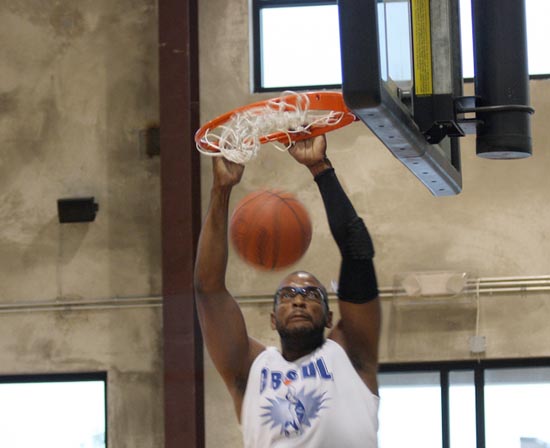 On the glass, his natural instinct is to go get the ball — contact or not. In fact, it almost seems like he dares opponents to try and take the ball from him. One possession in the first half demonstrated this. Greg went up for an easy lay in, drew contact but not a foul, and missed the shot. He went up and got his own rebound, shot again, and again drew contact that altered his shot, but no foul. He went up and got his own rebound again, this time making the basket while drawing a foul, earning the and-one opportunity. One of the Bellevue players walked away shaking his head as if he was wondering, "What do I have to do to stop this guy?" And then Greg made the free throw. Of course he did.
Playing about ten minutes in each half, he had 18 points and 8 rebounds, unofficially. His team fell to Bellevue, however, 80-69.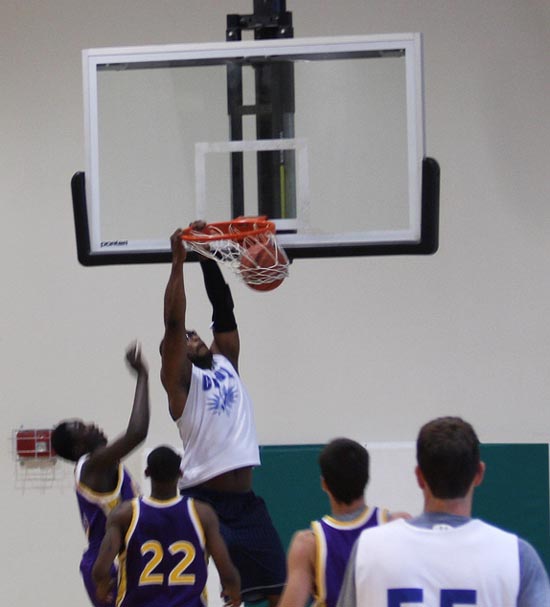 Narmi Group 103, EQ School of Hair Design 93 (Double Overtime)
Kenny Lawson and Doug McDermott's team raced out to a 66-44 halftime lead, completely dominating the cold-shooting EQ School. As fans slowly trickled over to Court 4 from the Echenique Power Hour on Court 1, their shooting heated up. Fueled by Wayne Runnels third consecutive impressive game, where he again showed the ability to put the ball on the floor, create his own shot and score almost at will, EQ overcame a 20-point deficit in the final ten minutes of the game. With 1:19 remaining and down three, Runnels kicked it out to Kaleb Korver, who drained a contested three from 30 feet out to tie the game. After a missed shot on the other end by Lawson, Korver secured the rebound and thanks to the lack of a shot clock, Runnels dribbled out the final 60 seconds before taking a buzzer-beater that clanged out.
Before the overtime started, freshman point guard Jahenns Manigat walked over to a group of kids in Jays shirts, asked them for good luck and gave them all high-fives. The look on the kids faces was priceless. And their good luck worked, as in the first two-minute overtime, Manigat made his team's only bucket as the teams remained tied at 91 heading for a second OT.
Lawson and McDermott were simply too much in the second extra period, scoring four points a piece highlighted by an alley-oop dunk by Lawson. Another dunk by Nebraska's Kedrick Ford put a capper on the 103-93 win for Narmi Group.
Other Games:
Bellevue Alums 79, Shanks Law Firm 71. A tough, physical battle, with both teams delivering hard fouls instead of allowing easy buckets. Creighton walk-on Matt Dorwart took the hardest shot, a forearm across the jaw that sent him spiraling to the floor face-first. It looked horrible, but he not only got up unscathed, he made both free throws. Unfortunately, his team fell a bit short and lost, 79-71.
McGinn Law 83, ABIDE Ministries 74. Dane Watts pulled double-duty, playing in his second game on the night in place of the absent Wes Wilkinson in this three-point extravaganza. Nick Bahe hit four treys and Taylor Stormberg three for ABIDE, but it was not enough to overcome Ryan Anderson hitting five threes for McGinn Law. Ben Holling added two of his own for McGinn Law, and they picked up the 83-74 win.
Barley's 102, Heartland Properties 74. This one wasn't as close as the score indicated, if you can believe that. Ice cold shooting from Ethan Wragge and Josh Jones doomed Heartland, as Charles Richardson's Barley's team led by 30 most of the night.
Other scores:

UNO Alumni 98, UNO 65.
Icehouse 91, Go Gettaz 64.
Comments
Tagged in: