Metro Summer League Recap (Week 4)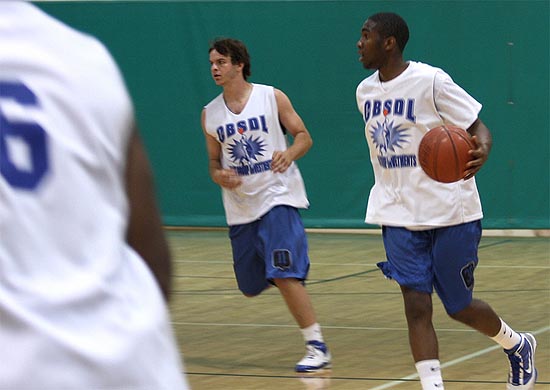 A smaller and more subdued crowd gathered at the Omaha Sports Academy on Thursday for the last week of regular games before the playoffs start next week. Part of that might be attributable to many people being out of town on late summer vacations — that was certainly true for several players. Those who did come, and who stuck around for the second set of games were rewarded with a double-overtime nailbiter between UNO and an ABIDE Ministries team that was assembled literally on the fly due to several missing players.
In our preview, we thought the matchup between Shanks Law and State Farm would be the game of the night. That wound up in a blowout, but several players from that game would pull double-duty and have big roles in what became the real Game Of The Night.
Game of the Night: Nebraska-Omaha 75, ABIDE Ministries 68 (Double Overtime)
As this game was getting ready to start at 7:30, ABIDE was short three players, so Nick Bahe went on a recruiting trip to the other courts looking for players who had just finished their 6:30 games. Jahenns Manigat didn't need much convincing; upon hearing there was another chance to play, he immediately volunteered, raced over and asked what they needed him to do. Cody Ingle and Will Artino soon joined him, and the makeshift ABIDE team was set.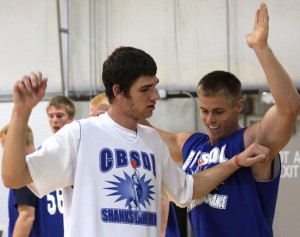 The game had even more of a pickup-quality to it than normal for a summer league game, as you'd expect with a roster literally thrown together at the last minute. A 35-30 halftime score was by far the lowest scoring first half of any game in Week 4, and accurately reflected the cold shooting by both teams.
Although the shooting remained cold in the second half, the intensity was ratcheted up when a series of nice moves by Artino and Manigat got the crowd involved in the game. On one possession, Artino brought the ball upcourt, put a nasty spin dribble move on a defender at the top of the key to get around him, and drove to the hoop. When he was stopped at the rim, he instinctively — without a seconds hesitation — passed it behind his back to Manigat, who laid in an easy layup. A huge roar went up from the fans watching, which put a noticeable spring in the players steps.
Manigat, the freshman point guard from Canada, has yet to play a game for Creighton but is already the team's best ambassador at summer league. Last week I saw him slapping high-fives with several young kids who lined the court during his team's game, asking them to give him good luck. This week, he approached several families who had come out with their kids and thanked them for coming out and cheering, chatting them up, seeming to be genuinely interested in talking to them.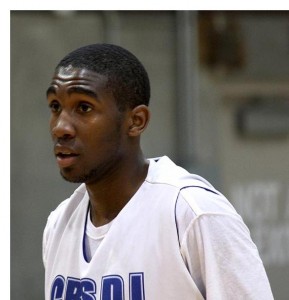 He can play a little bit, too, in case you hadn't heard. At the end of regulation, with his team down by three, Nick Bahe found him wide on the wing, and Manigat nailed a three-pointer with a defender in his face to tie the game at the buzzer. He then scored his team's only basket in the overtime periods, and assisted on two other missed baskets by creating open looks for his teammates, then dishing it off to them. Manigat finished with 14 points.
No matter how energetic or in shape a player is, there comes a point where you hit the wall, and with 3/5 of ABIDE's team playing in their second game of the night, the proverbial wall came in the overtime periods. They were outscored 7-2 in the pair of two-minute periods, and had two massive defensive breakdowns — one leading to a wide-open three from Jamel LeBranch, and the other leading to an alley-oop dunk by Tyler Bullock.
UNO finishes at 4-1, as the DII team has not backed down from the other teams made up of D1 and pro players. ABIDE dropped to 1-4.
Narmi Group 103, Go Gettaz 88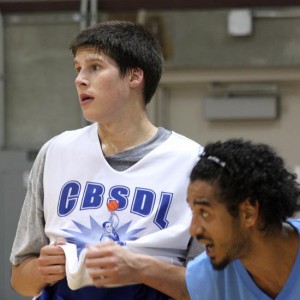 Jahenns Manigat's regular team, Narmi Group, had a number of standout performances in their 6:30 game. Manigat had 15 points, and made three treys. What he did in getting the ball into the post was perhaps more impressive. His teammate, Kenny Lawson, had 27 points — and 20 of them came in the paint. Likewise, Doug McDermott also benefited from Manigat's ability to pass the ball inside, scoring a team-high 31 points. Little Mac had five three-pointers on 8 attempts, and was 8-10 from the floor inside the arc.
Go Gettaz didn't win a game all summer, but they did have a couple of outstanding offensive performances in Week 4. Bellevue grad Arthur Boults had 29 points, helped by seven three-pointers — the most by any player in a game this summer. His teammate, UNO grad Eddie King, added 26.
EQ School of Hair 88, Icehouse 85
Wayne Runnels had another solid game, continuing his bid for MVP of the summer league by scoring 28 points and leading EQ to the upset of Icehouse. His team raced out to a 47-35 halftime lead, as Kaleb Korver and Peru State's Josh Horton hit two three-pointers apiece.
Icehouse mounted a furious comeback and actually took a lead on two occasions in the second half. South Dakota's Derek Paben fueled the comeback with three shots from behind the arc after the break, but it was Andrew Drevo — the former Nebraska standout who currently plays professionally — who led the team in scoring with 26.
EQ held off the comeback bid with several late free throws, and hands Icehouse just their second defeat of the season.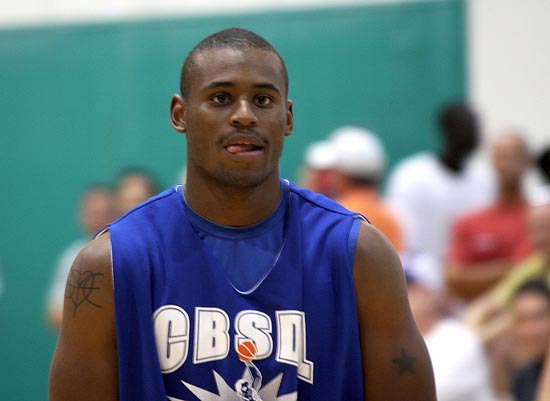 State Farm 109, Shanks Law Firm 88
Antoine Young was absolutely on fire in this game, connecting on six three-pointers. Aided by a pair of players from Midlands College — Chad Cruise had 19 points on 5-9 shooting from long range, while Brett Sailors had 27, all in the paint — Young's State Farm team got their second win of the year. Mike Dentlinger of UNK added 20 for State Farm.
For the losing Shanks team, Will Artino had 31 points, hitting shots from everywhere. He had five three-pointers, six jump shots from about 10 feet out, and two powerful dunks. Matt Dorwart, the walk on who some fans think could compete for minutes off the bench backing up Kenny Lawson until Greg Echenique is eligible in late December, did nothing to change people's minds. He scored 17 points, showed nice range by hitting a pair of three-pointers, drew a couple of nice fouls by putting the ball on the floor, and even blocked a shot. Cody Ingle added 16 points on 4-8 shooting from behind the arc.
People have asked me in person at summer league, and in the many emails I've received on the topic in the last couple of weeks, about Dorwart. They wonder what I think of him and his chances for playing time as a walk on. I honestly don't know. He's had an arresting aggression on defense every week, and has been knocked to the court hard at least once a week fighting for rebounds. Of course, it would be a mistake to make any judgments based on summer league games. With that said, he's had flashes where he looks like he could potentially give the team solid play for 2-3 minutes at a time spelling Kenny. I'll qualify this by saying I haven't talked to any coaches about him, so I don't know what they think…but in my opinion could he be an Alan Huss/Manny Gakou type player? I don't see why not.
Bellevue University 90, Heartland Properties 69
Otter's preview of this game included this line: "No amount of Josh Jones' smiles or Ethan Wragge bombs can erase the 1-3 record Heartland Properties brings into Thursday's game. Things just haven't clicked for this team, which also features local high school standout Akoy Agau." That's a fairly apt description of the game on Thursday, too. Wragge had 17 points and made four bombs but it wasn't nearly enough, as they lost by double digits again.
Donald Jones led all scorers in this game with 27 for Bellevue, connecting on 13-15 field goals. Jelani Johnson added 17, Hussein Diop had 12, and Jeremy Cruise 11 for the Bruins, who move to 4-1.
Other Scores:
Barley's 74, UNO Alumni 71
McGinn Law 103, Bellevue Alumni 83
The playoffs start next week. Check back with White & Blue Review for the game previews, as well as recaps of all the action!
Comments
Tagged in: