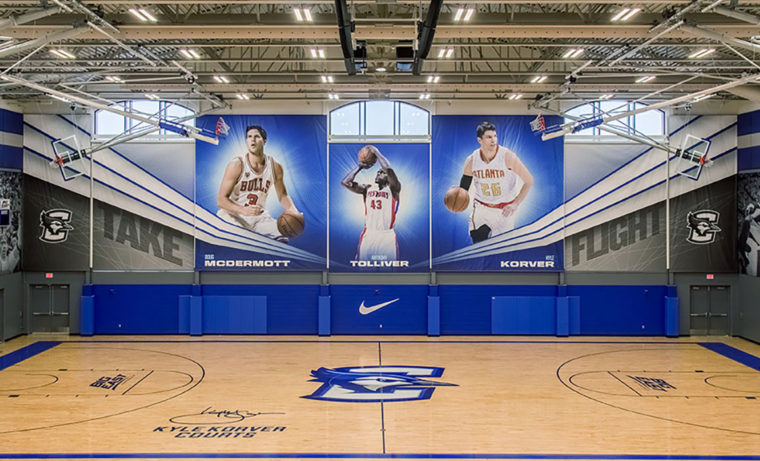 Michael Carter-Williams Believes His Brother's Skill-Set is Perfect Fit for Creighton
Michael Carter-Williams was almost seven-years-old when recent Creighton commit Marcus Zegarowski was born. As the future Bluejay's older brother, that day is hard to forget. What is difficult for the newly-signed point guard of the Charlotte Hornets to remember, however, is a day in which Marcus wasn't at the very least, off to the side wherever he happened to be playing that day copying moves and trying to learn all he could in the process.
"He's been working out since he could walk," Carter-Williams said. "As soon as he was born I can almost remember him just always following me around and copying the drills that I was doing. He would be on the side working on his handle and shooting the ball. To see that progression from him at such a young age into when he really started playing basketball — I know he loves it — so for him to get a scholarship is huge, and for him to go to Creighton is even bigger."
When Marcus informed his older brother of his decision to play for Creighton, he got a positive reaction. For Michael, the Bluejays were the top choice on his kid brother's list of schools that included Ohio State, Minnesota, and Washington, but he kept that a secret to ensure that Marcus would make the best decision for himself.
"I didn't want to get involved and tell him what I thought, because I know being his older brother and being his mentor in basketball he would just listen to what I say," Carter-Williams said. "He's grown in so many different ways and I just wanted him to make a choice for himself, not for anybody else."
So why Creighton?
"First of all, I think the style of play fits him. Second, Coach McDermott is a great coach. I think they play very unselfishly and they had confidence in him to come in and be a leader on that team as a freshman. They really cherished his skill work. A lot of times in his career already that's often been overlooked because of his size. I think he worked super hard to get where he is, and I think Creighton appreciates that. It's where I wanted him to go."
Although he is a few inches and several lobster dinners shy of his 6-foot-6, 190-pound frame, Carter-Williams thinks his brother's skill-set will integrate well into Creighton's system of space and pace.
"Marcus is a quick guard who can really shoot the ball," Michael said. "He's very smart. That's something that I have always noticed with him is he's very smart and he's always strategizing on how he can get an edge or how he can win. He really gets his teammates involved. He's a very good point guard. He's a guy who can get in the lane and find people, but he can also knock down the open shot. Shooting is one of his greatest attributes and he does it really well."
Another check mark in the Creighton box was conference affiliation.
In 66 career games at Syracuse, Michael Carter-Williams averaged 8.2 points, 5.2 assists, and 2.0 steals. While three-time All-American Doug McDermott was leading Creighton, along with the entire country, in scoring as a junior in 2012-13, the Syracuse point guard was finishing atop the national leader board in both assists with 291 and steals with 109. That season, he was a Second Team All-Big East selection, an Associated Press Honorable Mention All-American, and was named Most Outstanding Player of the East Regional after leading his team to the Final Four where they fell to eventual national runner-up Michigan.
A few months later he declared for the 2013 NBA Draft and was selected 11th overall by the Philadelphia 76ers. Four days after that, Creighton was officially introduced as a new member of the re-organized 10-team Big East Conference. Now, as a twist of fate, the NBA veteran will get to watch his younger brother lace up his sneakers against some of the same teams and in some of the same venues that he did.
"It's probably not the same, but at the end of the day it's still the Big East," Carter-Williams said. "You still get to play at Madison Square Garden and you still get watched a lot. Another plus about him going to Creighton is they are in a great conference.

"It's going to mean a lot watching him play at MSG. It's going to definitely be a special moment. I'm just going to be proud. Watching him compete is definitely a blessing."
After following in his footsteps as a kid, and soon as a member of the Big East, is a career in the NBA also in Zegarowski's future?
"How hard he works will determine where he'll end up," Carter-Williams said. "He's more ahead of the game than I was. I came to Syracuse and didn't play too much my freshman year, and I believe he's going to come in and play right away [at Creighton]. He'll get that first-year experience and he'll grow from there. He's the type of kid that lives in the gym, so he'll improve each year. The sky is the limit for him. He's got to work on a few things and get a little stronger, but his skill-set is there."
Comments
Tagged in: