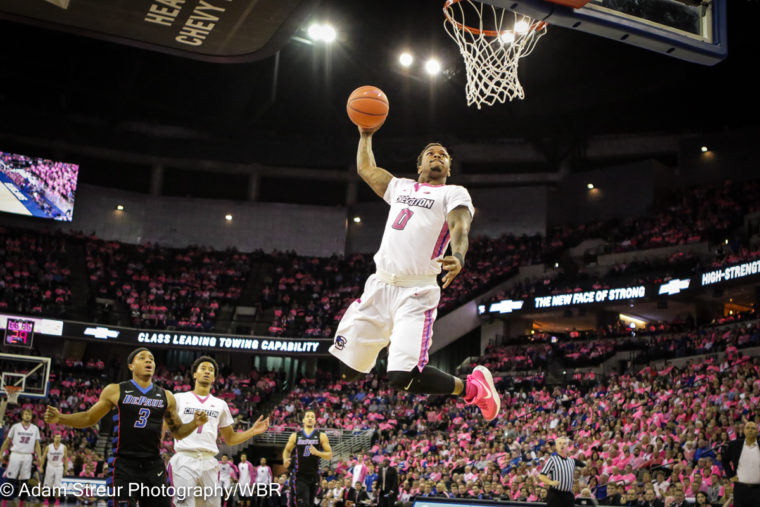 Morning After: #16 Creighton Jumps Out Early, Flies Past DePaul Late in 83-66 Win
Key Stats:
There was a lot of both good and bad on Saturday. Among the good: Creighton's bench combined to shoot 7-9, score 20 points, grab 11 boards, and dish out seven assists. Their two points guards, Davion Mintz and Tyler Clement, combined for seven assists and just three turnovers in 36 minutes. They shot 29-52 (55%) as a team, and had 20 assists on 29 made baskets — at 69% of their baskets, the second-best mark of the season. Their 17 fastbreak points were their most in a Big East game this year, Mo Watson or not. Among their 36 points in the paint were five dunks and eight close-range layups.
It wasn't all good, though. The Jays committed 17 turnovers, with 12 of them from Marcus Foster and Justin Patton, who had six apiece. They missed eight free throws (18-26). And their three-point shooting funk continued, as they were 7-21 from outside, with Foster going 1-6 and Khyri Thomas going 2-6.
Something fun: In all three Creighton wins over DePaul at home since joining the Big East, the Blue Demons have scored precisely 66 points in each.
Standout Performance:
The Bluejays starting backcourt duo of Khyri Thomas and Marcus Foster have been in a slump that began even before the loss of Maurice Watson last week. They needed a game like Saturday to get their confidence back, and they got it in a big way. Thomas scored 18 points with seven rebounds, six assists and two steals. Foster scored 15 with four rebounds and five assists.
They set the tone early and often for CU, making plays both for themselves and for their teammates. Thomas' highlight of the day came on this absolutely ridiculous spin-move that looked like something out of NBA Jam:
Khyri Thomas (aka "Tazz") hit the 🅱️ button! #GoJays #TakeFlight #BIGEASThoops pic.twitter.com/PNLGJXKsX8

— Creighton Basketball (@BluejayMBB) January 28, 2017
Foster's highlight? A first-half play where he stepped into a passing lane to intercept the ball, and raced downcourt for a dunk:
Going ⬆️… #GoJays #TakeFlight #BIGEASThoops pic.twitter.com/q22CSKDiPa

— Creighton Basketball (@BluejayMBB) January 28, 2017
Recap & Analysis:
Over the first 12 minutes of the game, DePaul made just 1-15 field goals and had five turnovers through a combination of good defense from Creighton and just general futility on the part of the Blue Devils. As tempting as it would be to give the credit to CU's defense, some of DePaul's missed shots were so ugly I was legitimately concerned for the safety of the rim and/or backboard from the weight of their bricks. The last-place Blue Devils looked every bit as bad as their 1-6 league record would indicate over those 12 minutes. Creighton had something to do with that, obviously; they stuck to their gameplan defensively and forced DePaul into doing things like launching long three-pointers that they'd have rather not done.
I have no such reservations giving credit to CU's offense for taking advantage. They led 26-8 after the first 12 minutes, capitalizing on a slow start by their opponent in a way they were unable to on Wednesday against Georgetown. After that initial stretch, DePaul actually outscored the Jays 58-57, but because Creighton built enough of a cushion during the early going, they were still able to win going away.
And most impressively to me, when DePaul came out in the second half and punched them in the mouth to slice CU's lead to single-digits, the Jays didn't panic, and were able to withstand the run unlike in their previous two games where a big opponent run did them in. After leading 44-29 at the break, DePaul cut it to nine at 46-37 just three minutes in when Billy Garrett, Jr. nailed a three. Cole Huff answered immediately with a three of his own to push the lead back to 12, and the Jays seized control from there.
Later in the second half, they even put together a sustained stretch where they resembled the high-flying, high-octane Bluejays of old. In a 12-5 run, they got all six of their baskets in the paint including a pair of alley-oops and a dunk. The first came when Thomas connected with Patton for a lob dunk:
#TwoBoysFromOmaha #GoJays #TakeFlight #BIGEASThoops pic.twitter.com/W8VTsYlBzH

— Creighton Basketball (@BluejayMBB) January 28, 2017
Followed by an alley-oop from Tyler Clement to Foster:
Alley: Tyler Clement ➡️ OOP: Marcus Foster #GoJays #TakeFlight #BIGEASThoops pic.twitter.com/M1Yt6aBxHl

— Creighton Basketball (@BluejayMBB) January 28, 2017
And then a breakaway slam from Thomas:
TAZZ #GoJays #TakeFlight #BIGEASThoops pic.twitter.com/NE1HpfVavF

— Creighton Basketball (@BluejayMBB) January 28, 2017
Yes, it was against DePaul, who looked every bit as bad as their last-place record would lead you to believe. And yes, the schedule this week is stiff, with a road game at Butler — stinging both from a blowout loss to the Jays a couple of weeks ago, as well as a loss to Georgetown Saturday night — and a home game against Xavier. But, undoubtably, after the roughest 10 days of this or any season, Creighton's fans, players and coaches needed a win like this desperately. There was pent-up anger and frustration in Marcus Foster's breakaway dunk in the first half — you could see it in his face as he neared the rim — as if he was releasing 10 days worth of frustration, and it was cathartic for everyone with a rooting interest in the Bluejays.
They're 6-3 in the conference, and with Butler's loss on Saturday, are just one game out of first place at the halfway point of the schedule. Villanova at 7-2 is in first, with Butler right behind at 7-3. This is a big week for the Jays, and if they can figure out a way to get a win in Indy, they could have a share of first place.
They Said It:
"We were maybe unselfish to a fault, with some of the passes we threw. We talked about that a lot this week. Some guys have to play different roles now. That's just the reality. I thought Marcus did a terrific job of trying to get into the paint and create things for his teammates. And he made some mistakes, but they're mistakes with the right intentions. Khyri had six assists and no turnovers, I thought Tyler and Davion both did a good job, Z did when he was in there, too. We got good production from a lot of places, and got our transition game going." -Coach Greg McDermott on 1620AM Postgame
"Well, we've got to move Justin around a little bit more to help create space for him, and he needs to move around more anyway. In transition I thought we missed him early, and got it to him late so that by the time he caught it he's almost under the backboard. That led to two or three turnovers because he was trying to save the ball. It's different guys making those passes than it was ten days ago, so we just have to keep riding on that in practice and have people look for him. He started behind the defense and got ahead of it on numerous occasions, especially in that first half. And we need to work on beating the double team, because we need to be a team that invites teams to do that to us, because Justin's such a good passer. We can't be a team that's scared or gets nervous when they get double-teamed." -Coach Greg McDermott on 1620AM Postgame
"We need Marcus to be a facilitator. He and Khyri, as much as they attacked before, they need to attack and facilitate now for us to be successful. We're going to continue to get better at this as we go, it's not always going to be perfect, but it sure was nice to see some smiles on our guys faces again." -Coach Greg McDermott on 1620AM Postgame
"We just wanted Khyri to get back to having fun out there. He was putting so much pressure on himself, he just needed to relax and understand not every shot is going to go in. You're making shots in practice, there's nothing to be alarmed by and stay with it. Defensively, again, he did an amazing job. On Eli Cain today, he held him to 4-17 shooting. Game after game after game, you look at that and he's been fabulous. I'm really pleased with the way he's played." -Coach Greg McDermott on 1620AM Postgame
"I hope this is the kind of game we build off. We needed to get a win. We needed to have some good things happen. The guys have continued to work but haven't had a lot of success the last couple of games. We can't totally lose our identity, but we do have a new identity that's still being molded. Those are things you usually figure out in October and November, and we've got this on the fast track to figure out as fast as we can. What's our go-to on offense? Defensively, what's our best lineup? Today Tyler played really well so he was out there more. Marquette, Davion really played well so he was out there more. Other games we've used Z. That's going to continue to be the case. They've all shown they can do it, which is good." -Coach Greg McDermott on 1620AM Postgame
You Said It:
A very special game for Creighton Basketball and for my family and… https://t.co/71A9Q3AjPs

— Isaiah Zierden (@IsaiahZierden21) January 28, 2017
Gameday💞💕💝💖💗💓

— Maurice Watson Jr. (@mauricewatsonjr) January 28, 2017
With having a tumor removed from my chest & it coming back benign, today's Pink Out means even more. I was lucky, many are not. #FightCancer

— Nick Bahe (@NickBahe) January 28, 2017
For my son, a survivor, and for friends lost. #CancerSucks #CreightonvsCancer #GoJays pic.twitter.com/slpZDQ0lAI

— John Bishop (@JohnBishop71) January 28, 2017
It's #pinkout @Creighton !!! Go @BluejayMBB pic.twitter.com/T4eFmqs7wx

— Creighton President (@CreightonPres) January 28, 2017
Let's Go Bluejays! Pink Out for Cancer Fighters. #GoJays #pinkout pic.twitter.com/C33wxxNhur

— Cale Ferrin (@cale_ferrin) January 28, 2017
Best Mascot in College Hoops! #GoJays pic.twitter.com/QeXPD1OTHA

— J Smitty (@JSmithberg) January 28, 2017
— Adam Streur (@astreurphoto) January 28, 2017
Khyri just poked the ball out of Billy Garrett's hands like some sort of ninja. that dude's hands are very fast.

— alex sindelar (@crimebait) January 28, 2017
Good to have you back, Zach… #GoJays #TakeFlight #BIGEASThoops pic.twitter.com/yf33GZgwFF

— Creighton Basketball (@BluejayMBB) January 28, 2017
A lot to like from Zach Hanson in that stretch. Loved the energy, so great to have him back.

— Austin (@letitflycu) January 28, 2017
DePaul is really bad.

— Jacob Padilla (@JacobPadilla_) January 28, 2017
REALLY bad. https://t.co/nPpKJ8f4Ee

— Jacob Padilla (@JacobPadilla_) January 28, 2017
My goodness. These bricks by DePaul are't even close to going in. I've seen better shooting from 4th grade CYO teams.

— Jacob Padilla (@JacobPadilla_) January 28, 2017
DePaul is shooting 8 percent after 10 minutes. I don't think I've ever seen that. pic.twitter.com/hG3q8Y9Cx6

— Brian Norton (@nortonbrian) January 28, 2017
DePaul is shooting 8% from the field. EIGHT. PERCENT. #Jays up 23-6 and starting to get in a rhythm offensively.

— Matt DeMarinis (@mjdemarinis) January 28, 2017
Marcus Foster finally nails a three so calm down everyone he's ok, same old Marcus.

— alex sindelar (@crimebait) January 28, 2017
Just when you thought Creighton was bad offensively on Wednesday DePaul says, "hold my beer".

— Corey Lathrop (@cjlathrop) January 28, 2017
A week off maybe wasn't the best for DePaul. 2-15 FGs. Whistled for a carry, a silly illegal screen & a T for slamming the ball just now

— Jon Nyatawa (@JonNyatawa) January 28, 2017
Games of H-O-R-S-E in the DePaul gym must take hours to finish. Or days. #GoJays #RollJays

— Jimmy Motz (@JimmyMotz) January 28, 2017
The three sweetest words for any slumping Big East team: Up next, DePaul.

— Jeff Eisenberg (@JeffEisenberg) January 28, 2017
after a bunch of free throws Creighton leads DePaul 31-11. how did this DePaul team take Butler to OT?

— alex sindelar (@crimebait) January 28, 2017
Disappointed that Pat Venditte didn't shoot with both hands during that timeout promotion.

— Matt DeMarinis (@mjdemarinis) January 28, 2017
Disappointed that @PatVenditte didn't alternate shot hands during that challenge. #switchshooter

— Brian Norton (@nortonbrian) January 28, 2017
They're a hell of a lot faster getting down the floor today there's no doubt about that.

— Corey Lathrop (@cjlathrop) January 28, 2017
DePaul's coaches might have to play in the second half to finish this game. Six players with at least two fouls so far.

— Matt DeMarinis (@mjdemarinis) January 28, 2017
They are at least wearing basketball shoes, wouldn't be too hard. https://t.co/ypjfo4Tisp

— Austin (@letitflycu) January 28, 2017
Admittedly I'm not positive on the rules…anyone know what happens when an entire team fouls out in the first half? Inter-squad scrimmage?

— Michael Murakami (@MichaelMurakami) January 28, 2017
Refunds. Refunds for everyone. #Refshow https://t.co/V4RyJB4fq6

— Rob Simms (@IamRobSimms) January 28, 2017
DePaul not knowing what a shot clock violation is is so DePaul

— FakeBlueCrew (@FakeBlueCrew) January 28, 2017
This is kinda like when Jordan wore 45. Marcus Foster 14 jersey sales are gonna skyrocket

— FakeBlueCrew (@FakeBlueCrew) January 28, 2017
Marcus Foster will proceed to light it up wearing Kaleb Joseph's jersey.

— alex sindelar (@crimebait) January 28, 2017
🔴🐼‼️ #GoJays #TakeFlight #BIGEASThoops pic.twitter.com/cnu33cZyFU

— Creighton Basketball (@BluejayMBB) January 28, 2017
🔴🐼
🔴🐼
🔴🐼
🔴🐼#GoJays #TakeFlight #BIGEASThoops pic.twitter.com/ZHBoChr9zd

— Creighton Basketball (@BluejayMBB) January 28, 2017
Red Panda didn't catch those last seven dishes cleanly. Quick Change is still the 🐐 … don't @ me.

— Matt DeMarinis (@mjdemarinis) January 28, 2017
@mjdemarinis C'mon man we all know Quick Change is all done with mirrors and maybe full on magic, but Red Panda is legit.

— Martin Swanson (@bigredtank72) January 28, 2017
The Red Panda!! Great success!! #RedPanda #GoJays #Omaha pic.twitter.com/aN2OyMcFFd

— Tony Roth ™ (@toneroth) January 28, 2017
Khyri Thomas just put the Blue Demons through the spin cycle. beautiful.

— alex sindelar (@crimebait) January 28, 2017
@crimebait pic.twitter.com/ieMm2UsdPJ

— FakeBlueCrew (@FakeBlueCrew) January 28, 2017
the Omaha boys are out here throwing lobs to one another again. always a welcome way to score.

— alex sindelar (@crimebait) January 28, 2017
Creighton going "Lob City" on the Blue Demons. Three straight possessions ending in alley-oops. #Jays up 73-58, 5:25 2H.

— Matt DeMarinis (@mjdemarinis) January 28, 2017
a woman behind me just yelled, "you from the Missouri Valley?" at a referee after a bad foul call on Patton

— alex sindelar (@crimebait) January 28, 2017
and Khyri flushes home a dunk off a fastbreak, earns Godfather's baby pizza for season ticket holders, and it feels like old times.

— alex sindelar (@crimebait) January 28, 2017
LOVED the Doooo it @ReiverJake

— FakeBlueCrew (@FakeBlueCrew) January 28, 2017
#goSlovenia #goJays 2 wins one night pic.twitter.com/5w13LG4pns

— joze krampelj (@jozekrampelj) January 28, 2017
Good to have @godfatherspizza in the arena today — a @Creighton staple!!! pic.twitter.com/kmvcRhZyES

— Creighton President (@CreightonPres) January 28, 2017
Today's Top 5 at @centurylinkoma :
5) #RedPanda
4) @BluejayMBB Win 83-66!
3) #GoJays Cover!
2) @CreightonPres Pink Coat!
1) #PinkOut Fans!! pic.twitter.com/WEFLs89YXa

— Dave Wenthold (@Wenthold) January 28, 2017
Comments
Tagged in: