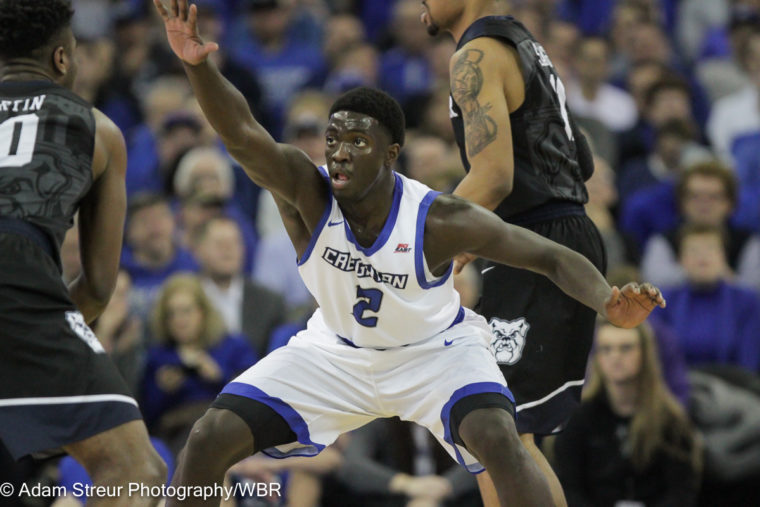 Morning After: #2 Villanova Pulls Away from #23 Creighton in Second Half to Win 79-63
Key Stats:
Creighton scores a season-low 16 points in the paint, and attempts their second-highest number of three-pointers (28). Partly as a result of all those jump shots, they attempt just six free throws (while 'Nova goes 17-22 at the line).
The Jays commit 16 turnovers, leading to 14 Villanova points.
Standout Performance:
Marcus Foster continues to expand his game offensively, dishing out a season-high eight assists, and grabbing five rebounds in another game where he did more than just score. He still did plenty of scoring, though: Foster had 25 points thanks in large part to shooting 6-9 from three-point range.
Eight of those points came in a personal 8-0 run to end the first half, closing a 33-25 gap and tying the game at 33 as the teams went to the locker rooms.
Recap & Analysis:
As we talked about in the Primer, the prevailing prediction from Jays fans coming into Saturday's game was that Villanova would win handily. The Wildcats won by 16, but the final score doesn't do justice to the kind of game this was — it was tied 33-33 at half, and knotted at 45 as late as the 13:29 mark in the second half. CU played well enough to hang in the game most of the afternoon, but not well enough to come away with the win against the defending national champs and current second-ranked team on their senior day. That's more than I or almost anyone expected, given the opponent, the situation, the off-court distractions this week, etc.
So why all the postgame angst from fans? Corey Lathrop, who produces Nick Bahe's show on 1620AM and hosts Shootaround before game broadcasts, asked that question on Twitter and got some interesting replies.
It comes down to two things, I think. One is that despite the dire pre-game predictions, the Bluejays led by two after six minutes of second-half action. They teased people into thinking they might pull off the upset, which made the eventual double-digit loss — which again, was what almost everyone predicted — tougher to swallow than it would have otherwise been. Two is just the cumulative effect of the last six weeks. They lost once in their first 19 games; they lost six of their next 10. Their starting point guard first tore his ACL, ending his season, and now finds himself charged with sexual assault. Their coach is taking heat for his handling of the point guard spot, his playing rotations, and repeated failure to win close games. Their projections of a protected seed in the NCAA Tournament and predictions of finally making it to the second weekend (or beyond) have given way to the realization they're headed for the middle of the bracket with heavy odds against advancing past the Round of 32.
That makes it tough for any one loss to be compartmentalized separate from the whole. The whole thing is frustrating, and that's what you saw boil over after yesterday's loss.
Even if you do manage to view Saturday's game in a vacuum, separate from everything else, it still looks an awful lot like a missed opportunity. Villanova had their worst-shooting game of the season from three-point range — at 4-19, the four makes tie a season low matched only by a 4-16 performance against Notre Dame in December; at 21%, only their game at Marquette in January where they shot 16% (6-34) has been worse. With Darryl Reynolds out, the 'Cats were undersized inside and had very little depth, yet Justin Patton only attempted three shots in 25 minutes and looked alternatively lethargic, frustrated and confused. Zach Hanson was a perfect 5-5 from the field in 15 minutes, but even with that, Creighton scored a season-low 16 points in the paint.
As it's been of late, Marcus Foster and Khyri Thomas were incredible and did everything they could to lift their team to victory. After falling behind 7-0, a 12-2 Bluejay run gave them the lead after Thomas hit a pair of threes sandwiched around threes from Foster and Cole Huff. Then when 'Nova answered with a 15-2 run and looked close to blowing the game open, Foster and Thomas combined to score 10 straight and tie the game at 33. Thomas' stellar defense on National Player of the Year candidate Josh Hart played a big role, too; this play to end the half epitomizes how he stifled Hart.
.@RobDauster called Khyri Thomas one of the most underrated players in college basketball a few weeks ago. Showing why today. pic.twitter.com/i5pX29cP8A

— Josh Planos (@JPlanos) February 25, 2017
Over the first 37 minutes of the game, Hart had season lows across the board — he had eight points on 4-7 shooting, much of the time guarded by Thomas. But he scored eight points in the final three minutes as the Wildcats closed out the win.
After Creighton took a 45-43 lead with just under 14 minutes left, they made far too many mistakes the rest of the afternoon to stay in the game. Over the next 13 possessions, Villanova scored on 12 of them, getting nine points on free throws and 15 from the floor; the game went from 45-43 Creighton to 67-55 Villanova over a ten-minute span where the Wildcats seized control. The Jays turned it over, failed to secure rebounds, were out-hustled for seemingly every 50/50 ball, and missed easy shots — against a team of Villanova's caliber, those things are deadly.
Creighton now heads into the final week of the season caught in a six-team jumble in the middle of the Big East standings, with the possibility of being seeded anywhere from second to eighth, though by far the most likely scenario is for them to be seeded third or fourth.
They Said It:
You Said It:
three keys to creighton having any shot in hell at winning today:
1. give it to Patton
2. give it to Patton
3. bunt

— alex sindelar (@crimebait) February 25, 2017
I hope we see #Creighton play loose today. Like they've got nothing to lose. #GoJays

— Heath Gunderson (@Heath_Gunderson) February 25, 2017
The choir that sang the anthem all had matching shirts that said "4 years felt like 4.7 seconds" with a silhouette of Jenkins' game-winner.

— Rob Anderson (@_robanderson) February 25, 2017
3 turnovers, a missed open 3 and two missed shots inside. Not a great start for Creighton.

— Jacob Padilla (@JacobPadilla_) February 25, 2017
Creighton is playing like they had a week of off court distractions.

— Martin Swanson (@bigredtank72) February 25, 2017
Creighton is a little too jump-shot happy right now. No post touches for Justin Patton yet. He has to get there & they have to feed him.

— Matt DeMarinis (@mjdemarinis) February 25, 2017
Those 3s fall at Wells Fargo

— FakeBlueCrew (@FakeBlueCrew) February 25, 2017
4 three-pointers in a row for the Jays vs. Villanova. I've seen this before… https://t.co/qX5V7ClMUN

— Patrick Marshall (@wildjays) February 25, 2017
@mjdemarinis Those jumpers look a little better now.

— Jacob Padilla (@JacobPadilla_) February 25, 2017
Although, if they are going to make 21 3-pointers again I suppose that has a track record of success in Philly. https://t.co/YsEfKgw7tS

— Matt DeMarinis (@mjdemarinis) February 25, 2017
Villanova is the worst major-conference team at defending post-ups (0.928 PPP allowed). So of course Creighton is chucking 3s.

— Josh Planos (@JPlanos) February 25, 2017
Massive line change coming in for Creighton. Reminds me of the Dana Altman days…

— Martin Swanson (@bigredtank72) February 25, 2017
@bigredtank72 Let's throw the press out there for old times' sake.

— Jacob Padilla (@JacobPadilla_) February 25, 2017
@JacobPadilla_ As long as they keep their knees bent on D I say go for it.

— Martin Swanson (@bigredtank72) February 25, 2017
Justin just isn't being strong with the ball.

— Austin (@letitflycu) February 25, 2017
Patton playing soft

— Tony Roth ™ (@toneroth) February 25, 2017
So far Justin Patton looks like a Freshman today. The NBA version needs to activate

— Patrick Marshall (@wildjays) February 25, 2017
Coach Merfeld takes a charge. Never afraid to get in a scrap.

— Matt DeMarinis (@mjdemarinis) February 25, 2017
Merf's ok, but thanks for asking.

— Creighton Basketball (@BluejayMBB) February 25, 2017
And now it's time to poke the bear …
Isaiah Zierden: +5 in 11 minutes
Davion Mintz: -8 in 11 minutes

— Matt DeMarinis (@mjdemarinis) February 25, 2017
@mjdemarinis I mean, if we're picking nits right now, the worst performance of that half by a man in blue was the future lottery pick.

— Creighton Otter (@creightonotter) February 25, 2017
Foster realized he had to go full Superman in the final five so… https://t.co/lDYTP5GGGJ

— Garret Mueller (@mue11er) February 25, 2017
@mue11er You mean final five games, right? Not minutes?

— Creighton Otter (@creightonotter) February 25, 2017
So many #GoJays basketball experts on Twitter – I hope coach Mac reads it at half, he'll know how to better use his players in the 2nd half.

— Rob Simms (@IamRobSimms) February 25, 2017
@IamRobSimms @kevinkugler Pretty sure even coach Mac can't get wifi in this building.

— Rob Anderson (@_robanderson) February 25, 2017
Pretty sure this is what led to the big run to end the half. You go after Merf, you go after all of us. https://t.co/4GI7lAiX6p

— Rob Anderson (@_robanderson) February 25, 2017
Kind of getting the feeling that Zach Hanson & Isaiah Zierden give Creighton a better chance to win today than Patton or Mintz.

[ducks]

— Matt DeMarinis (@mjdemarinis) February 25, 2017
Hanson has been tough!!! Paschal made a great play tho. I really like what I am seeing from Zach today.

— Tony Roth ™ (@toneroth) February 25, 2017
"[Zierden] has a deadly jump shot."

Yeah, in like, the 1767 musket type of way.

— Garret Mueller (@mue11er) February 25, 2017
That's my favorite tweet in, like, ever. https://t.co/4rHRYwwadf

— Creighton Otter (@creightonotter) February 25, 2017
Villanova's won the 3 last 50-50 balls. All potential offensive rebounds for CU. But Nova was quicker to the ball. Refs let 'em play too

— Jon Nyatawa (@JonNyatawa) February 25, 2017
Jays losing all the toughness plays right now. Gotta corral some of these loose balls.

— Tony Roth ™ (@toneroth) February 25, 2017
This is what you can do with a 79 inch vertical pic.twitter.com/EApTYR5zzf

— Barstool Jays (@BarstoolJays) February 25, 2017
Justin Patton might want to burn this game film before the team can watch it when they get back to Omaha. He's struggling and frustrated.

— Matt DeMarinis (@mjdemarinis) February 25, 2017
"Villanova doing a great job of playing defense without fouling."

Sure, that's definitely what they're doing.

— Jacob Padilla (@JacobPadilla_) February 25, 2017
Am I the only one having a temper tantrum? @cucoachmac go ahead and get that T, I'll understand.

— Beeb (@bobgrowspeaches) February 25, 2017
This is a got-damn Missouri Valley lineup if I've ever seen one, Linus.

— Garret Mueller (@mue11er) February 25, 2017
Final-five-minutes-against-Missouri-State-Lookin'-Ass lineup. https://t.co/zuIugj8DsT

— Garret Mueller (@mue11er) February 25, 2017
I'm gonna go see if I can fit inside my oven – enjoy the rest of the game, you guys.

— Bluejay Buff (@BluejayBuff) February 25, 2017
Down-73-59-in-the-Knapp-Center-Lookin'-Ass lineup. https://t.co/85lsmDhJg0

— Garret Mueller (@mue11er) February 25, 2017
44-40-Final-Score-in-Carbondale-Lookin'-Ass Lineup. https://t.co/5FuQhw4gnH

— Garret Mueller (@mue11er) February 25, 2017
Ironic = Davion's twitter account just posted an automated update. At this rate, he could have tweeted that himself. #freemintz

— Creighton Otter (@creightonotter) February 25, 2017
So badly want to be out there with these guys. ⌛️⌛️ pic.twitter.com/59gK2hQsSS

— Kaleb Joseph (@_kalebjoseph14) February 25, 2017
Can't believe "lookin-ass lineup" isn't becoming a thing, you guys.

— Garret Mueller (@mue11er) February 25, 2017
1:00 PM-Tuesday-Tip-in-Peoria-Lookin'-Ass Lineup. https://t.co/8Uvi3OOWQk

— Garret Mueller (@mue11er) February 25, 2017
This lineup just screams 11-0 run.

— Tyler Anderson (@TylerA_Anderson) February 25, 2017
Osiris-Eldridge-Going-for-37-in-Normal-Lookin'-Ass Lineup https://t.co/h5Xttl78tX

— Garret Mueller (@mue11er) February 25, 2017
Down-To-The-Wire-At-Home-Against-Evansville-Lookin'-Ass lineups. https://t.co/OdhmECJWaw

— Garret Mueller (@mue11er) February 25, 2017
@FakeBlueCrew pic.twitter.com/7KNmBQXfap

— Garret Mueller (@mue11er) February 25, 2017
This is probably a good reminder that Patton is still only 19. Everyone hits that freshman wall eventually. https://t.co/8Vzg6aOtMA

— Matt DeMarinis (@mjdemarinis) February 25, 2017
@mjdemarinis If he's hitting a wall, and we have no PGs, then I think I'll skip that trip to the Big Apple, Matt.

— Creighton Otter (@creightonotter) February 25, 2017
LOVE Marcus. Believes he's the best player on the floor every time he gets out there.

— Ross Ferrarini (@ross_ferrarini) February 25, 2017
Creighton can't win getting 7 points from Cole, Toby, Davion and Isaiah.

— Jacob Padilla (@JacobPadilla_) February 25, 2017
Cole Huff can't score sitting on the bench. https://t.co/3WK9SyHtz7

— Heath Gunderson (@Heath_Gunderson) February 25, 2017
@Swaggy2_ is the best scorer in the big east 😤
Don't @ me

— Kobe | KoKo Wave (@_kokoparas) February 26, 2017
The numbers support Kobe in this. Leading scorers in the BIG EAST after today:
Foster 18.8 ppg
Hart 18:6 ppg
Pryor 18.2 ppg
Bluiett 17.8 ppg https://t.co/YuzlGsTi6i

— Rob Anderson (@_robanderson) February 26, 2017
@_kokoparas @Swaggy2_ There is no debate… coming from two dudes who watch him play EVERYDAY!! Marcus is a walking bucket !!!!!!

— J.Scurry (@Jordan_S09) February 26, 2017
@Jordan_S09 @_kokoparas you two are the best teammates anybody could ask for! 💯

— Marcus Foster (@Swaggy2_) February 26, 2017
Comments
Tagged in: